What's the best way to get to get real-world product development experience? Develop product ideas that respond to the strategic business needs of real companies and organizations.
And that's exactly what you and your classmates will do in Product Studio as you develop digitally-enabled products that respond to challenges posed by businesses and nonprofits.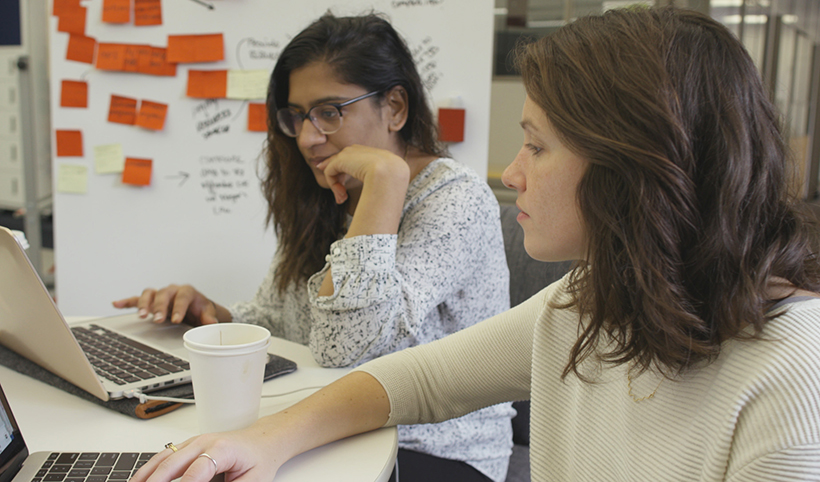 Product Challenge: NYC Mayor's Office to Combat Domestic Violence
The Product Studio Process
Every fall, leading startups, companies, and organizations in NYC pose business challenges to Cornell Tech. In Product Studio, you and your classmates will develop and present new products, services and strategies that respond to those challenges. It works like this:
Challenges are issued. The process begins with a company posing us a "How might we . . ?." challenge. For example, Weight Watchers challenged us with, "How might we tackle teenage weight loss in a manner that makes teenagers feel good about themselves and not like they are on a program?" Google challenged us with, "How might we encourage people to get a balanced view on controversial topics such as gun control regardless of their (political) leanings?"
Teams are formed. Our Dreamteam product is used to form student teams and match those teams to challenges. The teams are composed of students from across the Cornell Tech campus—engineers and computer scientists, law students, business students and information systems students—to maximize cross-disciplinary peer learning. A Company Advisor from the company provides support to the student team.
Ideas are developed and presented. Applying all the skills they've been learning in the classroom, students conduct user research, create a strategy, and develop and test prototypes of a new product or service that responds to the challenge company's need. Then the teams educate key stakeholders about their findings and demo their ideas.
In addition to experiencing first-hand how the product development process works in the real world, you will get to hone your teamwork and leadership skills and build a network within the fast-moving New York business community. Want to Submit a Challenge?
Product Challenge submissions are closed. Please check back next spring for our fall 2018 submission application.