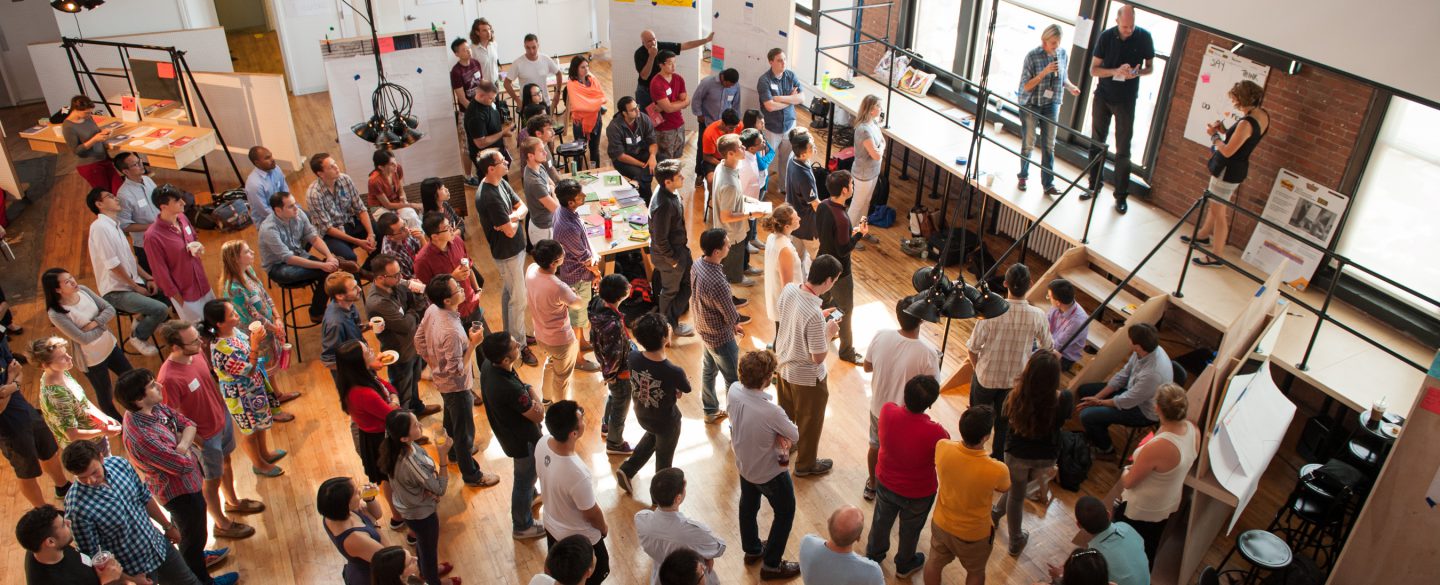 Career Outcomes at a Glance
Cornell Tech graduates pursue a variety of career paths upon graduation. During 2015-2017, over 70% of JCT MBAs and Technical program graduates sought full time jobs, while over 10% started their own ventures. Those seeking jobs maintained an average offer rate of nearly 100% , year over year.
To date, most of JCT MBAs pursued product management or digital marketing roles with both mature companies and startups. The majority of of technical programs' graduates gained employment as software developers, data scientists, data engineers or program managers. Cornell Tech's employers include a wide range of mostly tech companies such as Google, Amazon, Facebook, Uber, Microsoft, Bloomberg, Datadog, Intersection, Oscar Health, ZocDoc and many other.
Note for Prospective Students: Past employment rates are not predictive of the future outcomes. 
Highlights by Program
Professional Programs
Johnson Cornell Tech MBA
Since the inception of the program, the majority of Johnson Cornell Tech MBAs sought full time employment upon graduation, while 10-17% of the graduates started their own ventures (often with students from other Cornell Tech programs).

Notes: n- indicates total number of JCT MBA graduates each year; Other paths – graduates returning to their pre- MBA employer, pursuing fellowships and/or other personal, non-degree related interests or continuing their education (e.g., medical school). The above percentages may not add to 100% due to rounding.
In 2015-2016 cohorts, 100% of graduates seeking full time employment, secured jobs within three months of graduation. In the 2017 cohort, the employment rate among the job seekers was 94% (2 graduates are actively seeking employment).
To date, over 90% of accepted jobs were with mature or startup tech companies in Product Manager, Product/Digital Marketer, Project/Program Manager, or Technical Strategist capacity. Fewer than 10% joined consultancies (digital or strategy/management consulting practices) or accepted jobs in non-tech companies.
Johnson Cornell Tech MBAs benefit from the strong network of companies that have engaged with Cornell Tech over time. Given Cornell Tech's unique educational model, companies commonly recruit across the spectrum of Cornell Tech's programs for one or more of their roles. Examples of MBA employers have included Amazon, Adobe, Bain & Company, Capital One, Datadog, Deloitte Digital, DowJones/WSJ, Enigma, Etsy, eBay, Facebook, Google, Jet.com, McKinsey & Company –Technology & Digital, Microsoft, MM.Lafleur, Nielsen Media, Oliver Wyman Labs, Oscar Health, Shutterstock, Twitter, Verizon, Visa, ZocDoc and many other.
Johnson Cornell Tech MBA 2017 Class Spotlight
Accepted Jobs by Industry and Function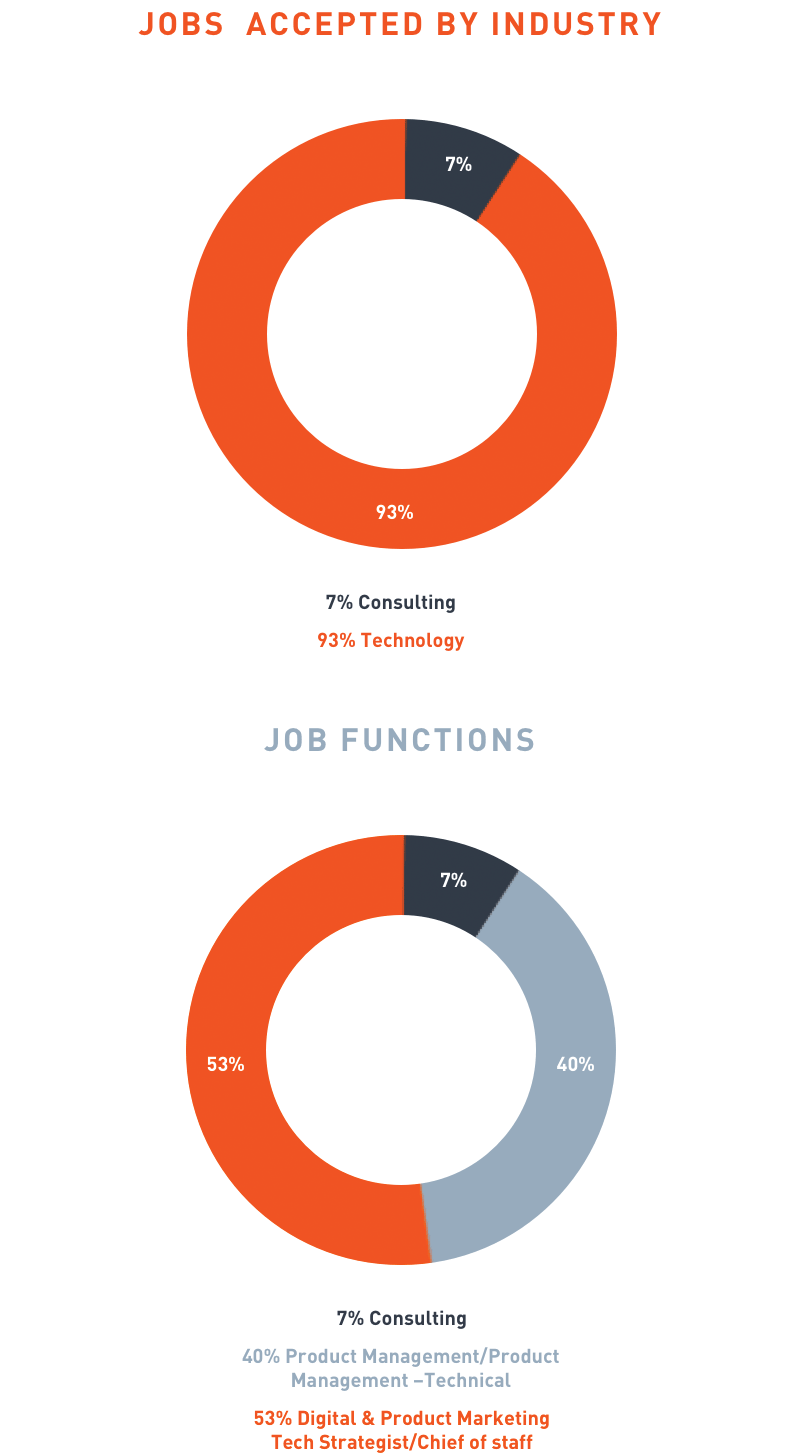 Compensation
Mean base salary for the class of 2017 was $124,000, mean sign-on bonus was $35,000. As most of students accepted jobs with tech companies, a significant portion of the annual compensation is represented by equity, the value of which compresses salary relative to offers with no equity compensation.
Post-Graduation Location
The majority of Johnson Cornell Tech MBAs graduates stayed in New York City area regardless of their post-graduation career paths. To date, very few students chose to pursue employment or ventures outside of the US.

Note: the above numbers include all graduates in each cohort, regardless of their post-graduation paths.
For the employment information on other Johnson MBA programs (in Ithaca), please refer to the Johnson School CMC.
Master of Laws (LLM)
To date, 83% of Cornell Tech's inaugural LLM class of 12 students found post-graduate employment or other opportunities, with offers extended from law firms, startup firms, and venture capital funds. For Law School employment data, please refer to Cornell University Law School Career Services.