Visionary Leaders Work to Expand Diversity & Inclusion at Cornell Tech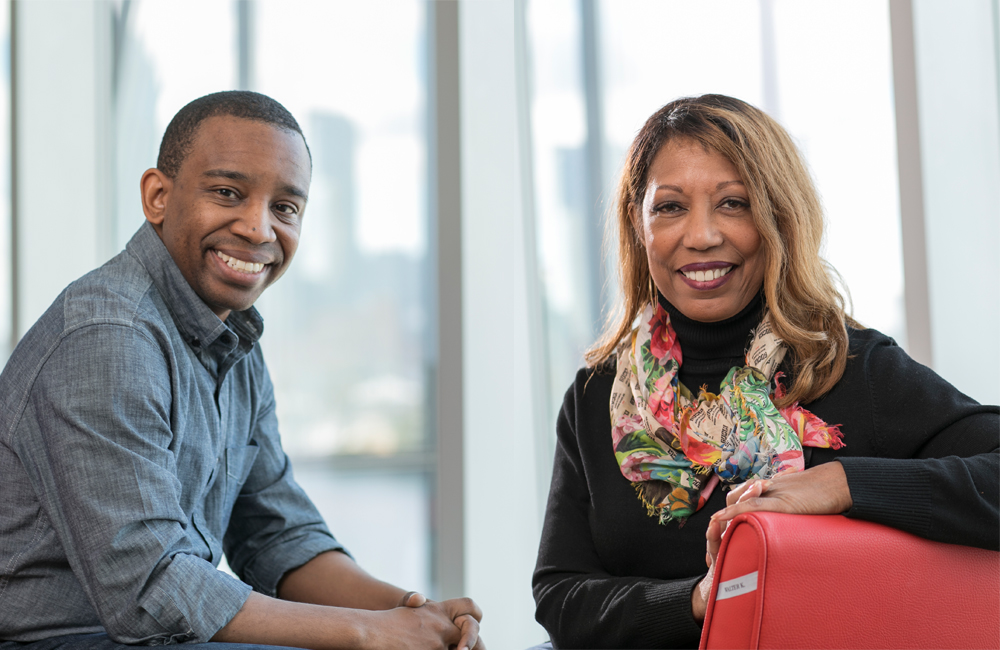 Because nearly everything we do today involves tech, it has an enormous impact on an ever-growing number of people. But although tech affects everyone, not everyone is represented when new products are launched and new companies are formed.
Cornell Tech believes that increasing diversity and practicing inclusion is key to improving technology—and people's lives. Meet two dynamic executives and entrepreneurs who are helping the school to do just that.
Managing Entrepreneurial Officer at Cornell Tech and co-founder of early stage venture capital firm 645 Ventures Aaron Holiday has played a key role in helping launch Cornell Tech's Startup Studio program in addition to promoting social responsibility on campus. Denise Young Smith, formerly the Chief Human Resources Officer and Vice President of Inclusion and Diversity at Apple, joined the Cornell Tech community as Executive-in-Residence in January 2018.
"I was working with Aaron and I thought: we've got two prominent African-American leaders and professionals now focusing on the Startup Studio program at Cornell Tech—this is unprecedented," said Smith, who in addition to leading Apple's Human Resources division, built their retail teams, and oversaw its global efforts to create a diverse and inclusive culture and workforce during her 20 years with the company. "It's an incredible differentiator in and of itself when you have professionals and entrepreneurs who bring a diverse perspective to help influence and enhance this already world-class program. I hope our work here will not only add to the quality of the program but will say to existing and prospective students that Cornell Tech welcomes and embraces everyone's perspective."
What does Smith hope to accomplish at Cornell Tech? "My objective has been to help Cornell Tech fulfill its mission of being a premier institution where you not only experience diversity here in the community, but more importantly learn about its critical importance if you're going into the world as an entrepreneur, technologist, or leader," Smith said. "The objective is our students will have learned in their experience here that being diverse and inclusive is non-negotiable in the world we live in today and tomorrow."
In Smith's view, it's not only important to value diversity for its own sake, but also to have a keen understanding of why it's so crucial in tech. "The world is rapidly changing," she said. "[Diversity] is important in the critical niches of technology because tech has to keep up with and lead in this rapidly changing world."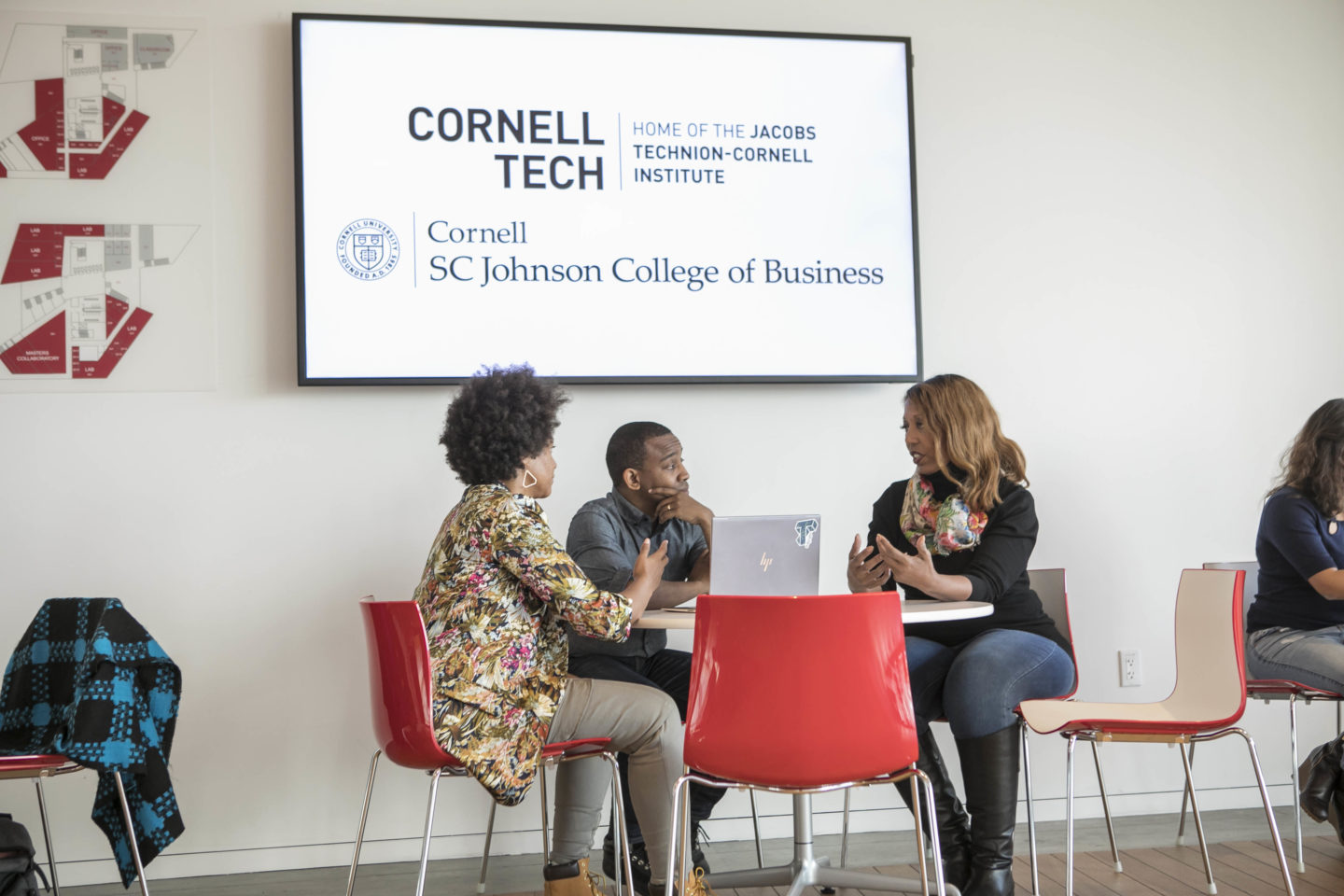 Holiday, too, wants to ensure that Cornell Tech students understand why it's so urgent for the tech world to recruit diverse talent and promote inclusive leadership. Having studied computer science as an undergraduate, he knows it is a "hyper-collaborative" field in which "it's almost impossible to keep up with the content" via self-study alone. Diversity is key, he said, because "you need to have inclusion of all people to grasp the content and learn and grow."
In a world where "software and engineering have become the primary mechanism to invent and create new things," Holiday said, "in order for people of color and women to be able to participate in the creation of the new world, we need more women and people of color building things, so that everybody is a part of building the new world."
Because Holiday believes that diversity is "not only a matter of gender and race but also of skill sets," he encourages students to consider whether a team has the right ratio of engineers, MBAs, and people with legal expertise and advises them to ask, "What will a person contribute to a team based on their total experience?"
Smith also seeks to instill in students the idea that by increasing representation, they can gain valuable perspectives that will enhance their project, product, or company.
Smith and Holiday have invited other prominent figures to the campus to enrich the studio experience and add perspective. Dionna McPhatter, a West Point graduate and data scientist, has visited the Studio several times. 
There are, said Smith, "many different examples every day in the commercial world" of how expanding our understanding of the "inclusion imperative" as she phrases it with staff at Cornell Tech, has improved technology and its effectiveness. In her view, tech leaders should ask, "How dated is this item or concept against a dynamically changing world demographic? Who designed it? And how does it need to evolve now?" So many common products that people use every day—"toys, cosmetics, emoticons," to name only a few—need updating, she said, and the people who use those products need representation.
Like Holiday, Smith wants to ensure that the brave new world we are building doesn't replicate and reinforce old biases. "Everyone is talking about AI," she said, "but if we aren't extremely urgent and deliberate about who is in the room when we design code for the challenges of the future, we are going to come up with ineffective and limited products. How are we deciding who is getting loans with banks? Or who should be screened in and screened out with new security systems?"
After all, Smith said, "there's nothing terribly artificial about AI. It's coming from the minds of human beings and it will replicate human biases."
The flip side of this risk, according to both Smith and Holiday, is that making sure a wide variety of people are represented when launching a new product or company can improve the product and expand its customer base. It can mean significantly enhanced success for a company.