Cornell Tech Campus to Name 'Feeney Way'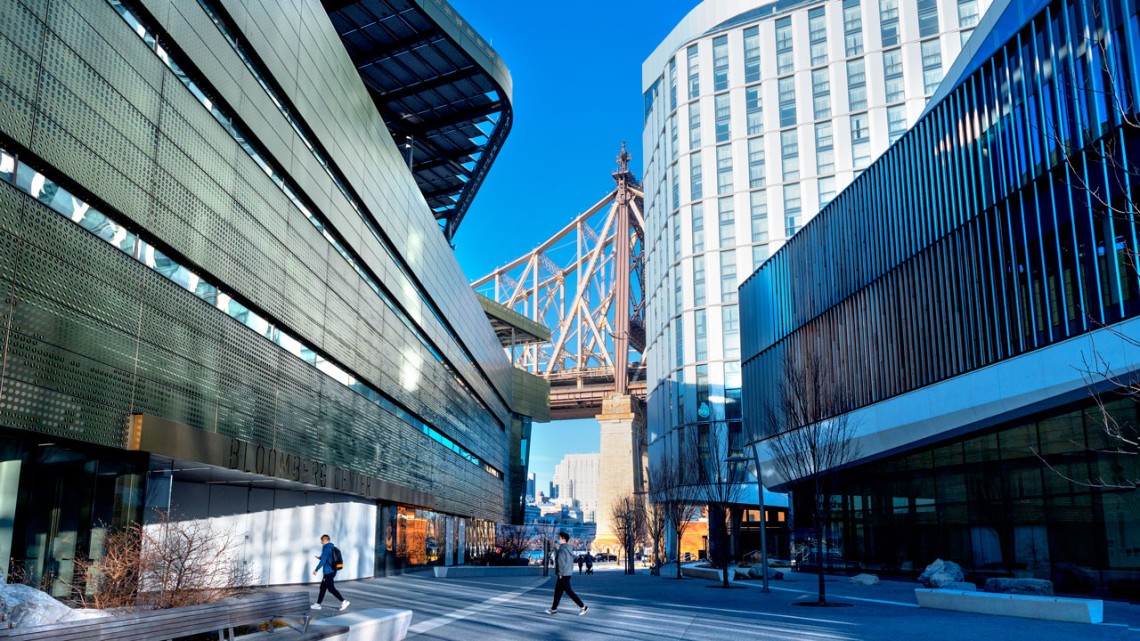 There will soon be a second "Feeney Way" at Cornell: a central thoroughfare at Cornell Tech to be named in honor of the transformative impact and legacy of Charles F. "Chuck" Feeney '56, the university's most generous donor.
The former East Avenue running through the heart of the Ithaca campus was renamed Feeney Way in April 2021, timed to coincide with Feeney's 90th birthday.
This month, in conjunction with Feeney's 92nd birthday, the university has announced that the central "Tech Walk" on the Cornell Tech campus in New York City will also be renamed Feeney Way.
The naming recognizes the record-setting $350 million founding grant Feeney made to the university through The Atlantic Philanthropies – the largest-ever single gift to Cornell and one of the biggest in higher education history – to fund first-phase construction and program development on the Roosevelt Island campus, while also creating a permanent endowment to help sustain its future.
Feeney, the founding chairman of The Atlantic Philanthropies, spent several decades of his life quietly giving away nearly all of his $8 billion fortune to worldwide causes, with nearly $1 billion invested in Cornell over a 40-year period.
Even after the impact of his philanthropy was revealed in the late 1990s, Feeney chose not to connect his name in any way to the many institutions he supported. He only agreed to the renaming of East Avenue on the Ithaca campus because it was an expression of gratitude by the university – and because it could inspire current and future generations of Cornellians to give back to their communities and make a difference.
"I'm delighted that Chuck Feeney's name will now stand at the heart of Cornell Tech – a place that his generosity and vision made possible," said President Martha E. Pollack. "It's a wonderfully fitting recognition of the impact of his lifetime of quiet, but incredibly consequential philanthropy: a walkway that leads to every path, and every building, on our Cornell Tech campus."
"Earning wealth is one measure of success. Investing one's wealth to increase educational opportunities and expand knowledge, awareness, and innovation is a more meaningful way of realizing success," Feeney said. "Supporting Cornell Tech was an enduring way to extend to others the opportunities from which I benefited. I am grateful for this recognition of my approach to giving while living and hope that Feeney Way will guide a path for similar success for many others to come."
The quarter-mile Tech Walk that will be renamed Feeney Way is the backbone of the campus, beginning at its entrance just south of the 59th Street Bridge and the Roosevelt Island tram lines that arch overhead. The 30-foot-wide walk links to other pedestrian paths as it connects the campus's main buildings and the Campus Plaza at its center.
As the renamed Feeney Way, the path will ultimately extend its length through the entirety of the second and third phases of the campus's construction.
"We are so thrilled and honored to name the central artery of the Cornell Tech campus after Chuck Feeney," said Greg Morrisett, the Jack and Rilla Neafsey Dean and Vice Provost of Cornell Tech. "His tremendous gift, through The Atlantic Philanthropies, enabled Cornell and the Technion to not only win the initial competition to build Cornell Tech, but to launch all aspects of this amazing, innovative campus."
The design and installation of signage marking Feeney Way at Cornell Tech will take place over the next several months, with a celebration and unveiling planned in the 2023-24 academic year.
A native of Elizabeth, New Jersey, Feeney enrolled in what is now the Peter and Stephanie Nolan School of Hotel Administration in 1952 with support from the GI Bill. At Cornell, he was already beginning entrepreneurial ventures, creating a sandwich business so profitable that his classmates called him "the sandwich man." Two years after graduation, he and Robert Miller '55 co-founded Duty Free Shoppers, which became the world's largest seller of luxury goods.
In 1984, Feeney secretly gave away nearly all his fortune by transferring his stake in Duty Free Shoppers and other businesses (estimated at more than $900 million at the time) to create and establish The Atlantic Philanthropies.
Through Atlantic, Feeney became one of the world's greatest philanthropists, giving worldwide to universities, nonprofits and causes focused on education, human rights, health equity, medical research, peacemaking and social justice.
Feeney's decades of generosity to Cornell included the gift to help establish Cornell Tech; creation and endowment of the Cornell Tradition program, and leading support for other scholarship initiatives; help creating the university's current North and West Campus residential communities; and many years of support for various university infrastructure and academic programs, as well as athletics and student life.
One of the earliest proponents of the "giving while living" philosophy, Feeney helped inspire people of means to give away the majority of their wealth to better the world during their lifetimes. When Warren Buffet and Bill Gates created the Giving Pledge initiative to motivate the world's wealthiest individuals and families to do the same, they cited Feeney as their inspiration.
Feeney reached his lifetime goal of giving away his entire fortune and formally dissolved The Atlantic Philanthropies in 2020.
In 2021, Entrepreneurship at Cornell created the Charles F. Feeney '56 Lifetime Achievement Award in Entrepreneurship and Humanity to honor world-class Cornell entrepreneurs who have also made tremendous gifts to humanity through either philanthropy or the positive impact of their business ventures, and honored Feeney as the first recipient.
A Feeney Way was unveiled at the University of Limerick in Ireland in March, as well as one at the University of Queensland in Australia in 2022 – additional tributes to Feeney's global impact, especially on higher education.
Joe Wilensky is a staff writer for Cornellians.
RELATED STORIES Cornell Tech has announced a total of more than $10 million in …