By Krishna Ramanujan, Cornell Chronicle
Greg Morrisett has been appointed to a second term as the Jack and Rilla Neafsey Dean and Vice Provost of Cornell Tech, Provost Michael I. Kotlikoff announced Oct. 9.
The Cornell Board of Trustees' Executive Committee voted Sept. 14 to approve a new five-year term, effective July 1, 2024. Morrisett's tenure as dean began July 1, 2019. He is also a professor in the Department of Computer Science in the Cornell Ann S. Bowers College of Computing and Information Science.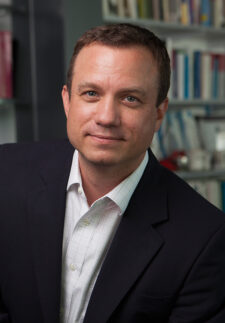 "Greg has been an inspirational leader in the establishment and growth of Cornell Tech, the Roosevelt Island Cornell campus and the New York City tech landscape," Kotlikoff said. "I'm thrilled for him to continue in his role as dean: growing Cornell Tech programs, fostering intercampus collaborations, attracting outstanding students and faculty, leading exciting K-12 tech educational programs and driving innovation and startups in New York City."
Cornell Tech launched in 2012, in temporary offices in Google's New York City building, and moved to its permanent campus on Roosevelt Island in 2017. The campus is home to close to 50 tenure track and nontenured faculty members, approximately 400 master's students across eight programs, and more than 100 doctoral students in five fields. Since its launch, Cornell Tech has graduated about 1,900 students.
As part of a land-grant institution, Cornell Tech has a deep responsibility to serve New Yorkers, Morrisett said. The land-grant mission is evident in the campus's efforts to help diversify the tech ecosystem, educate students to design and build solutions that tackle real-world challenges, and develop deep connections in New York City's tech industry, he said.
"I'm just super proud of how New York's tech scene has exploded over the last decade, and I think we can take our fair share of credit for this," Morrisett said.
Some key accomplishments during Morrisett's first term:
As part of the Jacobs Technion-Cornell Institute, the campus has launched the Urban Tech Hub, which focuses on connecting academic resources with public needs to help make cities more connected, livable, efficient and accessible.
Cornell Tech's Studio program for master's degree students and its Runway Startups postdoctoral program together have helped spin out more than 100 companies, which have raised more than $250 million in independent funding, with more than 90% of the startups operating and creating jobs in New York City.
Over Morrisett's tenure as dean, Cornell Tech has hired nearly 20 new faculty members and increased the number of graduate students by 200 – 83% increases for both since 2019.
In Morrisett's coming term, the opportunities and challenges presented by AI will be a key focus. Along with developing AI technologies for health care, education and climate change, Cornell Tech will be at the forefront of applying deep research to address the new technology's major shortcomings. Overcoming bias in data-driven decision making, the massive amounts of energy needed for AI systems, and safeguarding against job losses to computers and robots are all areas of concern, Morrisett said.
"I believe we have a very short window to steer the AI age in the right directions," he said. "Cornell Tech is uniquely positioned – through our amazing faculty and students, our deep connections to the city of New York and our Cornell heritage – to have an outsized impact on the technical and social challenges we face."
Morrisett's own research focuses on the application of programming language technology for building secure, reliable and high-performance software systems. He has worked with students to design programming languages that rule out whole classes of bugs. With respect to software and security, he has served in advising and steering capacities with the National Academies of Science, the Defense Advanced Research Projects Agency and the National Security Agency.
Morrisett received his bachelor's degree in mathematics and computer science from the University of Richmond (1989), and his master's (1991) and doctoral (1995) degrees in computer science from Carnegie Mellon University. He was a Cornell faculty member in computer science from 1996 to 2004. He was then hired by Harvard University, where he served as associate dean for computer science and engineering, director of the Center for Research on Computation and Society, and professor of computer science, until he returned to Cornell in 2015 as dean of what was then the Faculty of Computing and Information Science.
His honors include an honorary doctorate from the University of Richmond (2023); election as a Fellow of the Association of Computing Machinery (2014); a Presidential Early Career Award for Scientists and Engineers (2000); and a National Science Foundation Career Award (1999).