Using 'Human Sensors' to Synthesize Qualitative Data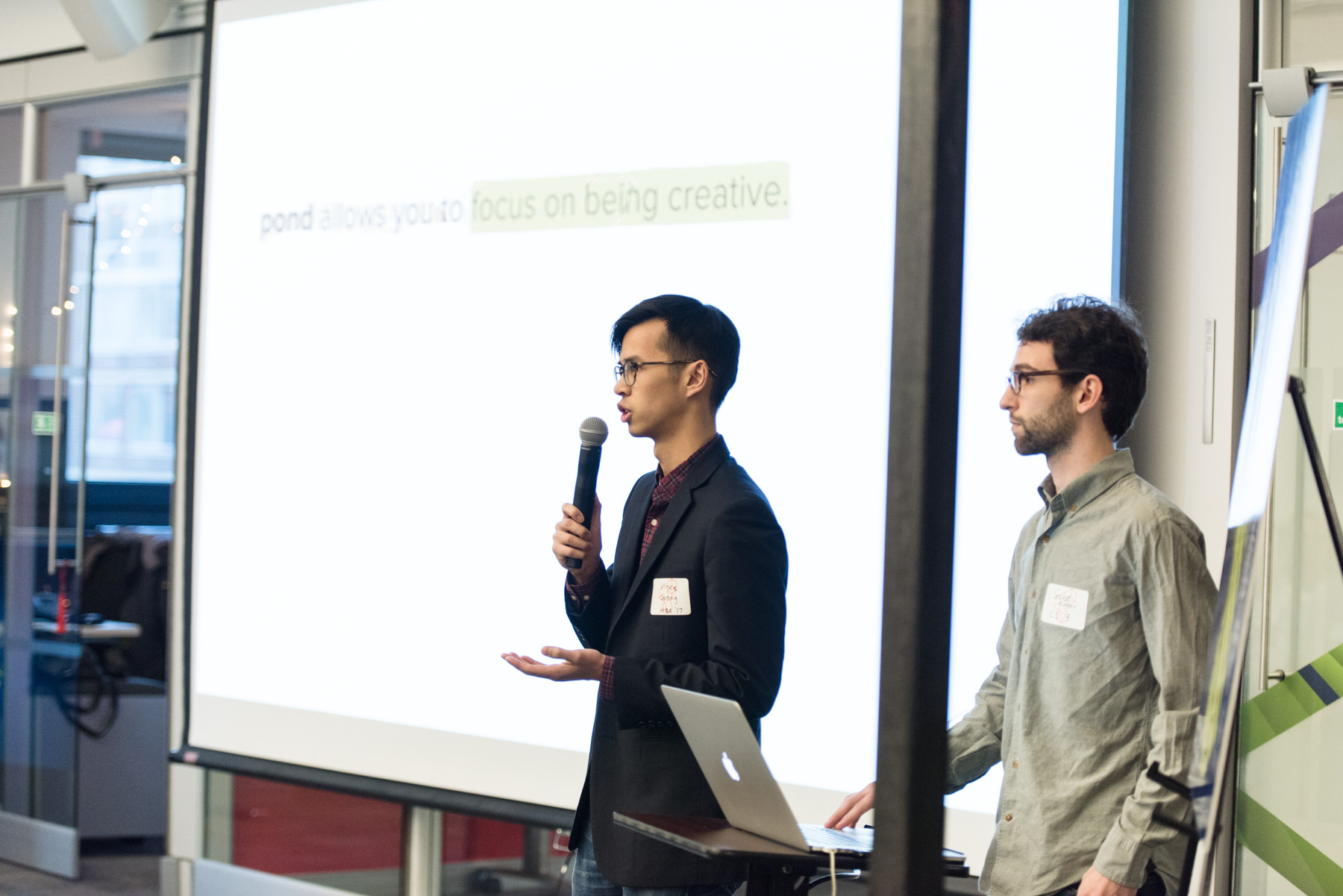 In a world obsessed with analytics, qualitative data is often overlooked in favor of raw numbers. But while it may not be readily calculable, it's the qualitative data—the human emotions and improvisations—which offers up the most fertile information.
When frog design submitted a prompt to Cornell Tech's Product Studio, the global design strategy and research firm was expecting their assigned team of masters students to focus on raw analytics, and other forms of objective data. Instead, the Cornell Tech team and frog design shifted focus of the conversation back to conversation itself, and produced a groundbreaking transcription service.
An Open-Ended Ask
Hoping to unleash them creatively, frog design's challenge to the team amounted to an open-ended question: how could wearables and sensors enable design researchers to draw more valuable insights while in the field?
"They didn't give us technology, or any ideas beyond that question. It was our role to dig down deeper, and figure out what we need to do," said team member Gabe Ruttner, Master of Engineering in Computer Science '17. "We had to run with that, figure out what it means, unpack the different terms, and come up with a product that addressed that question."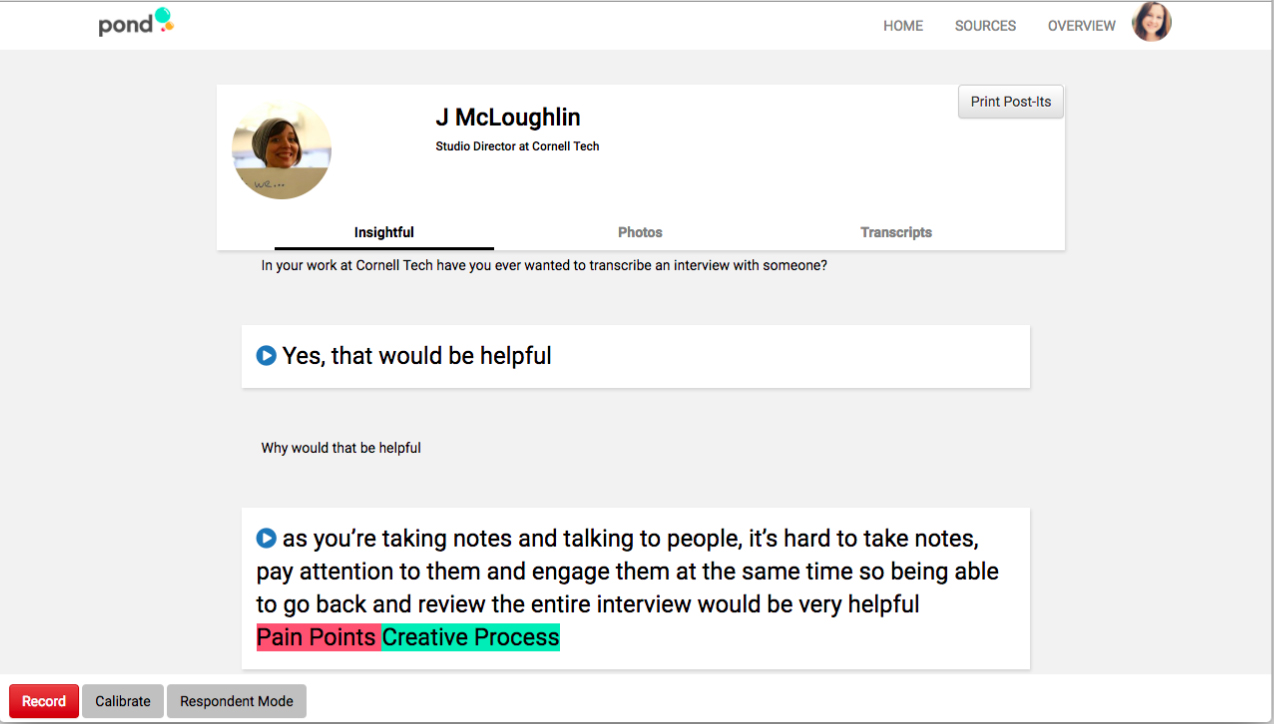 The Breakthrough Moment
This creative license led the team to think critically about their prompt — and eventually, to reframe the challenge altogether.
"We actually didn't use wearables, we spun away from that early on," said Ruttner.
The team realized that a surplus of data, rather than providing clarity, more often has the effect of obfuscating meaning. So the team turned its attention to more accurately capturing human interactions, as opposed to, say, devising new ways of collecting data.
"There was a moment where we said, 'Humans are the best sensors' — and it sort of fell in place for us," recalled Brinna Thomsen, Parsons, BFA Communications Design '18.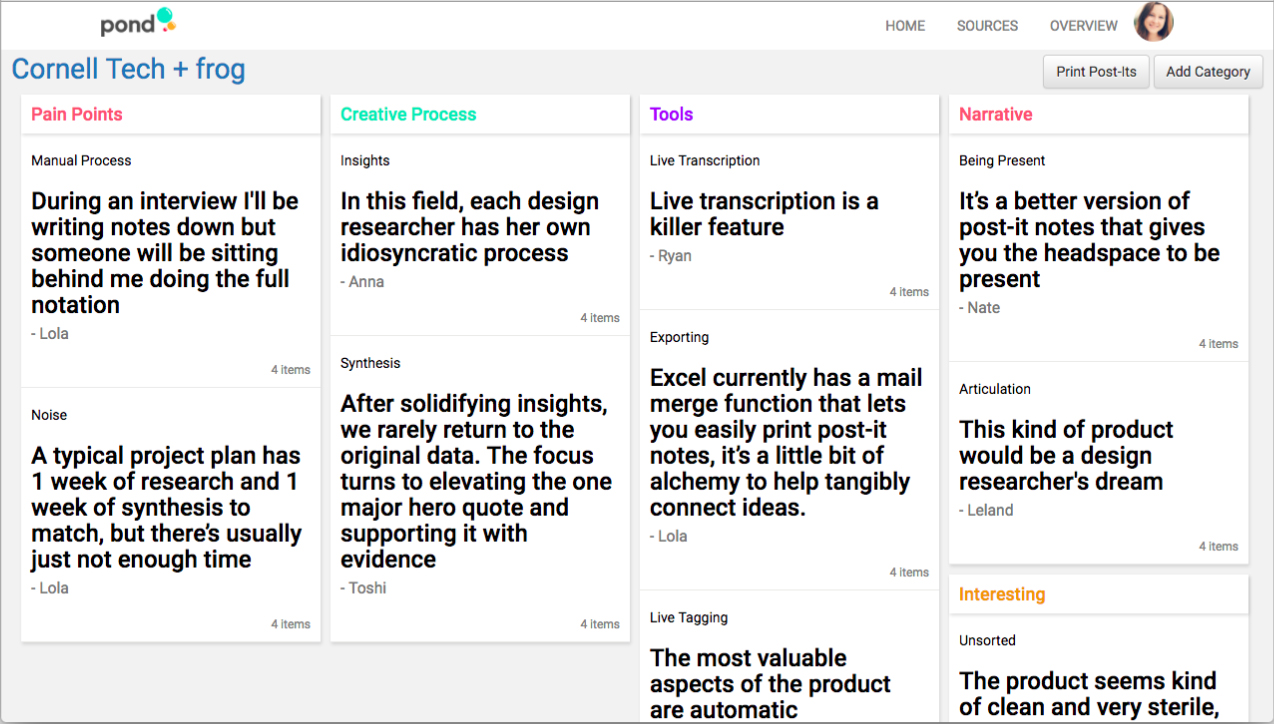 Building a Product Solution
The team divvied up responsibilities based on their respective fields of study, with Ruttner and Roy Cohen, Technion-Cornell Dual Master's Degrees in Connective Media '18, working as developers, Thomsen heading up design, and Vince Wong, Johnson Cornell Tech MBA '17, serving as product manager.
"We all sort of merged together," said Ruttner.
Working closely over a series of weeks with frog's design researcher Lola Bates-Campbell, the students developed a transcription app that the group named 'pond', a nod to the company that spawned it. 'pond' is a real-time transcription program that allows an interviewer to easily flag relevant information with custom tags and then curates that information into insights.
With a print to post-it note feature, pond allows users to move seamlessly between synthesizing in the physical world and the digital world. When they are finished grouping the insights, they can quickly bring those categorized groups back into pond by scanning QR codes located on the post-it notes.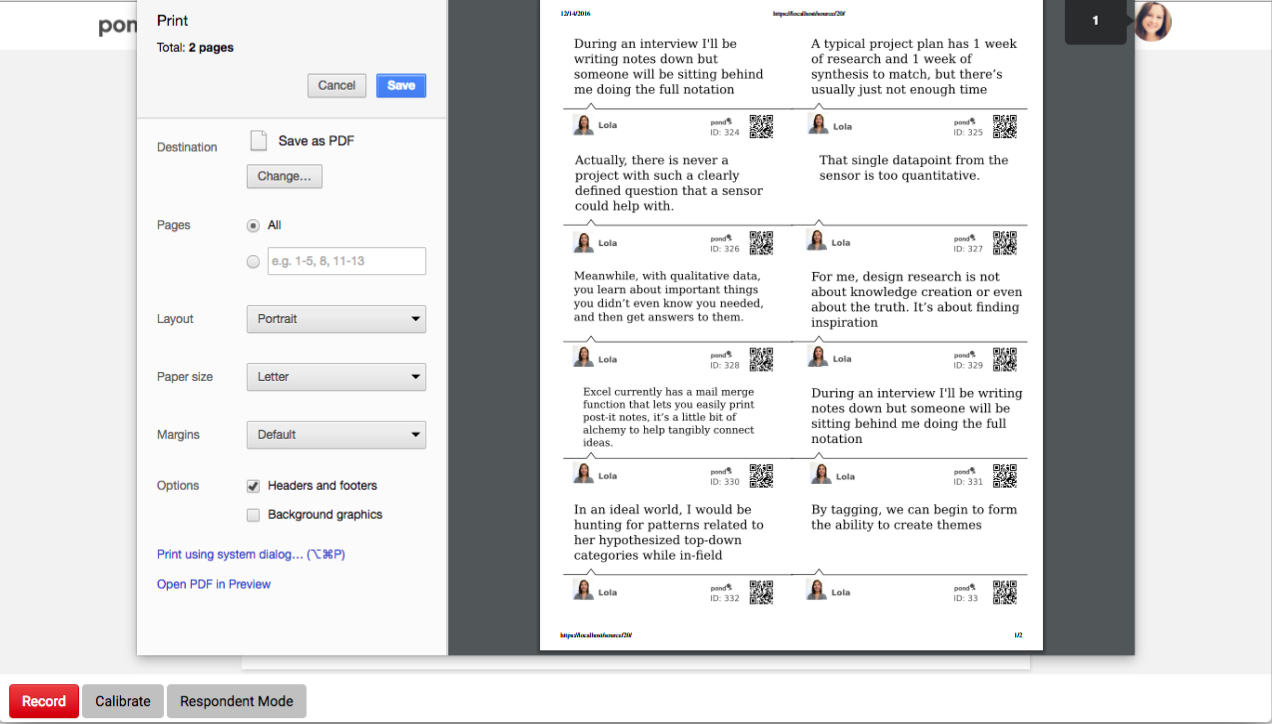 The app, developed using Django — a free, open-source framework — and Google's Speech API, is in the public domain, a decision made by the company and backed by its creators.
Reflecting on the process, the students recognized that, in some ways, the opportunity to work on a research tool made their experience especially valuable. "Our project was kind of meta in the sense that we were doing for frog what frog does for their clients," said Ruttner.
Wong agreed, "I think frog was very excited to mentor us under their own design research methodology as we built pond for them. They were incredibly supportive from end-to-end."