Public Interest Technology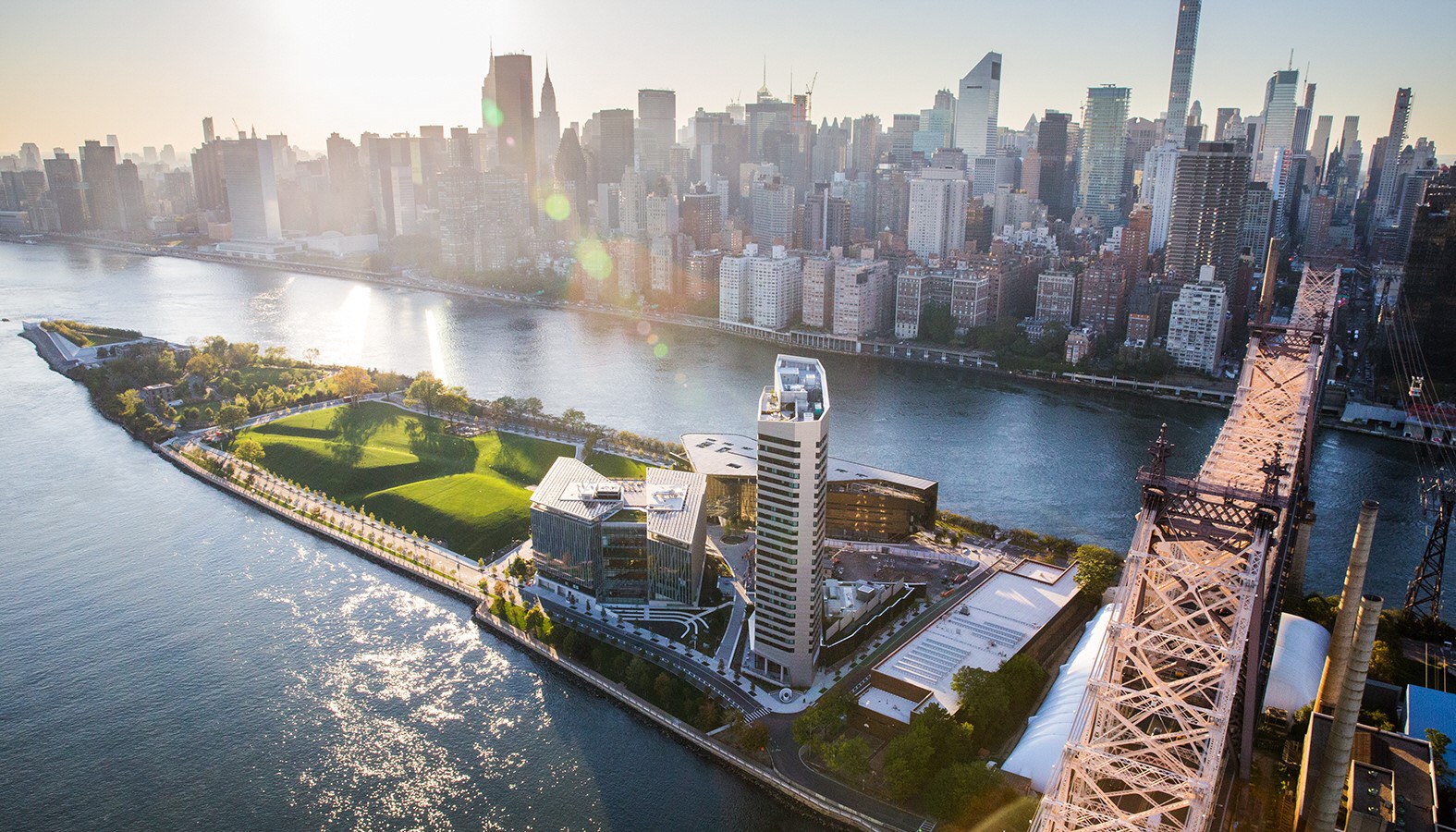 Campus
Game-Changing Gift for Public Interest Tech
Public Interest Tech is an emerging scholarly and professional field that is broad in scope and intention. It is defined by the deployment of technological expertise in service of the common good, often with a focus on under-resourced communities and needs.
Since Cornell Tech's founding in 2011, the societal and economic impacts of digital technology have only become more powerful, and with it, the growing desire among our most ambitious technical students, researchers, and working professionals to shape technology to serve public needs. From healthcare and education to human rights and sustainability, these leaders ask how we might use emerging technology to:
Assist communities in adapting and deploying digital tools to meet local public health priorities, such as food insecurity, social isolation, and healthcare access.
Support public school systems in addressing pedagogical, equity, and privacy gaps of the software platforms they increasingly depend upon.
Enable community participation in data collection and decision making to help cities address environmental challenges, from hazardous housing conditions to climate change.
Advise local policy makers on the positive and negative externalities of emerging safety and surveillance technologies.
Our Activities
PiTech at Cornell Tech convenes and activates a community of technologists, researchers, and practitioners dedicated to societal challenges that too frequently "fall between the cracks" of federal research funding and commercial investment.
PiTech will design:
New tools: proof of concept digital systems, methods, and data science artifacts that meet the needs of community partners.
New frameworks: policies, legal analyses, educational structures, and socio-technical system design that address the root of inequities, in collaboration with Cornell Tech's Digital Life Initiative (DLI).
An enhanced workforce: applied professional experiences for the next generation of innovators, leaders, and thinkers who will guide technology toward positive societal outcomes.
We are currently supported by a seed investment from The Atlantic Philanthropies, which recognized that Cornell Tech has the right mix to affect population-scale progress — our technical depth and builder mentality, our New York City home, and the breadth of our research endeavor.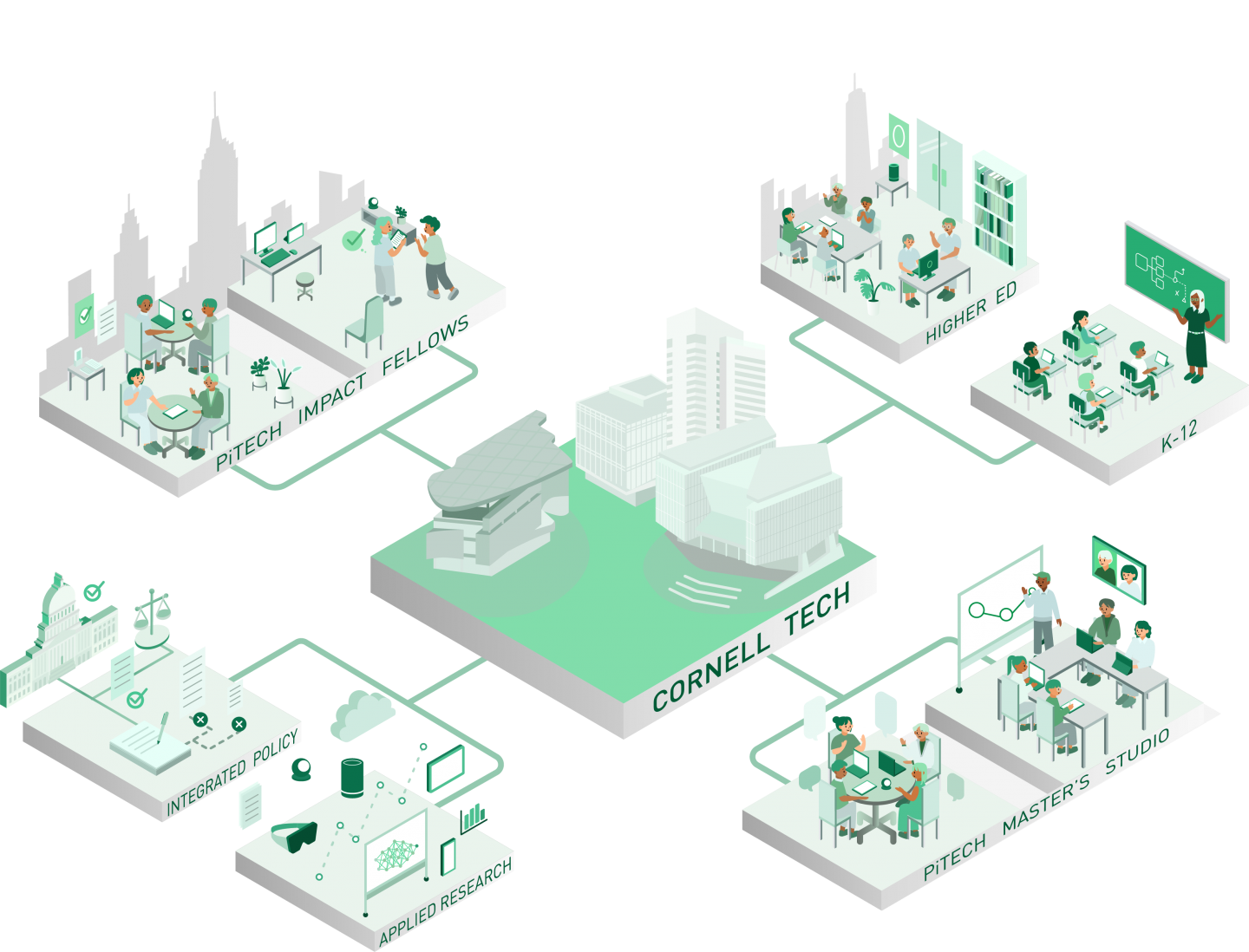 PiTech Studio
The PiTech Studio track is the latest addition to Cornell Tech's unique Studio program in which Master's students develop real-world tech with leading startups, established companies, and NYC organizations. Training public interest-minded technologists demands special attention, including opportunities to engage community leaders, public sector agencies, and non-profit funders. PiTech Studio focuses specifically on product development and business models to accelerate positive change in the public and non-profit sectors.  
PiTech Impact Fellows
PiTech Fellowships will support technical researchers seeking public interest impact. Fellows will actively engage with communities around a particular public concern that is enabled or complicated by technology. Our vision is to host annual cohorts of doctoral fellows, postdoctoral fellows, and faculty sabbaticals to address specific societal needs; and to broadly foster the practice of public interest tech in the research community. Our inaugural summer program will provide doctoral fellows with direct financial support as they embed within a community, NGO, foundation, or public sector organization.
Policy
Dynamic integration of legal, ethical, and policy frameworks is necessary for sustainable movement towards more socially responsible technology outcomes. For this, PiTech is leveraging the strengths of Cornell Tech's influential Digital Life Initiative (DLI). The DLI community of scholars and policy portfolio is growing rapidly, as more leaders from industry and government look to DLI for guidance on issues of privacy, cybersecurity, blockchain, and AI ethics. PiTech and DLI's partnership enables foundations in law and ethics to be put into practice and creates virtuous feedback across research, policy, and community impact.
K-12
We believe that all children should have access to the computer science content and computational thinking strategies they'll need as digital citizens. In collaboration with Cornell Tech's K-12 Initiative, PiTech seeks to promote equitable access to computing education in K-12 public schools.
Spotlight
Clinic to End Tech Abuse (CETA)
Our first Tech Clinic, launched fall 2019, addresses Intimate Partner Violence (IPV) in partnership with the Mayor's Office to End Domestic and Gender-Based Violence. By pairing Cornell Tech's expertise in human-computer interaction and security with engagement on the part of IPV victims and policymakers, Professors Nicki Dell and Tom Ristenpart developed the Clinic to End Tech Abuse (CETA), a first of its kind computer security clinic that helps IPV survivors navigate technology abuse. They are now scaling the clinic to serve the larger New York City metropolitan region and create a model that is replicable across the country.