At NYC makeathon, students change lives with technology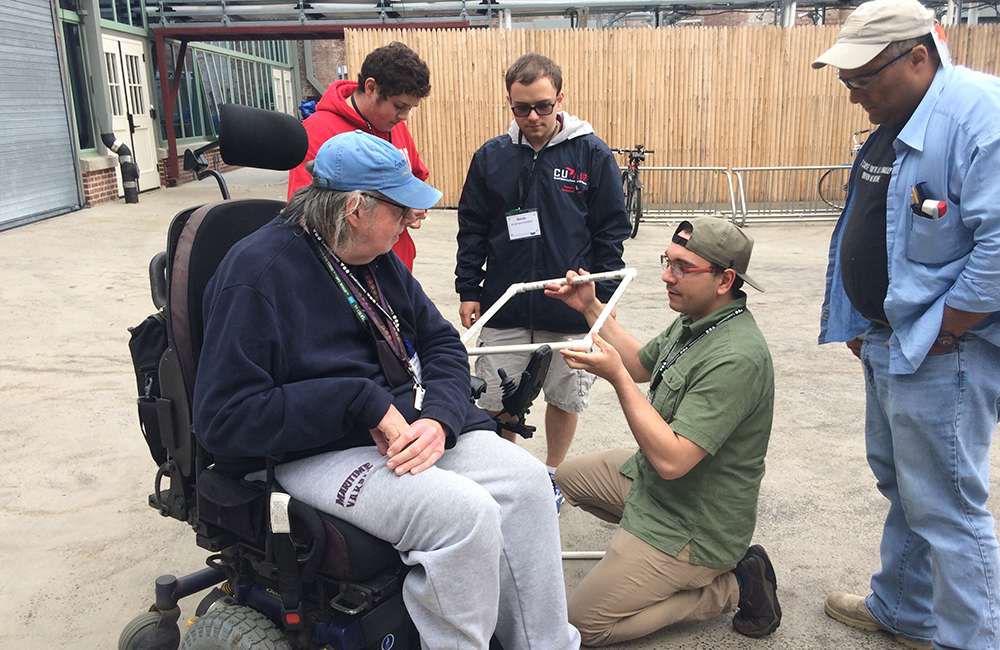 Wilson Pham '19 was among Cornell students, faculty and volunteers at an April 21-23 makeathon in New York City to help improve the lives of 17 people with disabilities.
Pham's "Team Jacked" and 16 other teams joined with Cornell Tech, Entrepreneurship at Cornell, the ILR School's K. Lisa Yang and Hock E. Tan Institute on Employment and Disability, the New York City Mayor's Office for People With Disabilities and TOM Tikkun Olam Makers to produce prototypes.
Hunched over tables at the Brooklyn Navy Yard, students from Cornell Engineering, Weill Cornell Medicine and Computing and Information Science went to work with white boards, laptops, sewing machines, lathes and other tools to produce designs that will be available for free on the internet. Many of the teams were advised on site by people who have disabilities.
Ami Stuart '10, Entrepreneurship at Cornell tech events manager, said, "This weekend was an amazing example of what can happen when the expertise and diverse skill sets of our programs come together for truly interdisciplinary collaboration."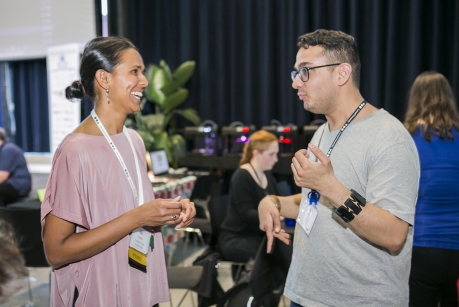 Susanne Bruyère, director of the Yang-Tan Institute, said, "We hope that this is the beginning of a number of radical collaborations we can spawn across our resources for future technology and disability initiatives."
Pham and his team refined many concepts and built numerous models before finalizing an elbow brace device for Nij Suri, 27, a New York City resident who has limited motion on the right side of his body and is not able to extend his right arm fully when lifting weights.
Team Jacked attached tension bands to the brace that created enough force and allowed Suri to straighten his arm to complete a movement. The team also designed a glove that allows Suri a better grip for handling weights.
The makeathon produced free, downloadable designs with "the power to help anyone," Suri said.
Pham teammates Maddie Jacks '19, and Brian Realbuto '17 said the project allowed them to merge their areas of study with their athletic interests. Jacks was on her high school's rowing team, and Realbuto wrestles for Cornell.
"You realize how quickly you have to adapt," Realbuto said.
Another Cornell team that included Xuechun "Bob" Qian '20, built an app for jazz musician Anthony Moran, a resident of Roosevelt Island, where Cornell Tech opens in September.
A stroke left his right side paralyzed and him unable to play drums, but the app allows Moran to re-create six drum sounds from a smartphone.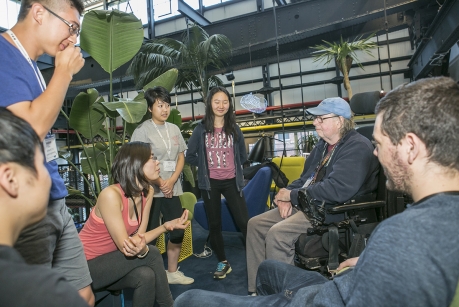 "We want him to be able to create jazz music again," Zhong said.
Niti Parikh, creative lead for Cornell Tech's Maker Lab and a mentor at the makeathon, said the event served as a model for how rapid prototyping can be taught to the diverse student population of Cornell Tech, which will have a state-of-the-art facility at The Bridge building on the new Roosevelt Island campus.
Volunteer team mentors included Sam Dix '13, who does product design for Ernst & Young and who studied and researched disability through courses offered at the ILR School. Helping people with disabilities is a "cause very close to my heart."
The Cornell event was the 21st event TOM has brought to 10 countries. TOM spokesman David Levine said, "The best part of working with Cornell is the high pool of diverse talent and experience from a range of makers."
This article originally appeared in the Cornell Chronicle.