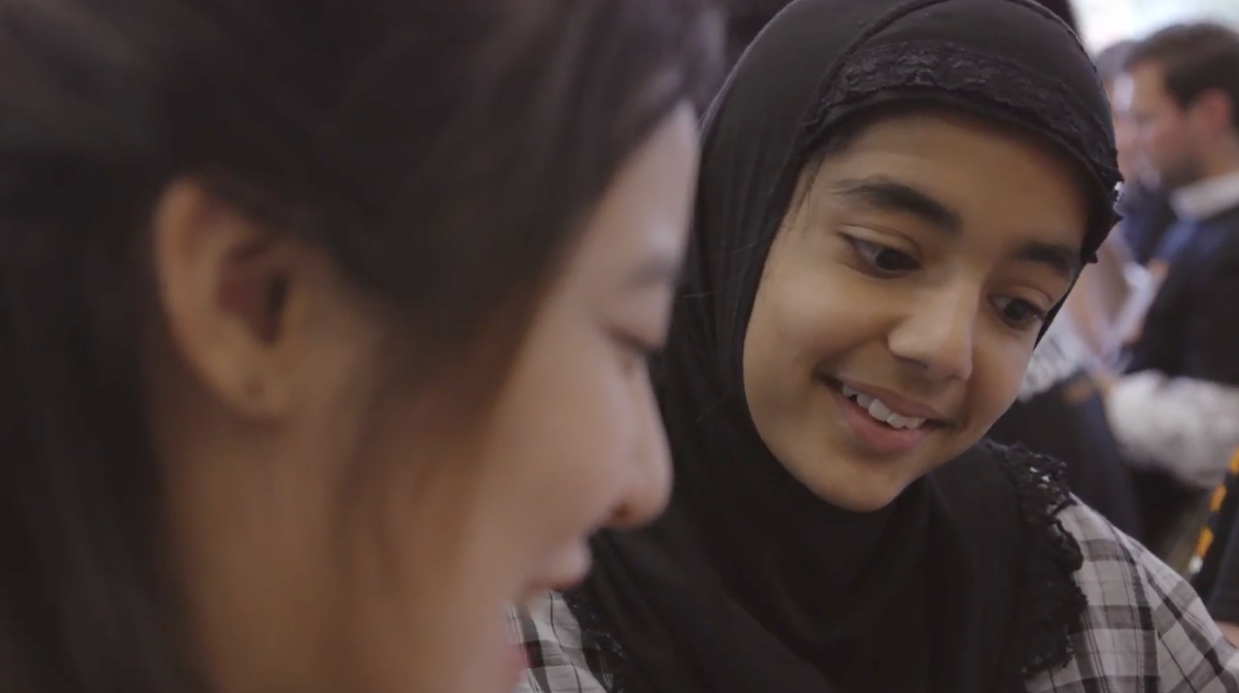 In the nearly three years since I joined Cornell Tech, there has been a K-12 computer science revolution growing in Washington D.C. and in New York City, including on Roosevelt Island. It's a very exciting time for educators committed to preparing students for their digital future. Cornell Tech is proud to be helping to lead that revolution.
A little over a year ago, Mayor de Blasio announced Computer Science for All (CS4All), a 10-year, $80 million public-private partnership to bring computer science experiences to every school in New York City. We work closely with CSNYC, the nonprofit helping to drive CS4All, and with the Computer Science unit at the NYC Department of Education. In January, President Obama announced the federal Computer Science for All initiative, introduced during his State of the Union address. This year, the White House Office of Science and Technology Policy (OSTP) announced the first 200 national commitments to CS education, and we're proud that Cornell Tech's new Teacher-in-Residence (TIR) program was one of them.
Teacher in Residence
Last year, we tested an idea at PS/IS 217. Would interest and activity around computer science grow if there were a computer science educator on site? We hired a consultant to lead the entire teaching staff through a very introductory series of classes, and to work with a few grades building curriculum. While these were just baby steps, we learned that having a resource within the school, rather than at another organization or university, definitely built confidence and competence in teaching computer science. In fact, educators at PS/IS 217 were so excited about computer science education, they applied to the Department of Education to be a part of the first elementary CS4All Software Engineering Program (called SEP Jr.). I am proud that they were among the 20 schools selected, from over 115 applicants.
Today, PS/IS 217 is humming with computer science activity. Building on the success of the in-house consultant, Cornell Tech has launched the TIR program. The premise is that having a resource to build a teacher's capacity to integrate computer science as part of the school community, makes the very difficult job of teaching computer science a bit easier. Rather than expecting teachers to get all their training in the evenings, on weekends, or during the summer, the schools we work with have a resident expert. Meg Ray, our first TIR, started in early August, and is now working with the teaching staff at PS/IS 217 once a week to support their implementation of SEP Jr. and computer science education. She is modeling instruction, providing professional development, coaching teachers and working with them to develop curriculum. As Assistant Principal Jennifer Allen told us recently, "We expect every teacher in our building to be incorporating computer science in their classrooms." That's a huge and impressive commitment, and we're happy to learn from and with PS/IS 217 as they make it a reality. The TIR is funded by a grant from the Siegel Family Endowment, with additional funding for Roosevelt Island from Urban American/Brookfield Property Partners.
Let's Code
We recently held our third "Let's Code Roosevelt Island" event with PS/IS 217's middle school.
"I'm in eighth grade, and this is my third time doing this. This year is so fun – it's the best!" was the enthusiastic endorsement of one student. Nearly 60 Cornell Tech grad students, representing all six of our degree programs, joined the entire middle school in the PS/IS 217 library for a morning of building electrical circuits with conductive copper tape, connecting small coin batteries to LED lights. Once they had mastered the science of the circuit, they created amazing decorations with art materials and light. They worked for two and a half hours and would happily have kept going if recess and lunch hadn't interrupted. When her mentor asked this student why this experience was so great, she replied, "Because we made something!"
We've got a lot more coming up on Roosevelt Island. We will hold a family computing event during Computer Science Education Week, December 5-11 (stay tuned for details soon). As they did last year, the fourth grade will visit us in Chelsea for a tour of Google. They will also spend some time in the Cornell Tech Maker Studio, with its director (and PS/IS 217 parent) designer Niti Parikh.
We also recently hosted our third annual "To Code and Beyond" conference, bringing more than 80 educators, non-profit leaders, policymakers, and funders together to discuss the theme of computer science at play – how informal learning and afterschool can support Computer Science for All. PS/IS 217 Principal Mandana Beckman was among the participants learning how we can use time out of school to expand students' computing knowledge and opportunity.
All this, and we're just getting started. One thing we've realized is that once we move to the Island (next summer!), our campus will be a classroom for the students of Roosevelt Island, and PS/IS 217 will be a classroom for our graduate students as well. We all have a great deal to teach each other and to learn from each other and our students.
And as we learn what works, we look forward to sharing these strategies with the city and the nation, as we all work to truly bring computer science to all.
Originally appeared in The Main Street Wire