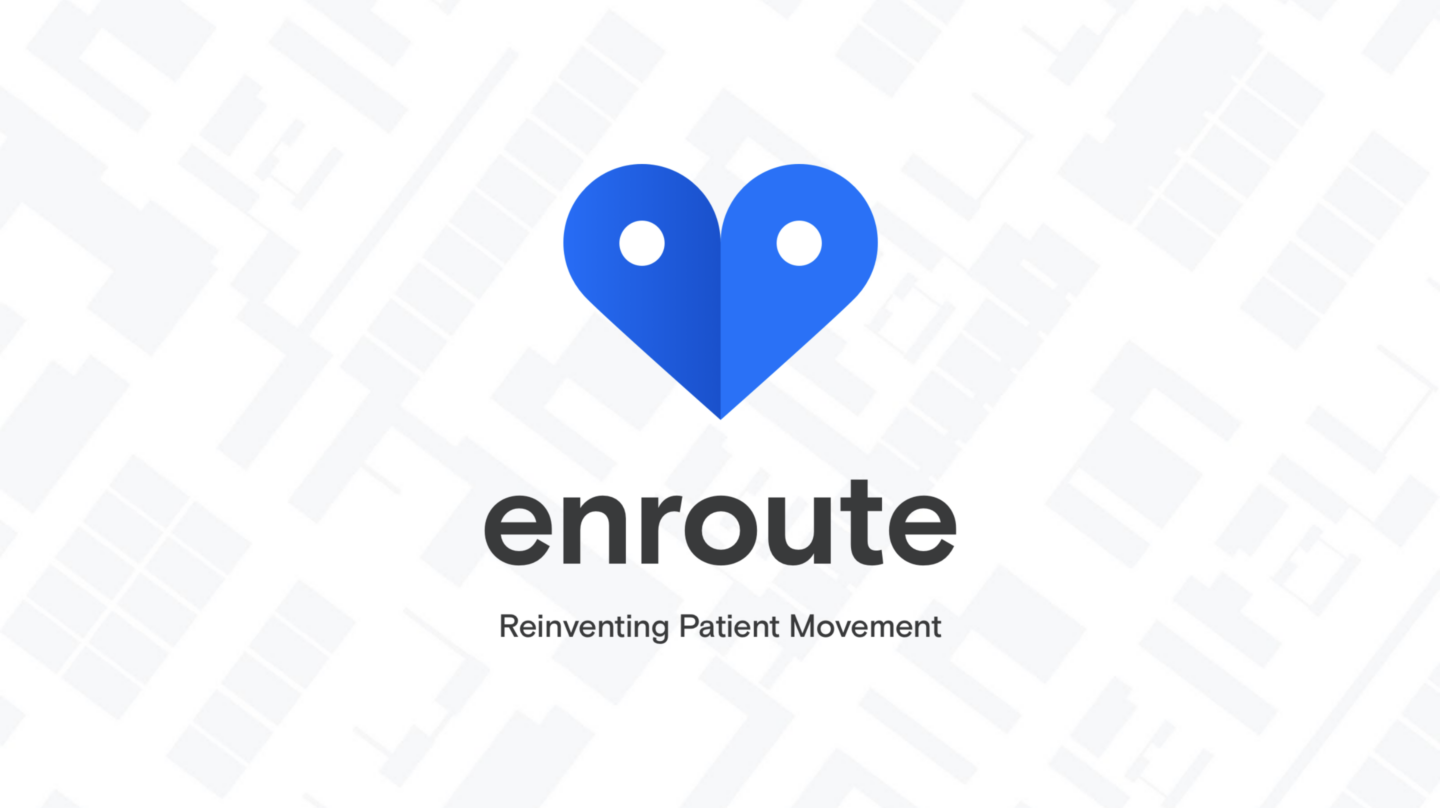 When Michael Kosnik and Samson Schirmer — both Johnson Cornell Tech MBAs, '20 — flew to Tel Aviv in January for an international hackathon addressing issues in public health, there was no way to predict the how their gold medal project, enroute, could improve the way hospitals might cope with the rising COVID-19 pandemic.
As medical professionals around the world face the uncharted waters of a global health crisis, enroute has found a way to make hospitals' simultaneously over-capacity and under-resourced hallways easier to navigate.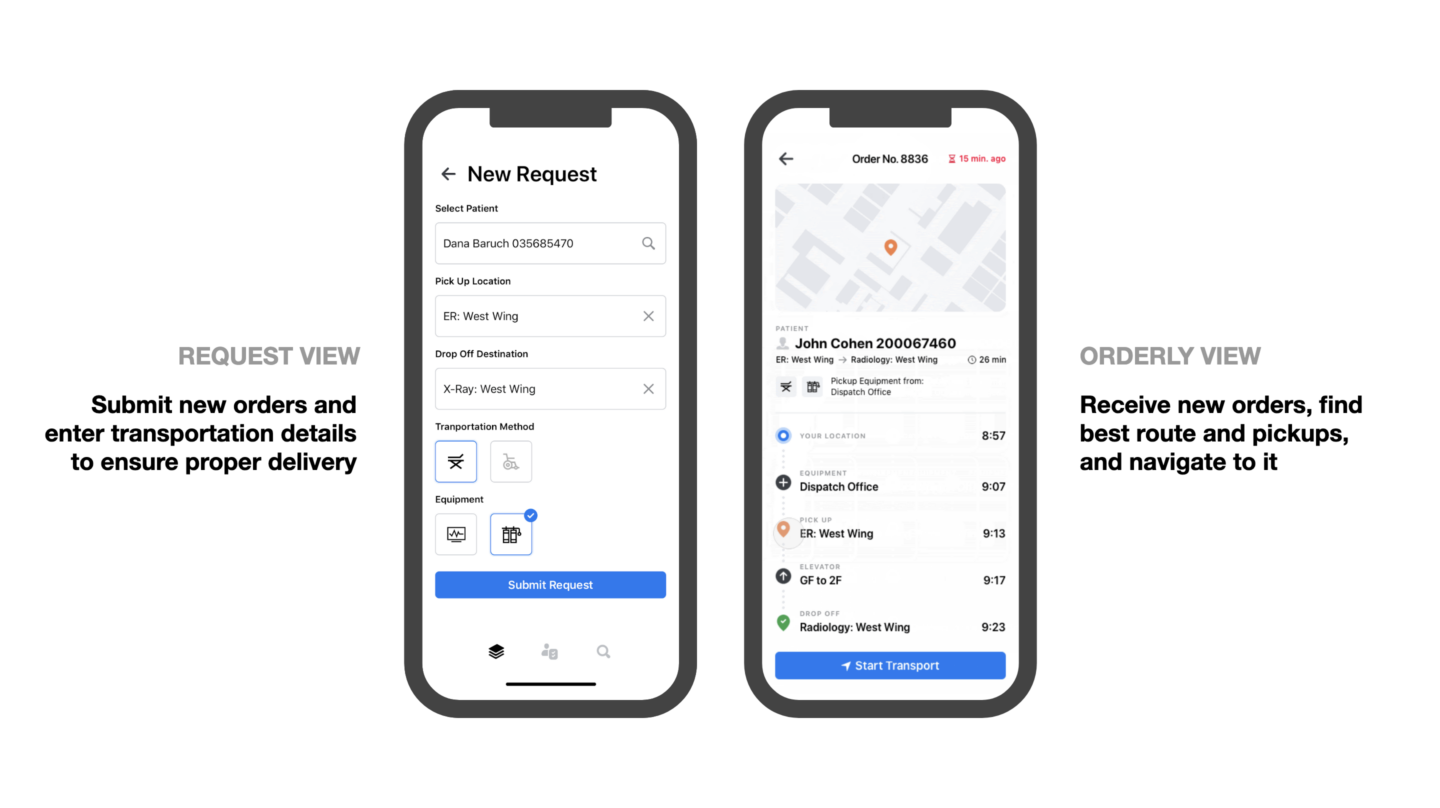 Getting Hospital Transportation Systems on the Right Track
Described by Kosnik as the "Uber of intra-hospital transportation," enroute provides full visibility of how patients, personnel, and equipment move throughout the hospital in real-time through an app-based platform that integrates into a hospital's existing enterprise resource planning (ERP) software. Then, using specialized algorithms, enroute automatically assigns transporters to equipment and patients, culminating in a smooth, trackable process.
Given the impact enroute can have in creating a more efficient global health ecosystem, it's fitting that the startup was first conceptualized during a 24-hour, international hackathon. Aptly called Time to Care, the public health-themed hackathon was hosted by the American-Israeli startup MindState and backed by the World Health Organization. The hackathon was part of the Jacobs Technion-Cornell Institute's annual iTrek program, a 10-day trip during the January academic recess which provides students of varying backgrounds an opportunity to be exposed to and learn about the growing economy of innovation in Israel with a focus on the established startup ecosystem.
Kosnik and Schirmer were paired with five other teammates — including multinational students from the Technion-Israel Institute of Technology, as well as working professionals in the biomedical engineering and product design space — and told to come up with a product after observing the movement of 1,400 patients as they traveled through Ichilov Hospital, part of Sourasky Medical Center's 2.7 million-square-foot campus, over the course of a day. 
"There were communication and coordination issues that were leading to delays," said Kosnik, who noted it took an average of 36 minutes to transport patients from one place to another. "These delays don't just cost precious time with patients. Operations are basically the lifeblood of the hospital, and when there's an issue with transportation it's going to impact every department." 
In order to move patients or equipment from place to place on hospital campuses, transporters must be given locations and dispatched efficiently. But according to Schirmer, many hospitals still rely on clipboards and other outdated systems that hamper efficiencies. When a patient has to be moved, say, from ER to Radiology with a broken arm, Schirmer noted a nurse must "make a request, call the dispatch office — which is a small room in the middle of the hospital that operates like a seventies-style dispatch service, each operator holding onto two phones at a time, all day every day."
In fact, enroute Design Lead Tal Shturm recalled accidentally getting lost in a hospital a few years ago after a scheduled X-ray. "A nurse moved my bed to the hallway, and I was informed that a transporter will pick me up soon. So I waited, and waited," and then after going to the front desk to check in on his transport status, he was told to keep waiting. "Finally, after almost two hours of waiting, a transporter who passed by noticed me, and casually asked: 'Are you still here? I'll take you back to the department.' It was clear I was totally lost in the system."
But the team emphasizes that this isn't the fault of the transporters or hospital staff, who have made a life of helping patients. "It's about the technology," said Schirmer. "The IT is outdated."
With enroute's algorithms, hospitals could adjust transport priorities based upon urgency without losing track of patients with less-pressing needs. Rather than engendering the confusion of the previous model, enroute strives to create connectivity throughout the hospitals' ecosystem. The system also provides practical transparency, so dispatchers have a constantly updating picture of staff workload, which could result in more efficient routes and decreased travel per shift.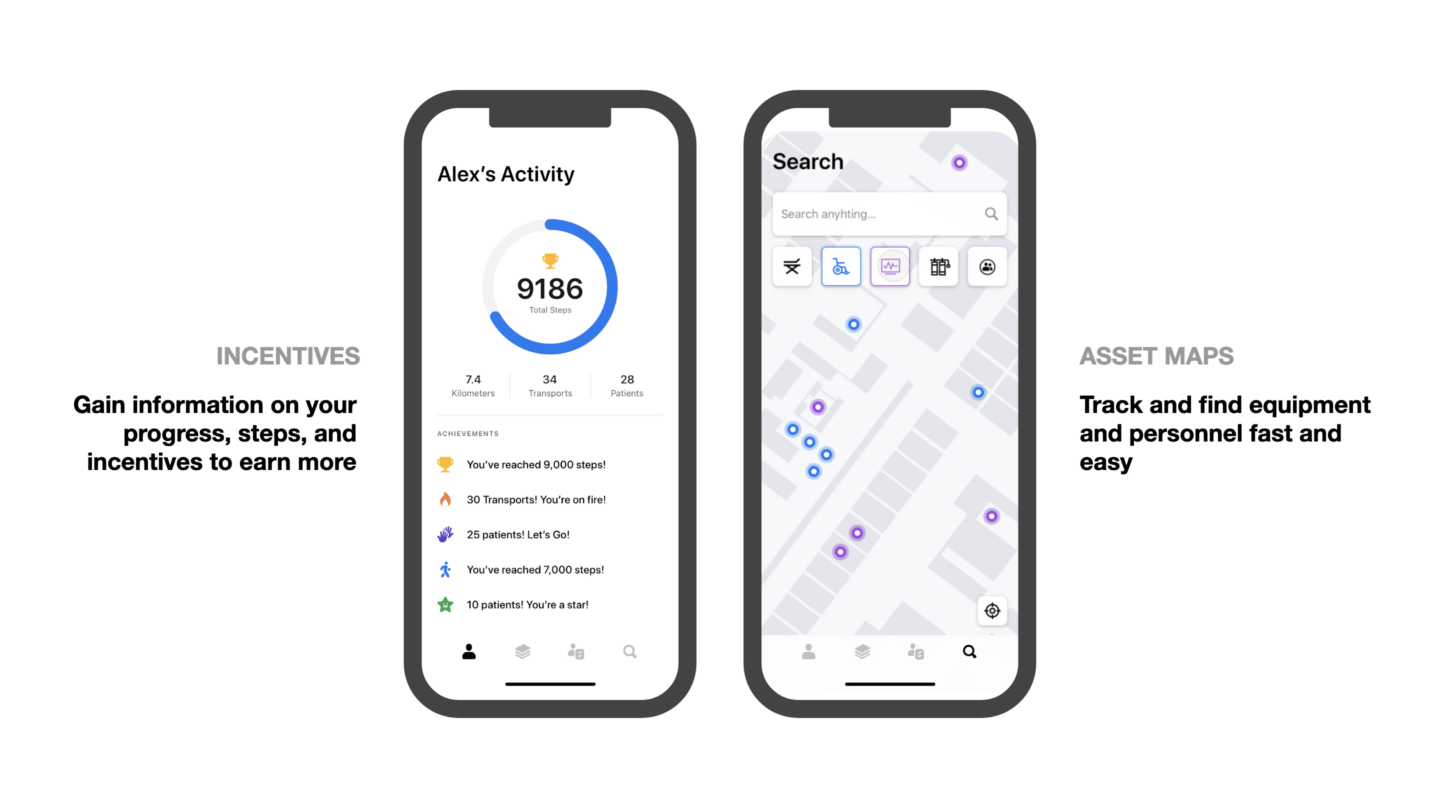 Adapting to Address COVID-19
After winning the hackathon in January, enroute's team members knew they wanted to keep working on the product and see if they could expand it from a concept to a viable company. Although Kosnik and Schirmer — enroute's CEO and Chief Product Officer, respectively—were back in New York completing their last graduate program semester, they maintained communication with their Israeli teammates to expand and perfect its technology. 
But when COVID-19 began to dominate world healthcare weeks later, slamming hospitals that were already over-capacity and under-resourced, the team realized that enroute could help hospitals on a larger scale than they'd initially imagined.
"Originally we knew we were dealing with a bad problem, but with the pandemic, it became even worse — we heard about doctors having to wait six hours for patient transport," said Kosnik, adding that their contacts at hospitals in the US and abroad "asked if we had something to keep track of patients because they were using clipboards to figure out which patients had COVID-19 and where they were held. They were figuring it out on the fly."
This gave enroute a new perspective on how its algorithms could assist in the fight against coronavirus and other infectious diseases: its technology could track the locations and pathways of contagious and non-contagious patients and staff, and the equipment they require. The data would provide a comprehensive log on where patients infected with COVID-19 have been, and who has come into contact with them, including retroactive tracing in cases in which, for example, a patient who received treatment for a non-related ailment later tests positive for the virus.
The utility and success of this venture haven't gone unnoticed. The startup was one of four student-led companies to win Cornell Tech's 2020 Startup Awards in late May, which provides up to $100,000 in pre-seed funding plus access to an international array of tech industry leaders — many of whom immediately started messaging Kosnik and Schirmer while they were delivering their presentation during the awards' livestream.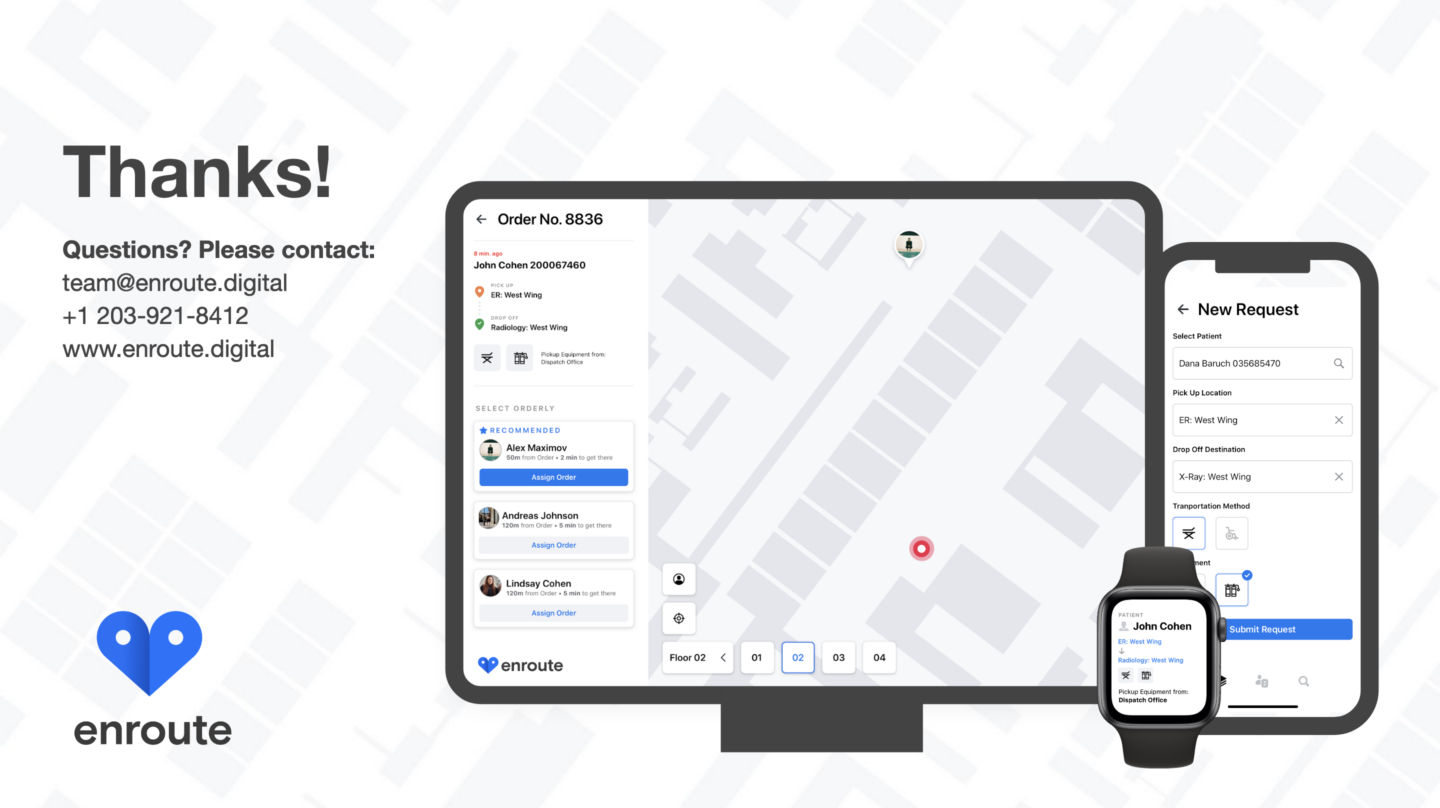 What's Next?
Since graduating from the MBA program in May, Schirmer and Kosnik have been working at enroute full-time, and they have five other team members working on the product on a part-time basis.
"Right now we are building out the technology and plan to deploy a version 1.0 at hospitals this fall," said Schirmer. In addition to bolstering their coding and focusing on software development, in the last month the team has also been in communication with hospitals spanning from Texas to Boston, Israel, and New York.
Considering that physical logistics have been calculated to account for upwards of 46% of a hospital's total budget, enroute would free up resources that have already been tapped during the pandemic. And although they hope the international community won't be hit by a second wave, enroute hopes to be operational by the end of the year to help — whether that assistance comes in the form of decreasing potential exposure to COVID-19 or making sure someone who broke a bone during a precarious quarantined-at-home DIY project gets to radiology and back without getting lost along the way.