Announcing Two New Members to the Cornell Tech Council
Cornell Tech Appoints Niraj Shah, CEO, co-founder and co-chairman of Wayfair Inc, and Aaron Holiday, co-founder and managing partner of 645 Ventures, to Governing Body
NEW YORK, NY (October 12, 2020) — Cornell Tech announced today that its Council (formerly the Board of Overseers) has added two new members. Aaron Holiday and Niraj Shah join a roster of thirteen business and technology leaders to oversee the campus' mission and strategic goals. Current board members include former New York City Mayor Michael Bloomberg, former Google CEO Eric Schmidt, and former Xerox Corporation CEO Ursula Burns. The announcement comes as Cornell Tech, Cornell University's pioneering technology campus, strengthens its commitment to innovation and leverages robust technological resources to address new challenges presented by the pandemic. 
"Two Cornell graduates with longstanding commitments to the university, our newest council members will offer innovative perspectives to the institution they care for so deeply," said David Siegel, chairman of the Cornell Tech Council and co-chairman of Two Sigma. "Aaron Holiday's dynamic career and hands-on work with Cornell Tech's entrepreneurs has been instrumental in guiding our students and their successful startups. Niraj Shah's wide recognition as co-founder of online retailer Wayfair will make him an essential asset to the Council's decision making and capacity for broader influence. We are thrilled to welcome them both to the Cornell Tech Council."
"Almost a decade ago, we kicked off the competition that would lead to the creation of Cornell Tech – a center for learning and innovation that has now graduated hundreds of talented students and helped launch new businesses in a wide array of fields," said Michael Bloomberg, Founder of Bloomberg LP and Bloomberg Philanthropies, 108th Mayor of New York City, and a Cornell Tech Councilor. "Today, we're glad to welcome two new members of the Cornell Tech Council — Aaron Holiday and Niraj Shah — whose expertise and guidance will help ensure this campus continues to flourish as a hub for talent and ideas to strengthen New York City's economy."
"As we expand education and research initiatives to meet the changing needs of the tech industry, Cornell Tech is thrilled to welcome our new Counselors who will shape the future of our institution," said Greg Morrisett, Jack and Rilla Neafsey Dean and Vice Provost of Cornell Tech. "Aaron Holiday and Niraj Shah bring a unique combination of entrepreneurial and executive experience to Cornell Tech's governance which will inspire students and faculty alike."
About Aaron Holiday
Aaron Holiday is the co-founder and Managing Partner at 645 Ventures, an early-stage venture capital firm with a portfolio of more than 40 technology companies. Under Aaron's leadership, 645 Ventures is considered a pioneer in data-driven deal sourcing powered by proprietary software. Aaron oversees the firm's investing approach and decisions, proprietary software development strategy, investor relations, and firm governance. Aaron has 20 years of deep finance and technology expertise, having developed advanced equities Program Trading and foreign exchange derivatives software at Goldman Sachs and GFI Group, combined with operational experience working with CEOs to build growth-stage companies. As the first Managing Entrepreneurial Officer at Cornell Tech, Aaron worked in tandem with Greg Pass (former CTO of Twitter) to create and pioneer the campus Studio culture and pedagogy, in addition to guiding complex technology startups toward commercial success.
Since founding 645 Ventures in 2014, Aaron has worked closely with portfolio company founders to strengthen and grow businesses and achieve scale in pursuit of successful M&A and IPO. 645 Ventures has invested in breakout successes, including FLY Labs (acquired by Google), Source3 (acquired by Facebook), ALICE (acquired by Expedia), Abacus (acquired by Certify), and several category-defining companies that have already reached tens to hundreds of millions in annual revenue, including Goldbelly, Iterable, FiscalNote, Resident/Nectar Sleep, and Squire. 
645 Ventures is backed by premier institutional investors, including major endowments, fund of funds, and foundations. Additionally, the firm features a diverse Connected Network of individual LPs who are leaders in business and technology. 
Aaron received a BS in Computer Science with honors from Morehouse College and an MBA from Cornell University's Johnson School of Management.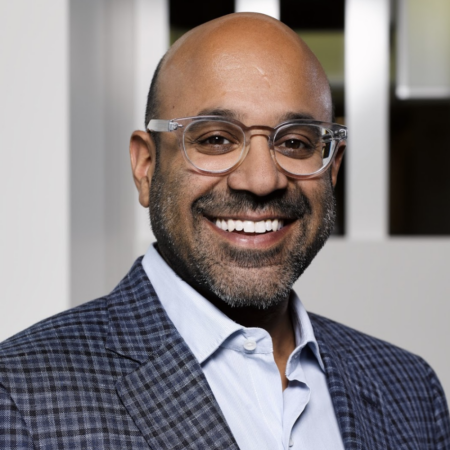 About Niraj Shah
Niraj Shah co-founded Wayfair with Steve Conine in 2002 and the pair rapidly grew the business to become the largest online retailer of home furnishings, housewares, and home improvement goods in the U.S., generating $11.5 billion in net revenue for the twelve months ended June 30, 2020. Wayfair has extensive operations in the U.S. and Europe and employs more than 16,200 people.
Before founding Wayfair, Niraj served as CEO and co-founder of Simplify Mobile, an enterprise software company which was sold in 2001. Prior to that, he served as Entrepreneur-in-Residence at Greylock Partners, COO and a member of the Board of iXL, and the CEO and co-founder of Spinners, which was sold to iXL in 1998.
Niraj has been included in Fortune Magazine's 40 Under 40, and has won the Ernst and Young's Entrepreneur of the Year award. He also serves on the board of Massachusetts Competitive Partnership and the Greater Boston Chamber of Commerce.
Niraj holds a B.S. in engineering from Cornell University, and lives in Boston, Massachusetts with his wife and two children.
Cornell Tech Council
Cornell Tech's full Council includes: Michael R. Bloomberg, Founder, Bloomberg LP and Bloomberg Philanthropies and 108th Mayor of the City of New York; Ursula Burns, Retired Chairman and CEO, Veon Ltd, and Retired Chairman and CEO Xerox Corporation; Robert S. Harrison, Chairman of the Cornell University Board of Trustees; Dr. Paul E. Jacobs, Chairman & Chief Executive Officer, XCOM; Peggy Koenig, Chair, ABRY Partners, LLC; Michael I. Kotlikoff, Provost, Cornell University; Greg Morrisett, Jack and Rilla Neafsey Dean and Vice Provost, Cornell Tech; Martha E. Pollack, President, Cornell University; Stephen M. Ross, Chairman and Founder, Related Companies; Eric Schmidt, Former CEO and Chairman, Google and Alphabet; Robert F. Smith, Founder, Chairman and CEO, Vista Equity Partners; Andrew Tisch, Co-Chairman of the Board and Chairman of the Executive Committee, Loews Corporation; Jan Rock Zubrow, President, MedCapital, LLC
About Cornell Tech
Cornell Tech is Cornell University's groundbreaking campus for technology research and education on Roosevelt Island in New York City. Our faculty, students and industry partners work together in an ultra-collaborative environment, pushing inquiry further and developing meaningful technologies for a digital society. Founded in partnership with the Technion-Israel Institute of Technology and the City of New York, Cornell Tech achieves global reach and local impact, extending Cornell University's long history of leading innovation in computer science and engineering.