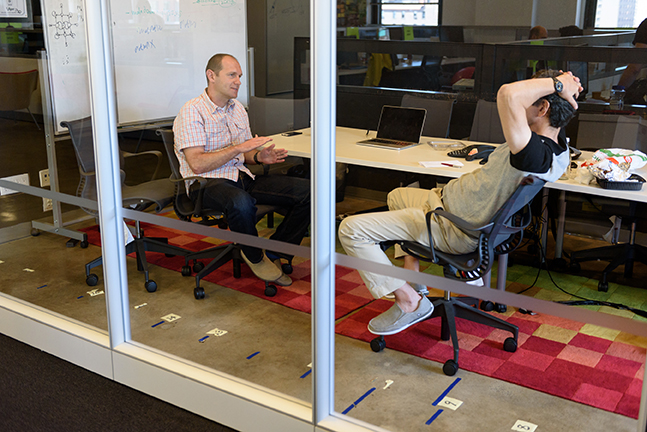 A New Approach to Intellectual Property and Equity 
The Jacobs Technion-Cornell Institute is piloting a refreshingly straightforward approach to Intellectual Property (IP) with the Runway Startup Postdoc Program. We hope it will become a model for other academic institutions, particularly those developing software and hardware.
This IP Model positions the Jacobs Institute as an investor in companies that spin out of the program. Universities typically engage in lengthy negotiations to license technologies developed on campus, even when funding does not impose restrictions. In contrast, the Jacobs Institute will give companies founded by Startup Postdocs an exclusive, perpetual and royalty-free license to use the technology they develop in the program, in exchange for a stake in the company comparable to the value of the support provided by the Runway Award.
Runway provides each Startup Postdoc with a package of benefits, including a salary, research grant, work space, housing allowance, business classes and workshops, free IP registration and use, and much more, all valued at $175,000. This sum is our investment. In exchange, Runway companies issue a SAFE (Simple Agreement for Future Equity) — similar to what Y Combinator communicates publicly — to the Jacobs Institute for $175,000 with a valuation cap of $3 million. If a Startup Postdoc stays a second year at Runway, our additional investment is valued at $102,000, and their company issues a second SAFE to the Jacobs Institute for that amount with a valuation cap of $4.7 million. These SAFEs convert into equity if and when the company closes an equity financing round.
Our new model leverages our funding structure to sidestep challenges that startup founders commonly face at universities. Startup Postdocs are not bogged down by license and equity negotiations. For Runway, the deal terms are simple and specified as part of the program rather than negotiated on an individual basis for each company.
"I see great value in the new intellectual property model developed at the Jacobs Institute as it allows postdoctoral researchers to explore the commercialization of their research."
Emmanuel Dumont
Founder & CEO, Shade

Need more info?
Find answers to your questions about admissions eligibility, coming to Runway from abroad and other commonly asked questions.