Through Research, Outreach and Imagination, Cornell is an Integral Part of NYC's Future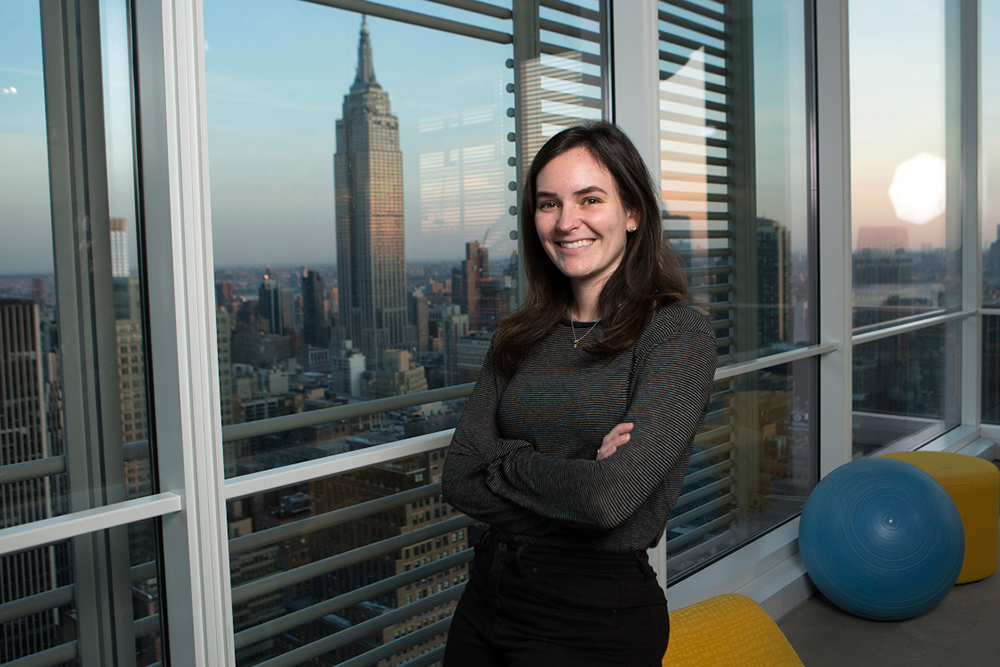 Cornell's Ithaca campus and its iconic upstate setting may be what many envision when they think of the university, but Cornell has long had a presence on the cosmopolitan stages of New York City.
The physical Cornell presence best known to those in NYC may be Weill Cornell Medicine (the institution first opened in 1898), but the Big Red footprint is much larger than that, and growing. For decades, Cornell University Cooperative Extension-NYC (CUCE-NYC) programs have improved the lives of city residents in all five boroughs – where just under 20,000 Cornell alumni make their homes.
College of Architecture, Art and Planning students have been studying at AAP NYC since 2006, and the ILR School, with NYC connections dating back to 1948, offers a Master of Professional Studies degree based in Manhattan. The new Cornell SC Johnson College of Business is growing its operations in NYC, including a dual-degree MBA/M.S. program with Weill Cornell Medicine and increasing partnerships with Cornell Tech. Steps away from Wall Street, Cornell Engineering's financial engineering satellite campus allows researchers and students to work on the technology that underpins global markets.
In short, nearly every facet of the university has at least one strong link – a program, an institute, a faculty research project – to the Big Apple.
The lead-up to the historic opening of the Cornell Tech campus this fall on Roosevelt Island has infused a new energy into this diverse array of programs, according to Jackie Davis Manigaulte '72, senior extension associate and director of community relations with CUCE-NYC and a longtime New Yorker.
"I think we're on the verge of a stronger, more holistic Cornell presence," she says. "There seems to be more synergy, interaction and coordination between the different efforts that are taking place."
Take, for example, last year's Big Red STEM day, an event hosted by Cornell Tech, Cooperative Extension, Weill Cornell Medicine and the city's Department of Education. The event aimed to introduce high school students to aspects of STEM (science, technology, engineering and mathematics) fields, and was staffed by Ithaca faculty and students.
"It was bigger and richer than anything one of our organizations could have done on our own," says Manigaulte. "Efforts like this make Cornell seem real and more accessible to people in the city."
Students pursuing the master's degree in health tech at Cornell Tech's Jacobs Technion-Cornell Institute and enrolled at Weill Cornell Medicine similarly take advantage of the potential of partnerships and collaborations. Students are not only able to take classes at each other's campuses but to share resources, data and space.
"Weill Cornell Medicine faculty have welcomed our students into their excellent courses," says Deborah Estrin, associate dean and professor of computer science, who also directs the health tech program at Cornell Tech; she also is professor of healthcare policy and research at Weill Cornell Medicine. "This cross-campus collaboration is slated to increase as we become geographic neighbors."
Cornell is deeply woven into the fabric of New York City in ways that have changed over time as research, knowledge and societal needs have evolved. Cornell has an impact on the lives of New Yorkers today (as well as people throughout the state, the nation and the world), and shares the entrepreneurial spirit that is driving the city's future.
Much of this research and work has organized itself, formally and informally, around interdisciplinary hubs that draw on the best of Cornell to tackle real-world challenges. Current work includes cutting-edge medical research and outreach; the food system, from farm to fork; and helping to bring citizens into dialogue with their representatives in the city and other levels of government.
"Campus is a state of mind, and New York is very much the Cornell campus," says Sam Bacharach, the McKelvey-Grant Professor of Labor Management who founded the ILR School's Institute for Workplace Studies in the city in 1999. "There's an energy to this place. … You supplement the intensity we bring to our work in Ithaca with the dynamics of New York, and you've got an unbelievable combination."
Here is a look at three areas where Cornell's research and outreach in New York City address the larger systems involved, broadening an approach that thrives on multidisciplinary strategies to improve lives.
HEALTH
Personalized diabetes care
Nearly one in 11 Americans suffers from diabetes, the seventh leading cause of death in the country. About 40 percent of the population will develop the disease in their lifetime, most frequently (90 to 95 percent) type 2 diabetes.
Despite evidence that different populations may respond differently to treatment options, current clinical guidelines are still somewhat of a blunt instrument and do not distinguish between patients based on their demographics, medical history or previous treatments.
"The standards of care are basically 'one size fits all,'" says Nathan Kallus, assistant professor of operations research and information engineering at Cornell Tech, whose research interests include data-driven optimization, decision-making, causal inference and machine learning.
With colleagues at MIT, he analyzed data from more than 10,000 type 2 diabetes patients at Boston Medical Center and modeled outcomes under 13 pharmacological therapies. Using this information, the team developed a prescriptive method for personalized type 2 diabetes care based on characteristics such as age, sex, race, BMI, treatment history and disease progression.
In 32 percent of the cases, "the algorithm recommended an alternative treatment from the standard of care," Kallus reports, noting that the subsequent results of that treatment showed a significant reduction in average blood sugar levels.
Because the study offers methodological suggestions, the researchers chose to publish their results in Diabetes Care, the leading medical journal on diabetes, hoping to attract the attention of medical practitioners who will run real-world trials.
This desire to make concrete changes similarly attracted Kallus to Cornell Tech: "First and foremost, I was drawn to the amazing people and research at Cornell University. And in New York, specifically, you can connect with the tech and medical fields to learn from them and teach them about your cutting-edge research in the hope to have a direct impact."
Computational biomedicine
Every patient's cancer is different. Olivier Elemento, associate director of the HRH Prince Alwaleed Bin Talal Bin Abdulaziz Al-Saud Institute for Computational Biomedicine at Weill Cornell Medicine, hopes to help provide them with highly individualized and precisely targeted treatment.
"We're taking a precision medicine approach," he says of the research that involves a large team across several institutions, including clinicians at Weill Cornell Medicine's Caryl and Israel Englander Institute for Precision Medicine, biomedical engineers at Cornell Ithaca, metabolomics experts at Weill Cornell Medicine-Qatar in Doha, and scientists at the Cornell Tech campus. "It's an attempt to improve how we deliver health care by trying hard to understand the molecular roots of each patient's disease and making a multitude of measurements that predict and help identify the best treatment options for each patient."
Elemento works closely with the affiliated hospital, NewYork-Presbyterian/Weill Cornell Medical Center, which provides patient data and samples. Sometimes his team can return treatment recommendations in as little as a week, but building the model on which they are based takes years – and massive amounts of data.
Much of this information stems from high-throughput sequencing, which delivers the makeup of an entire genome in just a couple of days.
"That's a really critical technology that allows us to peer down to the cells and understand what's driving them," says Elemento, who also is the Walter B. Wriston Research Scholar.
Sequencing can help to match mutations in the DNA of cancerous cells to specific treatments and analyze cell RNA to see what genes are expressed in a tumor. It is also being used to monitor patient immune systems in an effort to predict and increase the currently small number of patients who respond to immunotherapy, a new form of cancer treatment that activates the immune system itself to find and kill tumor cells.
Elemento's approach to precision medicine relies heavily on high-performance supercomputing to process these large amounts of data. "But it's only one component," he explains, "because then you have to build predictive models. That's where artificial intelligence (AI) becomes critical."
In this case, AI consists of computer programs sifting through the data to forecast which treatments will be effective in a given patient, based on his or her individual combination of measurements of genetic, physiological and environmental factors. AI also can be used to predict whether or not a patient requires urgent treatment – for example, based on the expression of certain genes, whether a thyroid nodule is likely to be cancerous or benign.
While Elemento estimates the number of patients who have been treated by these methods number fewer than 100, that total is growing quickly, he says: "But even if we help prolong the life of only one patient, it's amazing."