This Startup Aims To Improve Construction Safety and Quality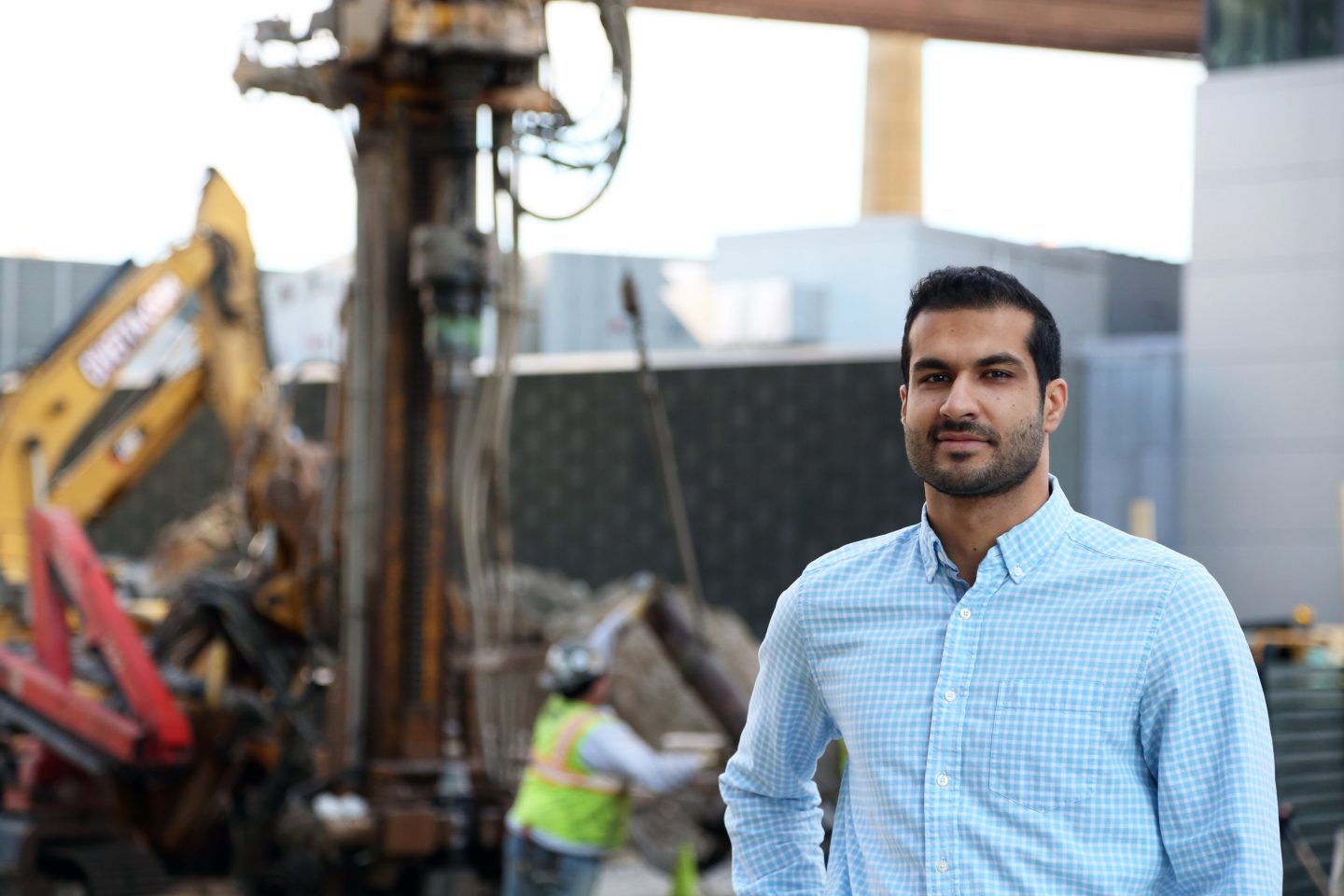 Brick by brick or steel beam by steel beam, an architectural blueprint becomes a reality. Dozens or hundreds of workers trade paths, reinforcing the structure. With all these workers and large machinery needed to erect a building, it comes as no surprise that safety is at the forefront of a everyone's mind on a construction site.
And that's what Ardalan Khosrowpour hopes to assist with. Khosrowpour is the founder of OnSiteIQ and a startup in the Runway Startup Postdoc Program at the Jacobs Technion-Cornell Institute at Cornell Tech. OnSiteIQ visually documents work conditions on construction sites by taking a multitude of video data and using an algorithm to map it to the site's floor plans.
According to the American Federation of Labor, 937 construction workers were killed on a jobsite in 2015—more than two deaths a day. Furthermore, studies show that there are strong correlations between safety and quality of work—delays and costs from unexpected injuries slow down the project as a whole.
"There's always something wrong on a job site, no matter how careful you are—but superintendents might be hesitant to report issues because they're afraid of delaying the project and becoming responsible for fixing it," said Khosrowpour.
Despite having been around for decades, construction industry has been slow to enter the digital age. OnSiteIQ wants to bring tech-driven solutions to construction and help prevent injuries.
Before coming to Cornell Tech, Khosrowpour earned a PhD in civil engineering from Virginia Tech, where his research was focused on applications of artificial intelligence and computer vision in the built environment and construction industry.
"When I arrived at Cornell Tech, I knew I wanted to do something to digitize construction," said Khosrowpour. "I deeply questioned what the main issues were within construction, then I talked to many stakeholders in the industry as part of the Runway program curriculum. In most cases, you can't put cameras on a building construction job site because of the dynamic nature of the site and privacy concerns. But what are alternative ways that you can capture building data? How do you keep track of everything?"
The solution was to build OnSiteIQ, a platform that's of similar character to Google Street View, but intended for frequent and rapid data collection on construction sites. OnSiteIQ takes 360-degree cameras and walks the entire construction site, automatically mapping out the walkthrough paths on the floor plan. They perfected the automatic geo-localization process.
OnSiteIQ CTO and Cornell Department of Computer Science alumnus John Mollis '04 calls the resulting image a 3D panograph, or a large digital image created from these 3D-photos and video strung together. From any device, a construction manager can view the panograph to monitor the building's current progress and give and receive feedback from employees. Job site comments can be annotated, tracked, and shared via a chat box next to the view of the construction site.
"OnsiteIQ is meant to be the forefront of the intersection between reality capture and visualization, site documentation and AI based analytics. Simply put, it's an industry ripe for digital innovations and one where making a difference on the safety side can save lives and cut costs," said Mollis.
OnSiteIQ currently collects this visual data twice monthly, though as the team continues to collect data and build a more robust tool, this might change and become more frequent. In total, OnSiteIQ has collected more than 3.5 million square feet of data.
But even with this innovative platform, Khosrowpour realized that a lot of construction management companies might shy away from having their work documented. Eventually, OnSiteIQ made headway with one of the biggest construction management firms in New York, New Line Structures.
"New Line Structures was very forward thinking and decided to give us a chance," said Khosrowpour. "Now, we're piloting OnSiteIQ on a 430,000-square foot landmark project in New York, and they've been using our platform for their progress monitoring and very helpful with feedback."
In this case of an industry that's slow to change, word-of-mouth is a very powerful boon, said Khosrowpour. "Working at Cornell Tech has been an excellent choice to help further develop OnSiteIQ. Within the Runway program, we were accepted to MetaProp NYC, a large real estate startup accelerator."
Concurrently, Mollis is pushing OnSiteIQ's technology to new territory in terms of displaying and navigating data captured from real environments with 360-degree cameras. Eventually he hopes construction managers, safety managers, insurance underwriters, lenders and bankers, and others can use the tool to conduct an efficient remote site inspection.
"We're blessed to be a part of a forward-thinking community that is willing to hear us out," said Khosrowpour. "We can't wait to find more champions for our tool."
RELATED STORIES Blockchains have been hailed as fair and open, constructed so a single user can't falsify or alter records because they're …