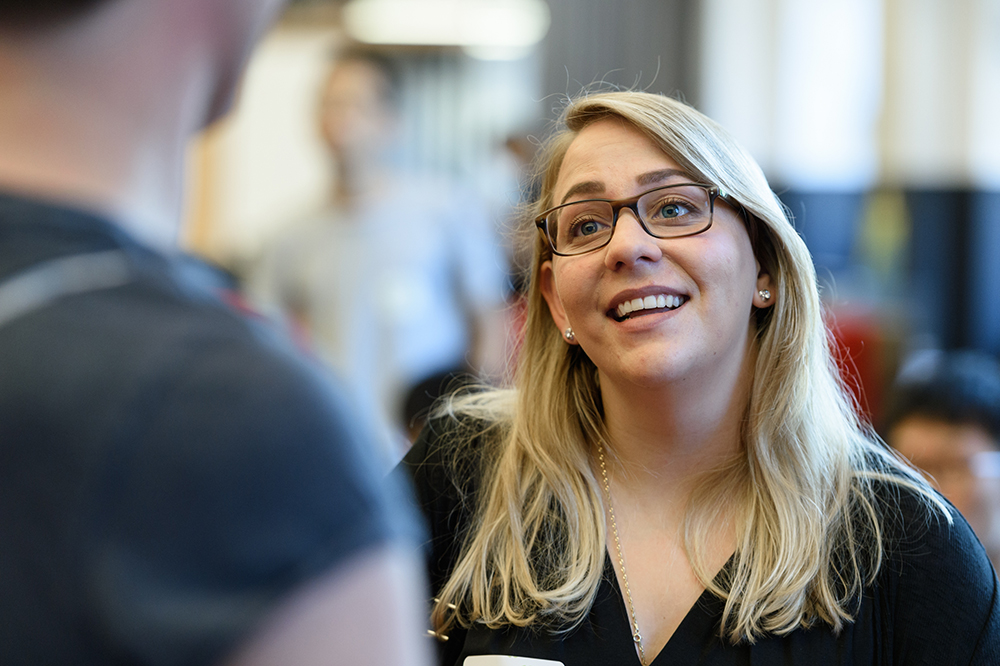 It was exactly 10:30 a.m. on January 21, 2016 when Liz Weber opened an email that would change the course of her life. The note wasn't from a long-lost friend or a family member she hadn't heard from in years. Instead, it was a LinkedIn message about Cornell Tech's new Master of Laws in Law, Technology and Entrepreneurship program, slated to start in August.
The email couldn't have come at a better time. At that very moment, she was sitting in her Brooklyn apartment trying to figure out the next step for her life.
"It felt like kismet," she said.
The road to Cornell Tech
Weber moved to Brooklyn from her hometown of Miami in July 2015 to pursue a dream of working in art law. A Colorado College art history graduate, she'd spent time after school working in San Francisco at a firm focused on law public relations, linking lawyers and reporters to speak on specialized topics. It was there that she decided she wanted to be a lawyer herself.
"You'd never think a background in art history would lend itself to law, but it does," she said. "In law, there is always room for interpretation, just like in art."
She moved home to Florida and enrolled at the University of Florida's Levin College of Law. During school, she interned in the legal department of a museum, followed by a fitness company, but ultimately "realized that if I wanted to be serious about art law, I had to be in New York City—one of the art capitals of the world."
So, after graduating, she took the New York Bar Exam and moved to Brooklyn with the goal of joining a boutique art law firm. When that proved a difficult world to break into, she started writing for the Center for Art Law as part of a post-graduate fellowship.
A focus on tech
The fellowship brought to Weber's attention the challenges that artists and gallery owners regularly confront in the realm of technology. For example, artists who work with new media often struggle to copyright their work—and some contend with major intellectual property issues. Meanwhile, brick-and-mortar galleries that want to break into the online space grapple with how to go about it.
While the lens of technology interested Weber, she wasn't sure how it applied to her background. That is, until she received the LinkedIn message from Cornell Tech, advertising a tech-centric program for lawyers.
"It was pretty crazy," she says. "I felt like my background up to that point was pushing me there."
Jumping into school
Weber contemplated Cornell Tech for only a few days before applying. Part of the interview process required her to come up with an idea for a startup that solves a real-life issue. She had just 24 hours to prepare.
"I came up with an idea for an online copyright registration and enforcement platform," she explained. "It can be hard for emerging artists to understand intellectual property and know how to protect themselves. I pitched a company that would help them.
"It was so much fun to pitch [Director of Cornell Tech's LLM Program] Chuck Whitehead. I felt like joy was flowing out of me."
Weber was accepted into the program and is now a full-time student. She says she's deeply impressed with the caliber of students involved, the career opportunities presented and the depth of the material covered so far.
What's next? Weber isn't sure yet.
"I'm trying to focus on my courses and meeting people on campus, then I'll go from there. Honestly, sometimes I look around campus and I have to pinch myself because I'm so glad I found this place."