Four World-Class Professors Join Cornell Tech Faculty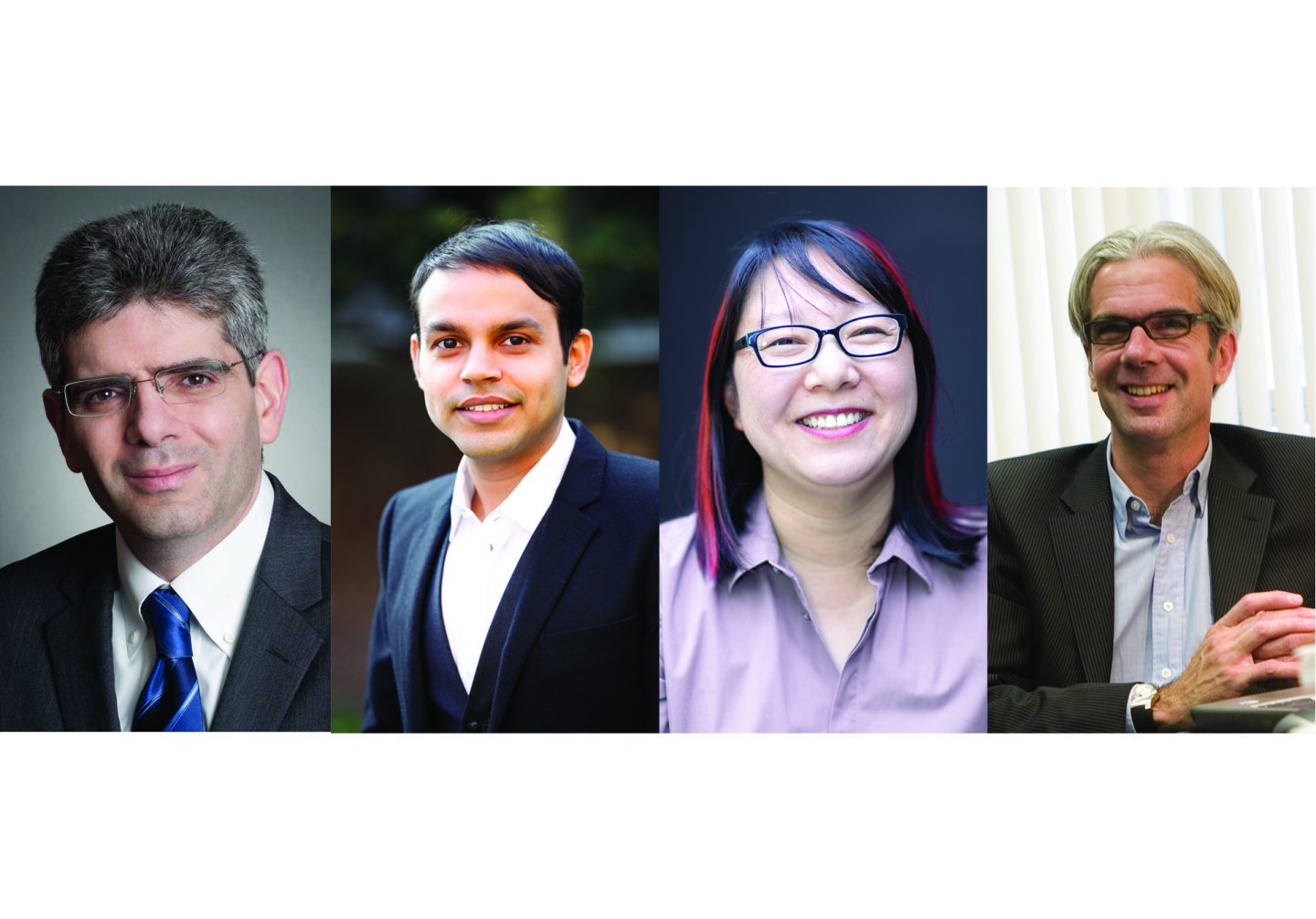 With Cornell Law School, Cornell SC Johnson College of Business and Jacobs Technion-Cornell Institute, Cornell Tech welcomes top-tier faculty conducting groundbreaking research at the intersection of digital technology and society
NEW YORK – Cornell Tech today announced four new professors have joined the campus's world-class faculty. With research and industry experience in intellectual property, human-robot interaction, automated vehicles, operations, and business, the professors further expand Cornell Tech's research groups, fostering integrated learning across fields key to the digital economy and conducting innovative research. Founded in 2012, Cornell Tech is opening its brand-new campus on Roosevelt Island in New York City this fall.
"We are very excited to welcome these outstanding new faculty members who are at the forefront of their fields and dedicated to exploring the societal and economic impact of the digital age," said Dan Huttenlocher, Dean and Vice Provost, Cornell Tech. "Our outstanding team of professors has developed distinguished research groups and is tackling some of the most relevant issues facing society today." Research groups include Security & Privacy, Artificial Intelligence, Data & Modeling, Human-Computer Interaction & Social Computing, and Business Law & Policy.
The new professors include:
Matthew D'Amore, Professor of the Practice at Cornell Tech and Cornell Law School. D'Amore comes to Cornell after a 20-year career at the international law firm Morrison & Foerster, where he represented technology and life sciences clients in the resolution of complex intellectual property disputes and in licensing matters. D'Amore has also been recognized for his pro bono work for children denied special education services and for citizens deprived of the right to vote. D'Amore brings his legal industry experience to the Cornell Tech community, teaching Technology Transactions and Trade Secret Law and Practice. D'Amore received his B.S., with distinction, from the Cornell University College of Agriculture and Life Sciences, in biology and society, and his J.D. from Yale Law School.
Karan Girotra, Professor of Operations and Technology at Cornell Tech and the Cornell SC Johnson College of Business. Girotra collaborates with companies building new business models in the areas of urban living, smart transportation and e-commerce, helping them build rigorous research based solutions. Girotra is author of the bestseller The Risk-Driven Business Model and has been named on Poets&Quants Best 40 under 40 business professors list. His research team has been recognized with the prestigious Wickham Skinner Early Career Research Award and multiple best paper awards. In addition to his academic work, Girotra was one of the founders of Terrapass Inc., which The New York Times identified as one of the most noteworthy ideas of 2005. Since then, TerraPass has helped businesses and individuals reduce more than 100 million tons of carbon dioxide emissions. Girotra holds Ph.D. and A.M. degrees from the Wharton School of the University of Pennsylvania, and B.A. from the Indian Institute of Technology, Delhi.
Wendy Ju, Assistant Professor at the Jacobs Technion-Cornell Institute at Cornell Tech and the Technion-Israel Institute of Technology. Ju comes to Cornell Tech from the San Francisco Bay Area, where she was Associate Professor of Interaction Design in the Design MFA program at California College of the Arts since 2008, and Executive Director for Interaction Design at the Center for Design Research at Stanford University since 2013. Her work in the areas of human-robot interaction and automated vehicle interfaces highlights the ways interactive devices can communicate and engage people without interrupting or intruding. She has innovated numerous methods for early-stage prototyping of automated systems to understand how people will respond to systems before the systems are built. Ju has a Ph.D. in Mechanical Engineering from Stanford University and an M.S. in Media Arts and Sciences from MIT. Her monograph on The Design of Implicit Interactions was published in 2015.
Garrett van Ryzin, Professor of Operations, Technology and Information Management at Cornell Tech and the Cornell SC Johnson College of Business. Van Ryzin's research focuses on algorithmic pricing, demand modeling and estimation, stochastic optimization, and the interface of operations and economics. He has extensive consulting experience in pricing analytics in established industries as well as technology startups. Prior to joining Cornell Tech, van Ryzin was on the faculty of Columbia Business School and served as Division Chair of the Decision, Risk and Operations Division from 2010-2015. Since 2015, he has been on academic leave working as Head of Marketplace Optimization Advanced Development at Uber Technologies. He is coauthor of the leading scientific book on revenue management, The Theory and Practice of Revenue Management, which won the 2005 Lanchester prize for the best published work in operations research. He is an INFORMS and MSOM Fellow, recipient of the INFORMS Impact Award and has served as Editor in Chief of Manufacturing & Service Operations Management and Area Editor for Operations Research. Van Ryzin received a B.S.E.E. degree from Columbia University, and S.M. in Electrical Engineering and Computer Science and Ph.D. in Operations Research from MIT.
"Wendy is doing exceptionally innovative work in interaction design. We are excited for her to bring her cutting-edge research, her wealth of knowledge, and her unique experience to our faculty and our students. We are thrilled to welcome her to the Jacobs Technion-Cornell Institute," said Ron Brachman, Director of the Jacobs Technion-Cornell Institute at Cornell Tech.
"Johnson's partnership with Cornell Tech is vital and enhances our opportunity to attract top scholars such as Garrett and Karan," said Johnson Dean Mark Nelson. "Great faculty enable us to continue to provide a state-of-the-art curriculum to our MBA students in Ithaca and in New York City."
"Matthew's addition to the law faculty at Cornell Tech brings his extraordinary depth of knowledge and experience to our program in Law, Technology and Entrepreneurship," said Allan R. Tessler Dean and Professor of Law Eduardo M. Penalver. "As a seasoned intellectual property practitioner, he will be an invaluable bridge between our students and the world of tech practice."
Reflecting the faculty's breadth across disciplines, Cornell Tech is also launching a new quarterly series of workshops related to their research areas and expertise. The workshops will feature presentations and training including: Seminars on Blockchains led by the Institute for CryptoCurrencies & Contracts; Youth Data Science with Professor Tapan Parikh and Cornell Tech's K-12 Director Diane Levitt; Speed, bringing together information science, law, computer science, philosophy and more to look at the mismatch between the speed that computers can think and act vs human capability with professors Helen Nissenbaum and James Grimmelmann; and Operations in a Digital Age: Data, Modeling and Optimization with professors Itai Gurvich, Nathan Kallus, and Huseyin Topaloglu. For more information visit https://tech.cornell.edu/research.
About Cornell Tech
Cornell Tech brings together faculty, business leaders, tech entrepreneurs and students in a catalytic environment to produce visionary results grounded in significant needs that will reinvent the way we live in the digital age. The Jacobs Technion-Cornell Institute embodies the academic partnership between the Technion-Israel Institute of Technology and Cornell University on the Cornell Tech campus.
Cornell Tech has been up and running in Google's Chelsea building since 2012, with a growing world-class faculty, and student body who conduct groundbreaking research, collaborate extensively with tech-oriented companies and organizations and pursue their own start-ups. In the 2017-18 school year, Cornell Tech will have around 300 graduate students and 30 faculty on its stunning permanent campus on Roosevelt Island. When fully completed, the campus will include two million square feet of state-of-the-art buildings, over two acres of open space, and will be home to more than 2,000 graduate students and hundreds of faculty and staff.