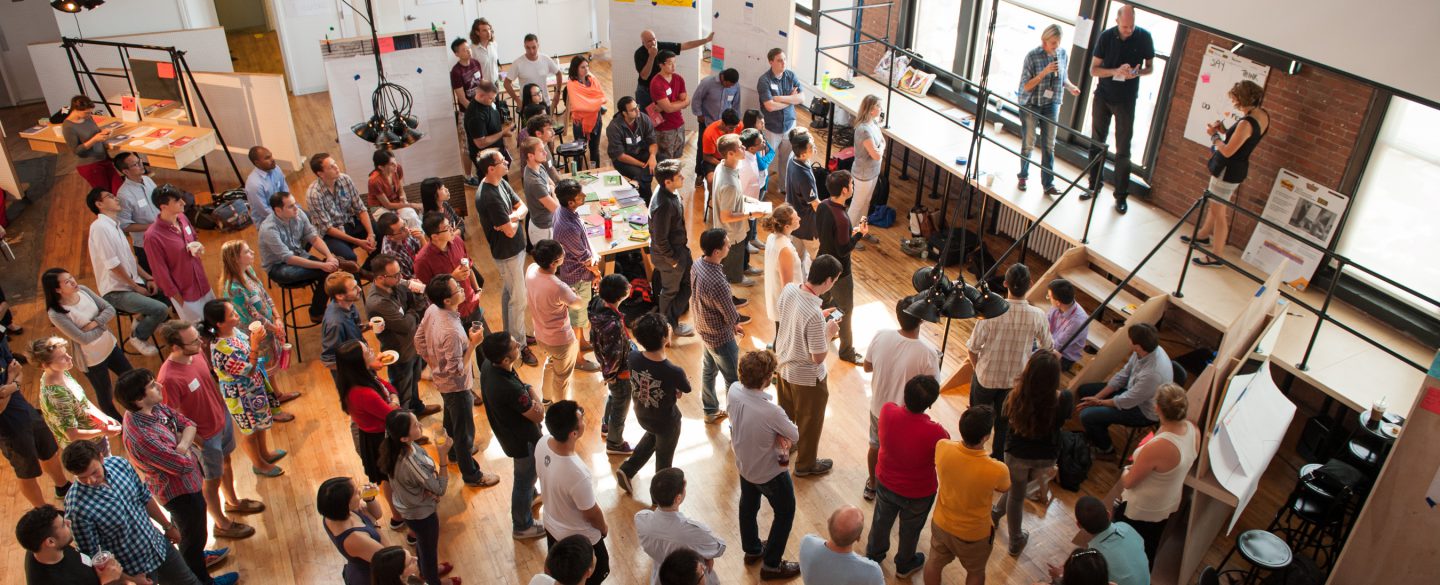 Engage with Our Students
About 80% of students graduating each year seek full-time employment and 90% of students in the two-year programs (MS in IS, Health Tech and Connective Media) look for summer internships. The cross-disciplinary curriculum at Cornell Tech and the practical experience of working on teams with peers across programs prepare our students for a variety of careers in large companies and startups. A number of our students across programs have been startup founders prior to Cornell Tech or bring significant tech industry experience as product managers, marketers, or engineers. As the academic program at Cornell Tech provides business education to engineers and technical skills to business students, we encourage employers to consider students from all relevant programs for potential roles.
2018 – 2019 Recruitment Calendar
Classes on the Cornell Tech campus begin on August 23, 2018.
The best times to schedule events are Monday and Wednesday afternoons starting at 6pm and Fridays all day, however, alternative arrangements can be made by contacting the Career Management Office.
Recruitment Events
To facilitate meaningful professional networking and productive recruiting, Cornell Tech encourages companies to meet and engage with our students throughout the year. Interacting with the students directly delivers the most effective understanding of their capabilities and interests. To this end, we offer a number of alternatives to the standard recruitment presentation.
Cornell Tech does not charge for participation in any of the events (including recruiting events), except sponsorship commonly required for hackathon participation.
On-Campus Blitz Interviewing Events – Fall and Spring Semester
Each semester Cornell Tech hosts three on-campus recruiting events for companies seeking to hire students for full-time and summer internships or part-time positions. Both events are highly interactive and allow employers to interview up to 8 students in 30 minute intervals. An internally-developed algorithm optimizes matching between students and companies based on skills, job requirements and mutual preferences. Companies are provided with their interview schedule and resumes ahead of the event, which ensure that most qualified students are selected for the interviews.
Note that these events are conducted on Cornell Tech's campus in New York City and do not coincide with Ithaca-based Cornell University Career Fairs.
Fall Blitz Interviewing Events are mainly for companies ready to extend offers to students upon graduation with full-time jobs and internships in the fall.
Friday, September 28: 10 am – 6 pm
Friday, October 26: 10 am – 6 pm
Friday, November 2: 10 am – 6 pm
Spring Blitz Interviewing Events are  for companies conducting 'just in time' hiring for full-time roles and summer internships.
Friday, March 22: 10 am – 6 pm
Tues, April 9: 10 am – 6 pm
Friday, May 3: 10 am – 6 pm
Tech Talks & Company Presentations
A talk or presentation centered on a subject relevant to engineering and business. Companies are encouraged to conduct these during breaks in classes to maximize students' time and attendance. To schedule a tech talk/presentation, please email Kristina Ortiz, Assistant Director of Career Management at ctcareermanagement@cornell.edu.
Interview Clinics/Mock Interviews
Conducting an interview clinic is a great way to get to know students and help them master the interviewing process. It's also a chance for companies to their train their less experienced colleagues in the art and science of interviewing by giving them a chance to practice with our students. A clinic/mock interview session involves one experienced industry practitioner interviewing a student in front of a small group of peers and providing live feedback. Usually these sessions take 45-60 minutes. Additional and one-on-one sessions can be conducted by phone or video conference. Contact Kristina Ortiz, Assistant Director of Career Management at ctcareermanagement@cornell.edu to participate.
Company Visits
Hosting a group of students is a great way to showcase your company and its culture. Most Fridays work well for company visits.
Mentorship
Students always seek advice and guidance from experienced professionals on their career opportunities and trajectory. To become a career mentor, please contact Kristina Ortiz, Assistant Director of Career Management at ctcareermanagement@cornell.edu.
Offer Policies
Cornell University offer policies apply to students in relevant programs on the Cornell Tech campus.
One year Johnson Cornell Tech MBA
One and two year Technical Programs
Product Challenges
Every fall semester at Cornell Tech, students respond to challenges posed by leading startups, companies, and organizations in NYC, and deliver new business ideas and prototypes by the end of the semester.
Students engage with external organizations and practitioners and work together in cross-campus teams. The teams build real prototypes and technology, develop business plans to tackle the challenge and demonstrate their work to the organization at the end of the semester.
Post a Job or Internship
Employers should submit job descriptions (full-time and internships) here. Each job or internship description should include a short description of your company, the specific skills and competencies required and the expected learning experience that will take place. All jobs will be posted internally, accessible to all students and alumni.
To request a resume book (available for incoming classes in September 2017), contact Kristina Ortiz, Assistant Director of Career Management at ctcareermanagement@cornell.edu
To reach the Cornell University career management centers in Ithaca, please contact the following:
Johnson Graduate School of Management (MBA)
Cornell University Career Services (technical programs)