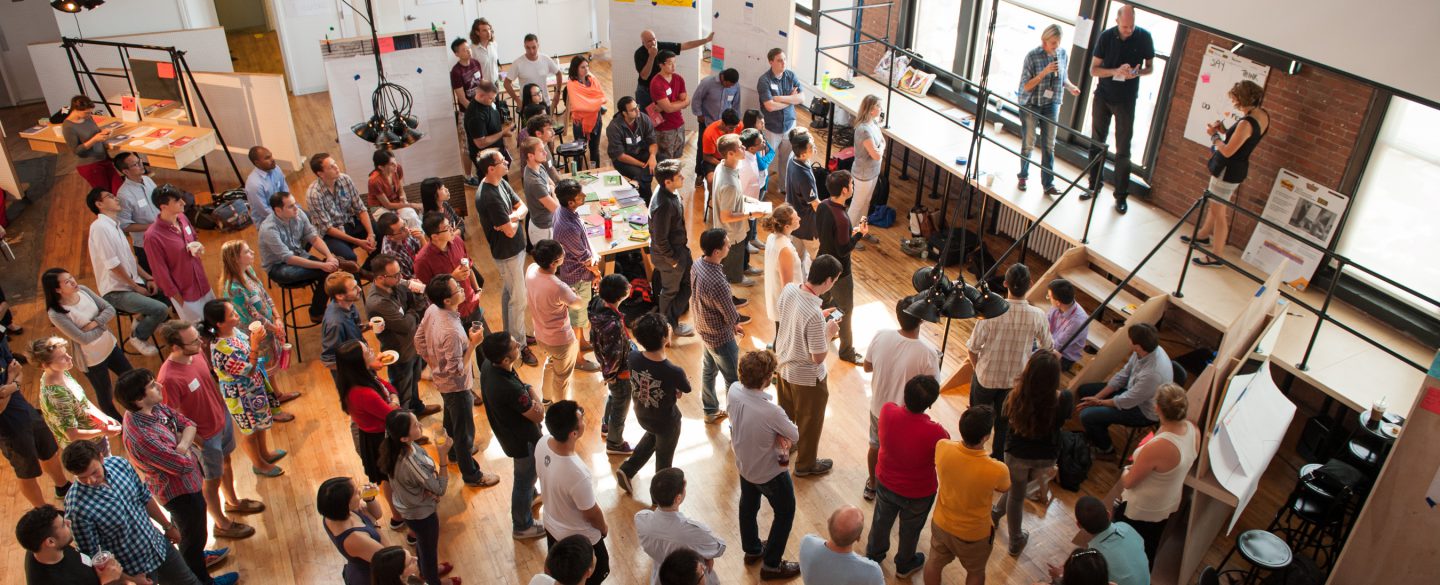 2023-2024 Recruitment Calendar
To facilitate meaningful professional networking and productive recruiting, Cornell Tech encourages companies to engage with our students throughout the year. Interacting with the students directly enables employers to share key insights about their company and roles and learn more about students.
Cornell Tech does not charge for any of the following recruiting events/partnerships below.
Company Presentations
Companies interested in recruiting are encouraged to conduct presentations to help students learn about their work and job opportunities. Generally, presentations can be scheduled virtually or on-campus on most weeknights after 6 pm and many Fridays during the day. It's best to schedule a company presentation a few weeks before interviews to allow some time for students to submit their resumes.
The Cornell Tech Career Management office typically manages the resume collection process and shares resumes of interested applicants at the due date. Alternatively, companies may elect to have students submit their applications and resumes via their company's portal.

Tech Talks
A talk or presentation centered on a subject relevant to engineering and business. Companies are encouraged to conduct these during breaks in classes to maximize students' time and attendance. Tech Talks can be conducted in place of, or in addition to a standard company presentation.

Interview Clinics/Mock Interviews
Conducting an interview clinic is a great way to get to know students and help them master the interviewing process. It's also a chance for companies to train their less experienced colleagues in the art and science of interviewing by giving them a chance to practice with our students. A clinic/mock interview session involves one experienced industry practitioner interviewing a student in front of a small group of peers and providing live feedback. Usually, these sessions take 45-60 minutes. Additional and one-on-one sessions can be conducted by phone or video conference.

Interview Dates
Companies are welcome to conduct interviews on the Cornell Tech campus, or off-campus and/or remotely. Fridays tend to be the best days to conduct interviews.
The Cornell Tech Career Management team is available to support all aspects of the interviewing process- e.g., resume submissions, schedule creation, video conferencing support (if needed).
Cornell Tech does not charge for participation in any recruiting events.
Please contact the Career Management Office at ctcareermanagement@cornell.edu to schedule any of the above activities or to make alternative arrangements.
Post a Job or Internship
Employers should submit job descriptions (full-time and internships) to the Cornell Tech JOB BOARD. Each job or internship description should include a short description of your company, the specific skills and competencies required, and the expected learning experience that will take place. The job board posting will be available to current students, alumni, or both per the job description. When posting jobs for alumni, please mark these as 'alumni jobs.' Effective November 2019, the Johnson Cornell Tech MBA is a STEM-designated degree for OPT applications by international students. All Technical programs are STEM-designated.
To request a resume book, contact Career Management at ctcareermanagement@cornell.edu.

Policies
Offers
Cornell University offer policies apply to students in relevant programs on the Cornell Tech campus.
One-Year Johnson Cornell Tech MBA
One and Two-Year Technical Programs
Grade Non-Disclosure – Johnson Cornell Tech MBA
https://www.johnson.cornell.edu/For-Recruiters/Policies
In September 2018, Johnson MBA students in the three full-time MBA programs (Two-Year, Ithaca One-Year, and Johnson Cornell Tech One-Year) passed a student referendum on grade non-disclosure. The policy was motivated by Johnson students' desire to bring disclosure policies into alignment with Johnson's collaborative culture and to encourage academic risk-taking. The school faculty support the outcome of the referendum.
Under the terms of the referendum, students will not be permitted to disclose their grades to recruiters until after a full-time, post-graduation job has been extended. The policy covers grade point averages (GPAs), grades in courses, and grades on assignments or exams. Exceptions include dual-degree students who are pursuing non-MBA roles (e.g. JD/MBA candidates who needs to disclose their GPAs to law firm recruiters), Johnson Cornell Tech students applying to positions not restricted to MBAs at the Cornell Tech campus, and students applying for fellowships, public sector, international, and/or nonprofit positions.
Johnson asks that all recruiters respect the policy and refrain from asking Johnson students about their grades.
CORNELL TECH CAREER MANAGEMENT OFFICE – NYC
Cornell University Career Centers – Ithaca