Jacobs Institute Researchers Launch CityBeat: A Live Social Media Dashboard for Cities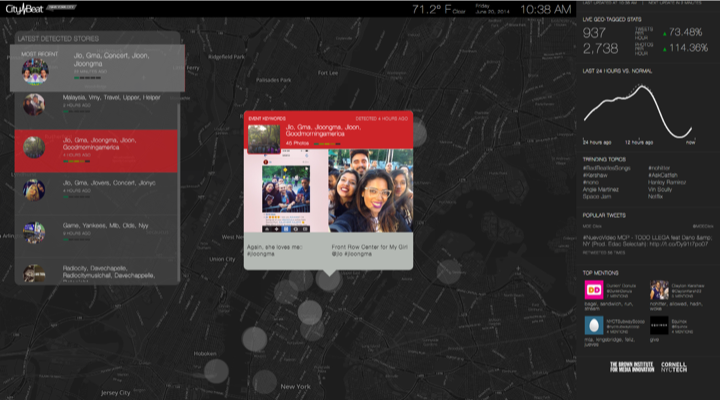 Associate Professor Mor Naaman and researchers from the Jacobs Technion-Cornell Institute at Cornell Tech today launched CityBeat (thecitybeat.org), a real time application that uses social media to create a live picture of what's happening in a city. CityBeat is an interactive map of New York City that uses machine learning and signal processing techniques to analyze Instagram and Twitter activity to detect and reveal breaking news and events around the city. During beta testing this year, CityBeat captured major and minor events throughout the city, including the East Harlem building collapse, a bear showing up at Union Square as part of a Chobani ad campaign, Mayor Bill de Blasio's inauguration and Fashion Week.
Over the past two years, CityBeat was developed by Professor Naaman, who is head of the Connective Media program at the Jacobs Institute and is the co-founder of Seen.co, and postdoctoral scholar Raz Schwartz, along with a team of researchers. They refined the algorithm and system based on input from local reporters. The project was funded in part by the National Science Foundation, the Brown Institute for Media Innovation, and the Tow Center for Digital Journalism.
"Social media reflects everything that happens in the world, and CityBeat makes it easier to see what is happening at the local level," said Professor Naaman. "CityBeat gives you a window into the city's pulse."
The main insight, said Professor Naaman, "is in the idea of AttentionRank: an algorithm that builds on what people are doing by capturing and sharing content to create a better organization and presentation of information."
Dr. Schwartz presented CityBeat for the first time publicly today in a live demonstration at the NYC Media Lab Annual Summit, where it won first place for best demo.