How Technology is Transforming Media Consumption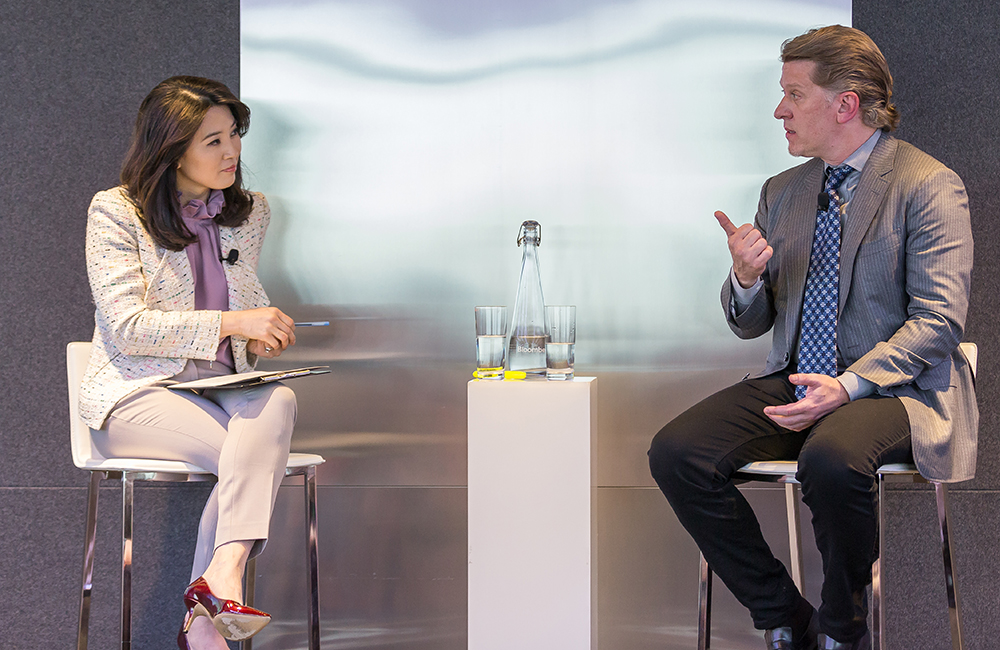 Technology is transforming the media industry and, while television isn't dead, the way we distribute and consume it is rapidly changing.
If there's anyone who knows about television's transformation it's John Martin, the chairman and chief executive officer of Turner, a Time Warner company which encompasses a portfolio of news, entertainment, kids, and sports networks as well as businesses including CNN, TBS, TNT, Cartoon Network, and Turner Sports.
Turner's technological transformation is one of Martin's primary focal points as CEO. "We are transforming the company from being a traditional ad-supported basic network cable company that cared about getting reach and maximizing viewership to, all of a sudden, the metrics that really matter being fan engagement and number of fans," John Martin said at CornellTech@Bloomberg led by Scarlett Fu, the anchor of Bloomberg Markets.
"We need fans, not viewers, and at the hub we are underscoring that sensibility with technology."
Martin is ensuring that Turner is at the forefront of innovation. He has partnered with and invested in cutting-edge content, digital media, advertising startups and technology solutions including IBM Watson, Bleacher Report, NextVR, Mashable, Refinery29, Bustle, and FanDuel.
Watch the full conversation:
Here are some of the key takeaways from the conversation:
Fan engagement is essential
In order to capitalize on fan engagement, it was essential to overhaul the content management systems at Turner. When Martin started as CEO in 2014, in the United States alone, there were 29 content management systems that couldn't interact and were lacking data. In three and a half years, Turner has been able to develop the technology to move traditional broadcast TV, content libraries, and apps up to the Cloud, enabling them to "reach fans in new and innovative and different ways."
"We can't think of ourselves as a TV network company anymore. We are a fan engagement company so wherever our fans are, whether they are on mobile or iPads, whether they are in South Korea or London or in Dallas, we need to be able to reach them in a seamless way," said Martin.
"That's been a really fun part of the job, which is to make significant investments in using technology to support everything else we are doing in creating premium content," Martin added.
Personalized content is coming
Turner will soon be able to use technology to serve individualized content based on people's preferences. "Personalized networking is going to completely transform how people enjoy media. It takes on demand to a whole new level," Martin said, "The content you watch will be increasingly customized to you."
Martin gave the example of Spotify, highlighting that Turner wants to bring that level of customization to video. As the technology evolves, people will be able to create content lists, archive it, put it in libraries, and access it whenever and wherever they want. If people don't want to do it on an on demand basis, they can be served different live linear streams.
Consumer experience is critical
There has been a long-standing argument over whether content or distribution is king. Martin argues that it's neither and that the ideal trifecta is content, distribution, and consumer experience.
Turner is a premium content company so it's crucial to tell great stories and create great content, but Martin understands that technology can be a tool for creating and distributing content. "I would like Turner to be known more and more as a company hiring the best and the brightest technologists," he said noting the importance of hiring people who can bring product experience.
Device-specific programming is necessary
Martin watches an increasing amount of media on his phone and he's not alone. The amount of mobile views is growing significantly and Martin thinks it will be one of the most exciting areas of growth in the media.
As mobile usage continues to grow, it's crucial to develop content tailored to where your audience will consume it. "It's not CNN TV, CNN on mobile, and CNN digital, it's the CNN brand that is expressed differently to optimize itself on various devices," Martin explained.
Turner has dedicated people that work on each of the social media platforms, mobile, and the app. "We need people with those separate expertise because the way my daughter watches CNN on Snapchat is different than how someone watches it on TV," says Martin.
Martin also thinks that artificial intelligence, augmented reality, and virtual reality are three huge opportunities to use technology to transform how we consume media. For example, Turner recently sold virtual reality tickets to "March Madness" and they have created content for E-Sports, CNN, and gaming. "At the end of the day, it's about the experience," Martin said, noting that virtual reality will be a game changer as long as media companies create valuable experiences.