How Pre-Med Students Are Pursuing A Passion for Medicine Through Health Tech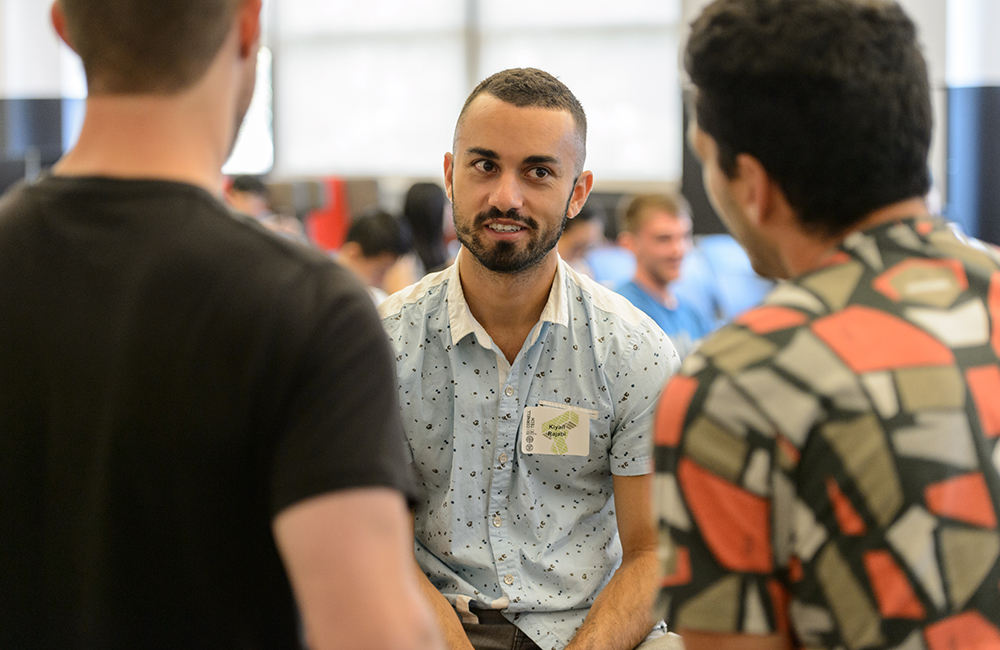 During Kiyan Rajabi's senior year at UC Santa Barbara, the pre-med student watched an eleven-minute video on YouTube that inspired him to zero in on a new academic and professional path.
The clip was Cornell Tech associate dean and computer science professor Deborah Estrin's TEDMED talk, which explored how increasingly abundant patient medical data can be leveraged to change health outcomes. Rajabi was captivated by the idea that personal data, collected via smartphones, could act as a "digital social pulse" and help physicians gather potentially vital insights about patients.
"Understanding how critical a role something as menial as my smartphone had in improving my health outcomes for many years to come was inspiring in a lot of ways," Rajabi said. Furthermore, having seen the healthcare system on a personal level enabled him to connect concepts Estrin discussed in her talk to real world action.
More recently, Rajabi's grandmother had passed away due to complications following a stroke. His up-close interactions with the healthcare providers during the course of her hospitalization opened his eyes to gaps in the current system.
Today, Rajabi's story has come full circle: he is pursuing Technion-Cornell Dual Master's Degrees in Health Tech, a program founded by Estrin, whose TEDMED talk inspired him to set off on a new path in the first place.
When Pre-Med Meets Health Tech
Although Cornell Tech is a hub for computer coders and engineers, the school attracts students from many different backgrounds. In fact, nearly half of the Health Tech program today is made up of students with a pre-medical undergraduate background who didn't major in Computer Science, but took courses covering material that Estrin and Cornell Tech colleagues refer to as "Pre-Tech".
What is shared by all students, both CS majors and others, however, is an interest in combining their passion for health with the mathematical, algorithmic and software aspects of digital technologies.
Take Jillian Sue, for example. After graduating from Cornell University in 2014 as a pre-med with a bachelor's degree in nutrition, Sue was hired as a project coordinator for the Chairman of Pathology at Memorial Sloane Kettering Cancer Center in New York.
"I saw on a high level the positive and direct impact new technologies could have on both physicians and patients," Sue said. "Once I realized medical school wasn't something I wanted to pursue, I began looking into different health informatics programs, but Cornell Tech's Health Tech program stood out among the rest."
Initially, Sue worried she'd have trouble getting into the program due to her lack of a technical degree. But chats with Estrin and others quickly put her mind at ease, and she began taking computer science classes online to develop her core skills.
"Although most of my peers have a CS background, I have found it extremely beneficial to be pushed past my comfort zone. Learning this new language has been challenging, but its powerful applications, particularly in health, continue to motivate me," Sue said.
The Health Tech program is interdisciplinary to the core. In addition to the studio curriculum all masters students participate in, Health Tech students are required to take classes at Cornell's Weill Medical College.
"We get a new perspective," said Ran Godrich, who graduated as an applied math and neuroscience major at Boston University in 2015 before beginning the Health Tech program. "Coming to this program, the real advantage is that you're able to dive into all of this applied technology stuff. The undergraduate experience feels more theoretical, whereas at Cornell Tech, everything is applied."
Making a Difference Now
One of the classes that Godrich praises for giving students immediate, hands-on experience is Product Studio, a course taken by all Cornell Tech masters students.
"We worked in a group to help a real company tackle a real problem in treating osteoarthritis," said Godrich, recalling building applications that helped physicians get data surrounding their patients' pain.
Godrich saw the Product Studio as an example of how hands-on Cornell Tech is, allowing students to help make positive changes in the healthcare industry now. Students are excited to continue making changes in the healthcare industry with their in-depth specialization projects — a two semester project in which Jacobs students develop a highly technical product.
Although Godrich's particular plans aren't finalized, he is thinking of focusing on using technology to make medical research papers more comprehensible to laymen. Sue says she's interested in using facial recognition data to monitor certain health measures. Rajabi plans on melding machine learning and data science to better predict outcomes for elderly patients.
Particularly exciting for Rajabi are the possibilities related to scale that the Health Tech program has opened up for him: "I saw my path to medical school could be purposeful, but not as scalable — I wouldn't be able to create a technology that helped a lot of people," he explained. "It's about working on something where you are able to help people all around the world rather than being confined to only help the patients you see on a daily basis."