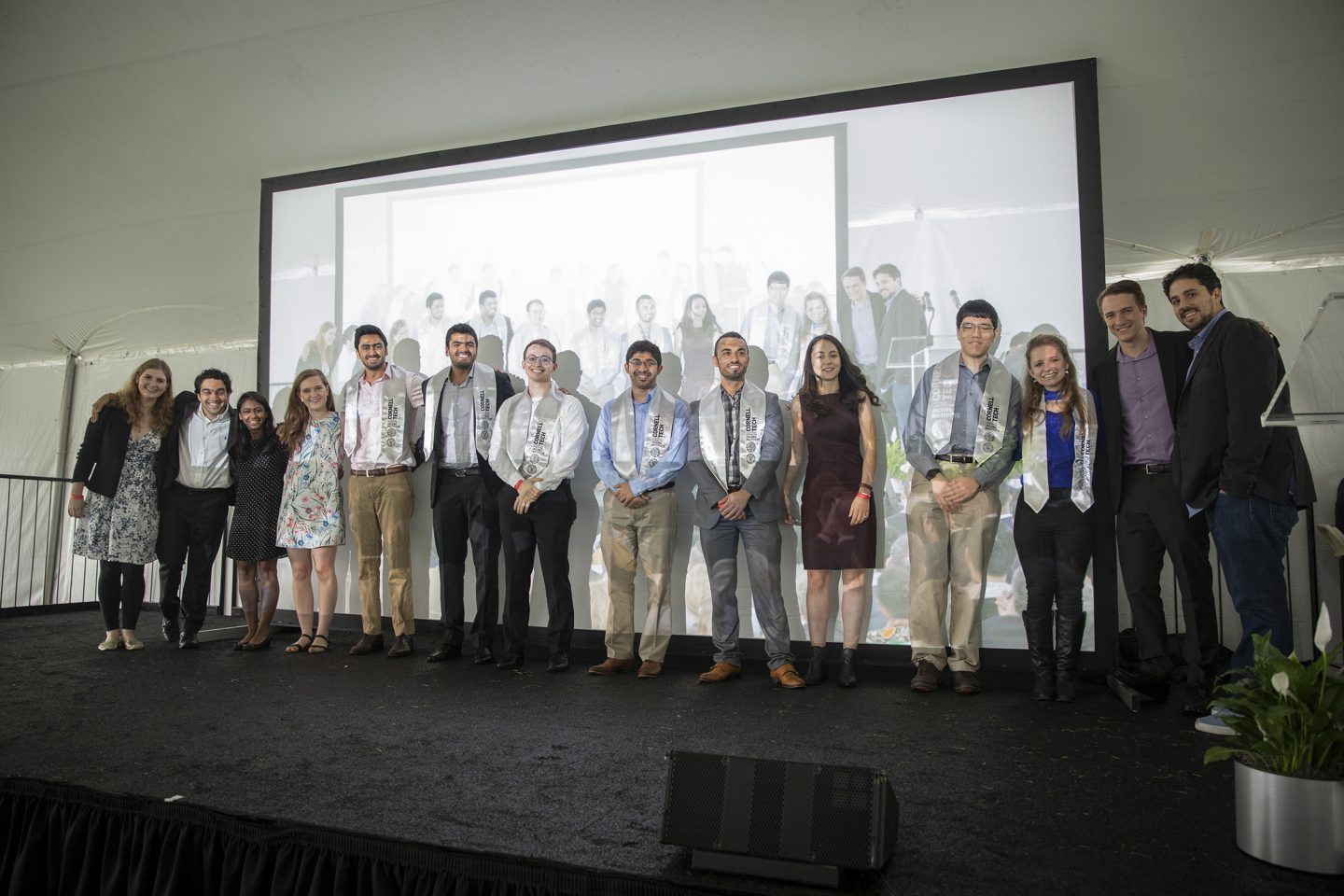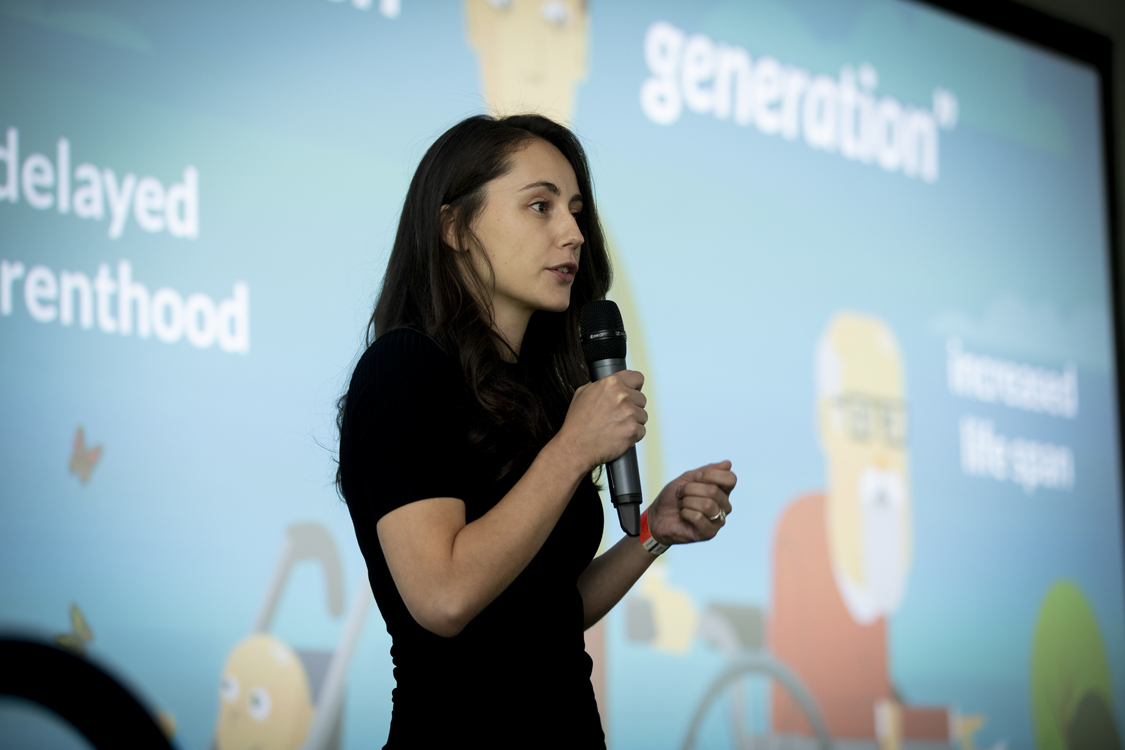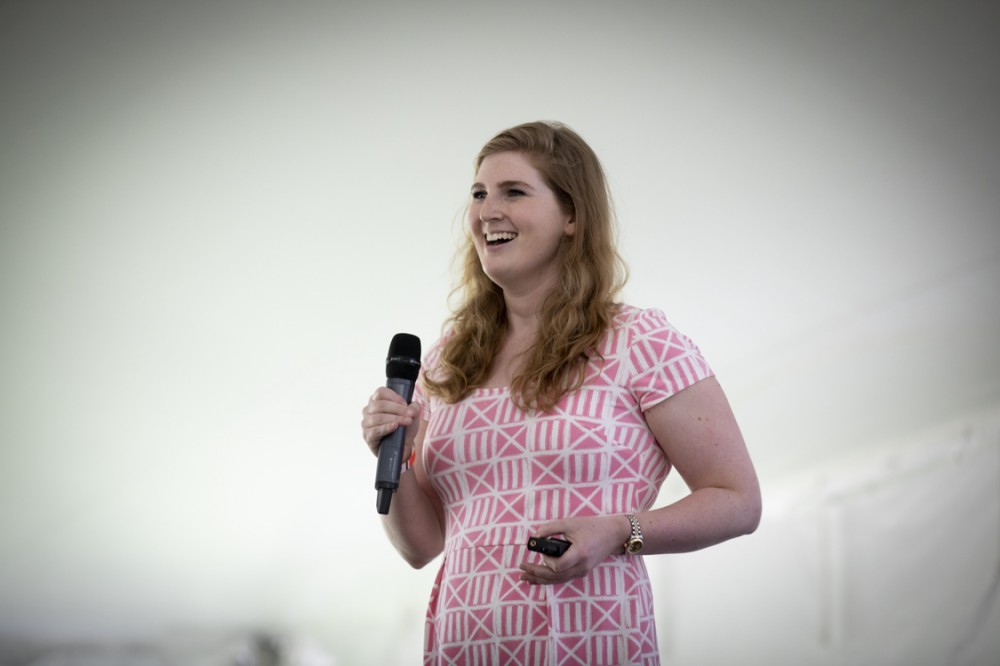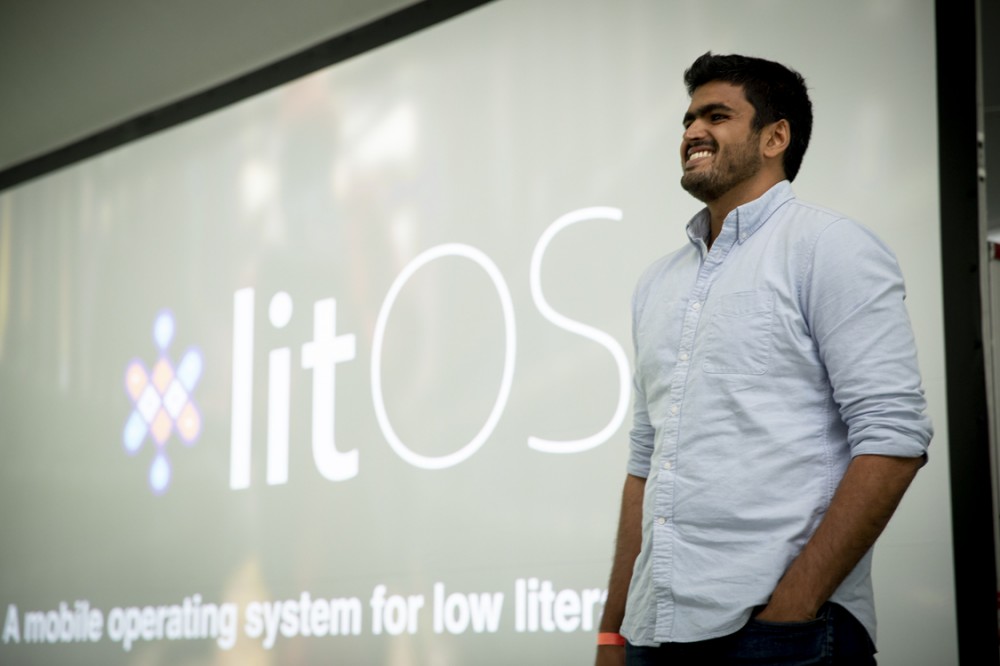 Startup Award winners with David Tisch (right)
Darya Moldavskaya, Master in Computer Science '18, co-founder of ReverCare.
Eliza Harkins, Johnson Cornell Tech MBA '18, co-founder of Kipit.
Raoul Nanavati, Johnson Cornell Tech MBA, co-founder of litOS
NEW YORK, NY – Cornell Tech awarded four student startup companies co-working space and pre-seed funding worth up to $100,000 in its fourth annual Startup Awards competition — the first held on the new Roosevelt Island campus. A panel of tech industry leaders selected the winning student teams, which will work in the Tata Innovation Center, Forest City New York's state of the art office space on Cornell Tech's campus.
"With the Startup Awards, Cornell Tech provides student teams the support they need to kickstart their creative ideas after graduation. We're proud of the ambition our students have shown in forming companies that pursue innovative solutions to real-world problems" said David Tisch, head of Startup Studio at Cornell Tech and managing partner of BoxGroup.
This year's winners are:
litOS: 800 million illiterate people worldwide struggle to use smartphones. litOS is a text-free, voice-assisted mobile OS solution to solve this.
ReverCare: ReverCare connects families to curated resources and coaches to ease the burden of caring for elderly loved ones.
Kipit: Kipit builds devices that automatically track your personal items and alert you before you leave anything behind.
Crater: Crater is a revolution in local TV led by a new generation of creators. Armed with AI-powered video tools, anyone can create their own self-produced local TV shows and episodes through their mobile phone.
The Startup Awards are a capstone of the studio curriculum, a key component of the master's experience at Cornell Tech which brings together multi-disciplinary teams to solve real-world problems. In their final semester, every student enrolls in Startup Studio, where teams of students across programs — computer science, operations research and information engineering, business, health tech, connective media, electrical and computer engineering, and law — develop ideas and product prototypes for startups in an academic setting. Teams who want to pursue their startups after graduation compete in the Startup Awards for pre-seed funding and co-working space.
Cornell Tech created the award program to help students who have strong prototypes and pitches from their academic work at Cornell Tech, but may lack the networks and resources necessary to support themselves in the initial stages before seed funding traditionally becomes available. Cornell Tech's Startup Studio program is run by Tisch and Greg Pass, Cornell Tech's Chief Entrepreneurial Officer and former Twitter CTO.
More than 40 startups have been formed on the Cornell Tech campus to date, through the Startup Awards and the Runway Startup Postdoc Program at the Jacobs Technion-Cornell Institute. The companies have raised a total of $46 million in funding, employ more than 170 people, and 93% of them are headquartered in NYC. Past Startup Awards winners include Uru, which was recently acquired by Adobe; Trigger Finance, which was acquired by Circle last fall, and Thread Learning and Ursa, both of which have seen material consumer adoption since launch.
The Startup Award winners will work out of the Cornell Tech space at the Tata Innovation Center. Designed by Weiss/Manfredi architects and developed by Forest City New York, the first-of-its-kind building houses an extraordinary mix of cutting-edge companies working alongside groundbreaking Cornell academic teams: from recent Cornell Tech graduates hustling to commercialize a new idea, to start-ups on the verge of explosive growth, and established companies developing leading edge technologies and products. Tenants include tech and investment firm Two Sigma, Citigroup, Ferrero International, Tata Consultancy Services, and NYC FIRST.