Cornell Tech Announces Inaugural Chief Practice Officer
Cornell Tech Welcomes Josh Hartmann as CPO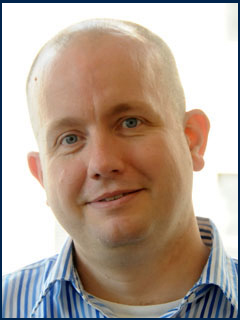 NEW YORK – Cornell Tech announced today that Josh Hartmann has joined the campus as its first Chief Practice Officer. In this position, Hartmann will be responsible for leading Cornell Tech academic activities that bridge graduate education and practical implementation. Previously, Hartmann held interdisciplinary leadership positions serving as former Chief Technology Officer and Chief Operating Officer at several tech companies including Amplify and Travelocity. He will bring a broad range of industry knowledge in travel, education, and media, to Cornell Tech.
"I'm delighted to welcome Josh to lead Cornell Tech's mission fusing education and practice," said Dan Huttenlocher, Jack and Rilla Neafsey Dean and Vice Provost, Cornell Tech. "His experience in spearheading growth at tech-driven companies will allow him to guide Cornell Tech's hands-on curriculum. Josh is a thoughtful, inquisitive tech leader, who has worked in a variety of industries, and will serve as a valuable asset for Cornell Tech students."
"I am honored to join the Cornell Tech team in its undertaking to create the next generations of leaders and technologies in New York City," said Hartmann. "Cornell Tech's thoughtful integration of practical skills into its curriculum will set graduates up for extraordinary success."
Hartmann will serve as the primary practitioner faculty member at Cornell Tech dedicated to implementing and designing pragmatic courses and programs that will combine traditional graduate education and digital-age practice. Hartmann will also be leading and teaching in the Cornell Tech Studio—taking over for Greg Pass, former CTO of Twitter who has led the Studio as Chief Entrepreneurial Officer at Cornell Tech since its founding in 2012—an interdisciplinary curriculum which provides opportunities to develop, implement and build new product and business ideas, collaborate with classmates from across the Cornell Tech campus, and interact with innovators and thought leaders among New York City's thriving technology and startup communities.
About Cornell Tech
Cornell Tech brings together faculty, business leaders, tech entrepreneurs and students in a catalytic environment to produce visionary results grounded in significant needs that will reinvent the way we live in the digital age. The Jacobs Technion-Cornell Institute embodies the academic partnership between the Technion-Israel Institute of Technology and Cornell University on the Cornell Tech campus.
From 2012-2017, the campus was temporarily located in Google's New York City building. In fall 2017, 30 world-class faculty and almost 300 graduate students moved to the first phase of Cornell Tech's permanent campus on Roosevelt Island, continuing to conduct groundbreaking research, collaborate extensively with tech-oriented companies and organizations and pursue their own startups. When fully completed, the campus will include two million square feet of state-of-the-art buildings, over two acres of open space, and will be home to more than 2,000 graduate students and hundreds of faculty and staff.