Chuck Feeney, Cornell's 'Third Founder,' Dies at 92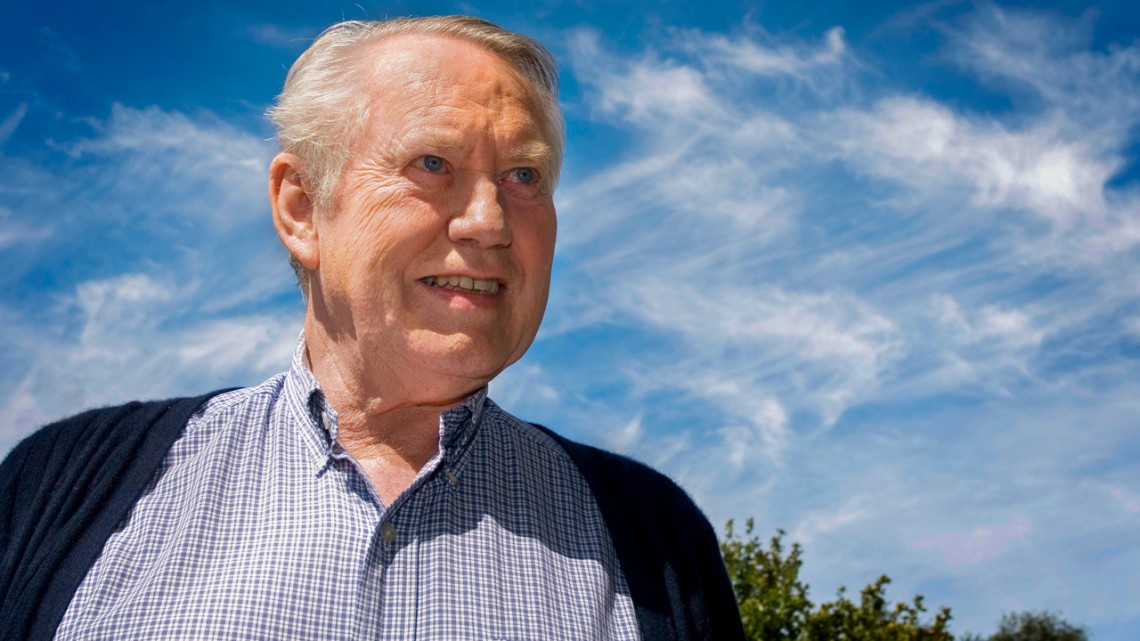 Charles F. "Chuck" Feeney '56, founding chairman of The Atlantic Philanthropies, quietly devoted his fortune to worldwide causes, including nearly $1 billion through his foundation to Cornell.
Charles F. "Chuck" Feeney '56, founding chairman of The Atlantic Philanthropies and Cornell University's most generous donor, died Oct. 9 in San Francisco. He was 92.
Feeney, who quietly devoted his fortune to worldwide causes for decades, invested nearly $1 billion in Cornell through the foundation since 1982. The late President Frank H.T. Rhodes referred to him as Cornell's "third founder" – behind only Ezra Cornell and the university's first president, Andrew Dickson White, in the magnitude of his influence and impact.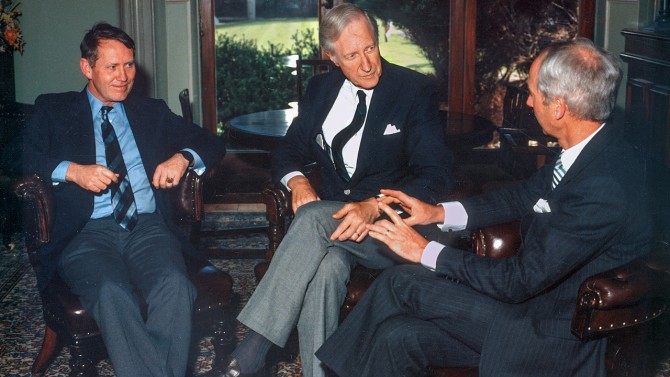 However, for more than two decades, Feeney's giving through The Atlantic Philanthropies was completely anonymous – neither his name nor Atlantic's appeared on any university building, professorship or program. Even after he was thrust into the limelight when his association with Atlantic became public, he resisted any memorials to his giving, preferring instead for the focus to be on the beneficiaries of his support.
In 2021, Cornell renamed East Avenue on the Ithaca campus "Feeney Way" in honor of his 90th birthday, to recognize his impact on the university, and as an inspiration to future generations of Cornellians. A second "Feeney Way" will be named on a central thoroughfare on the Cornell Tech campus in New York City, Cornell announced earlier this year.
"Chuck Feeney, in his life and in his lasting legacy, set an inspirational standard of what it means to be a Cornellian," said President Martha E. Pollack. "His life's mission of consequential philanthropy, the breathtaking impact of his giving to his alma mater, and the way his quiet example has motivated so many others, has been immeasurably transformative to Cornell and to Cornellians.
"I am heartened by the fact that Chuck – who famously never sought recognition for his generosity – had recently granted Cornell's wish to express our appreciation for him and celebrate his impact and vision by naming main thoroughfares on our Ithaca and Cornell Tech campuses in his honor," Pollack said.
Feeney's legacy
The story of Feeney's legacy and The Atlantic Philanthropies' impact on Cornell is vast and inspiring. Among the highlights of the foundation's giving are:
the record-setting $350 million grant, initially made anonymously in 2011, that funded much of the construction and program development for the first phase of the Cornell Tech campus, while also creating a generous permanent endowment, and was transformational for both Cornell and New York City;
the creation of, and endowment gifts for, the Cornell Tradition, which awards fellowships to outstanding Cornell undergraduates who demonstrate a commitment to scholarship, work and service; and
support that touched nearly every corner of Cornell, transforming undergraduate residential life; increasing access to financial aid; and revitalizing the sciences, humanities and social sciences.
Beyond Cornell, Feeney and The Atlantic Philanthropies gave $7 billion over three decades, dramatically advancing global education, health, research and innovation, human rights and peacemaking efforts.
"Chuck was as passionate about making a positive difference in the lives of others as he was about being successful at business," said Christopher G. Oechsli, president and CEO of Atlantic and longtime adviser to Feeney. "He cared more about being effective at what he did than about amassing wealth or collecting awards. In philanthropy, that meant being present and engaged in an unassuming manner with the people and their work who, with his support, could improve the lives of others in meaningful and lasting ways."
"Chuck Feeney was a cherished Cornellian whose impact is immeasurable," said Kraig Kayser, MBA '84, chair of the Cornell Board of Trustees. "His philanthropic support across many campus priorities – including the founding gift for Cornell Tech – will be felt for generations. He traced his visionary commitment to 'giving while living' to Cornell's '… any person … any study' principles, and just as Cornell's ethos was foundational to Chuck, he became foundational to Cornell. The entire community sends its condolences to his family, as he will be missed."
Early years and The Atlantic Philanthropies
Charles Francis Feeney was born April 23, 1931, into a working-class, Irish-American immigrant family in Elizabeth, New Jersey. He enrolled in Cornell's School of Hotel Administration – now the Cornell Peter and Stephanie Nolan School of Hotel Administration – in 1952 with support from the G.I. Bill. He was the first in his family to go to college.
His entrepreneurial drive was apparent immediately: He famously created a sandwich business at Cornell that became so profitable his freshman classmates dubbed him "the sandwich man."
After graduation, Feeney traveled to Europe, enrolled in a graduate program in political science at the University Grenoble in France and started a summer camp for children of American military personnel.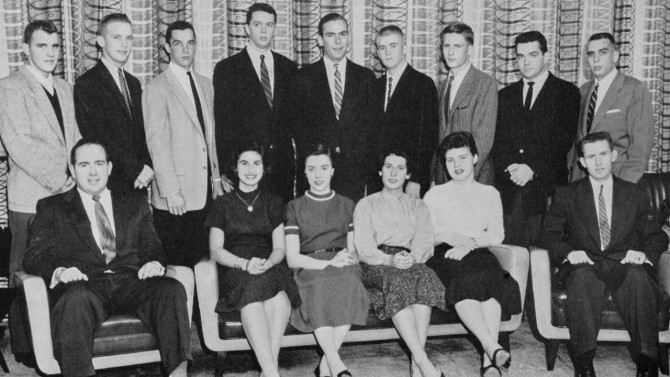 In 1960, Feeney and fellow Hotelie Robert W. Miller '55 co-founded Duty Free Shoppers – at first selling to sailors serving with the U.S. Navy's Atlantic fleet, then at Honolulu International Airport, and subsequently expanding to airports in Europe, Hong Kong and beyond. Duty Free Shoppers soon became the largest seller of luxury goods in the world.
In 1984, Feeney secretly gave away nearly all his fortune by transferring the vast majority of his stake in Duty Free Shoppers (estimated at more than $500 million at the time) to create and establish The Atlantic Philanthropies, reducing his own wealth to less than $5 million.
In its early years, Atlantic directed much of its giving to higher education; it later refined its areas of focus, identifying four key priorities: aging; children and youth; population health; and reconciliation and human rights.
Feeney insisted on anonymity for the foundation's donations and his involvement. According to his authorized biography, "The Billionaire Who Wasn't: How Chuck Feeney Secretly Made and Gave Away a Fortune" (2007) by Conor O'Clery, this was partly due to modesty, and partly out of concern that giving publicly and generously to an organization might discourage others from giving to the same organization.
Atlantic eventually concentrated its grant-making in seven countries across the globe and targeted giving in particular sectors for each: the United States (higher education, health care reform, medical research and social justice); Bermuda (nonprofit organization support, philanthropy and social change); Northern Ireland and the Republic of Ireland (peacemaking and higher education); South Africa (justice, health equity, human rights and social change); Vietnam (health care and higher education); and Australia (modern facilities for translational research and pharmaceuticals).
Based on his belief that people should use their wealth to better the world during their lifetimes, Feeney purposely limited the lifespan of The Atlantic Philanthropies so it would make a difference sooner rather than later. In 2002, he committed to spending down the foundation's endowment completely and set 2016 as its final year of grant-making. He said he was very proud to accomplish this goal during his own lifetime.
Atlantic and Cornell
The Atlantic Philanthropies' very first investment in Cornell, in 1982, was an anonymous grant of $7 million to establish The Cornell Tradition, an undergraduate fellowship program combining work, service and scholarship opportunities to instill a strong work ethic in civic-minded students. The program was envisioned as a contemporary expression of Ezra Cornell's vision that all students who were willing to work hard, earn good grades and dedicate themselves to serving their communities would find a place at the university, regardless of their financial situation.
The foundation gave nearly $41 million to The Cornell Tradition over time, supporting more than 6,000 students and, through student loan relief, enabling many of them to pursue careers in public service.
Fittingly, The Atlantic Philanthropies' final official grant as it wound down its operations in 2016 was another $7 million for The Cornell Tradition, creating core endowments for operations and for students with financial need who wish to pursue international service experiences. Both endowments were named for Rhodes to honor his long connection with The Atlantic Philanthropies, which was fostered and flourished during his presidency at Cornell and afterward, when he served on Atlantic's board from 1995 to 2000 and as chairman from 2000-08.
Between those first and final grants to Cornell, The Atlantic Philanthropies nurtured a three-decade partnership with the university and its leaders, supporting and creating:
scholarship challenge campaigns to support access for all deserving students, allowing Cornell to maintain its need-blind admissions policy;
the construction of more than a dozen buildings, notably on North and West campuses, creating and transforming first-year student residential experiences and living-learning communities;
athletics endowments and facilities, including Bartels Hall and Cornell Outdoor Education;
Nolan Hotel School support, through contributions to the Robert A. and Jan M. Beck Center and the Center for Hospitality Research;
challenge grants to inspire alumni giving for university priorities;
the Presidential Research Scholars Program, which was later named for former President Hunter R. Rawlings III;
the acquisition and development of the Cornell Club property in New York City as a presence for the university and a gathering place for alumni and guests; and
the Martin Y. Tang Welcome Center on Beebe Lake – a building that Atlantic helped restore in the 1980s and renovate in 2018 as Cornell's first standalone welcome center.
The Atlantic Philanthropies also supported challenge campaigns that boosted endowment for faculty positions, deanships, directorships and graduate fellowships; provided seed funds for top academic programs and initiatives; helped to create the Cornell International Institute for Food, Agriculture and Development, the Center for the Study of Inequality, and the Cornell Center on the Death Penalty Worldwide; and established The Atlantic Philanthropies Archives, now housed at Cornell University Library's Division of Rare and Manuscript Collections.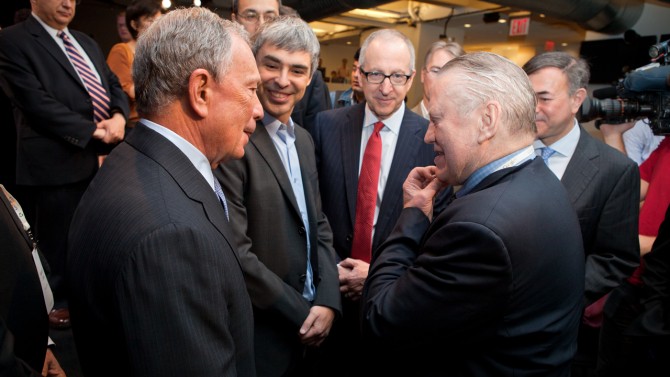 Cornell Tech
The Atlantic Philanthropies' largest single investment, and what has been described as the crowning achievement of its long collaboration with the university, came in the form of a $350 million grant in 2011 – the largest-ever grant to Cornell and one of the largest ever given in higher education – to build the Cornell Tech campus on Roosevelt Island in New York City.
The grant was a deciding factor in Cornell's winning New York City's competition to build a new graduate applied sciences and engineering campus in the city. It marked a historic and transformative moment for Cornell and was critical in allowing the university to begin all facets of the campus's development, from the first construction phase to its faculty and programs. That early support served as the linchpin of what is now growing into a $2 billion plan for Cornell Tech and is reshaping the tech landscape in New York City by positioning the entire metro region as a global tech center.
Recognition and inspiration
Feeney, a member of what Rhodes often referred to as the "Super Class of 1956" for its record-breaking philanthropy and service, was long known for being shy and modest, flying coach, wearing $15 watches and sweaters with holes, and not owning a home or tuxedo.
It wasn't until the 1997 sale of Duty Free Shoppers that Feeney became known as the philanthropist behind The Atlantic Philanthropies and its many billions of dollars in giving over the years, and for his tremendous impact on Cornell. He later authorized his biography to encourage others to follow his example.
In 2011, Feeney became a signatory of the Giving Pledge, created by Warren Buffett and Bill Gates with the aim of motivating the world's wealthiest individuals and families to commit to giving away the majority of their wealth to philanthropic causes and charitable organizations of their choice, preferably while the donors are still alive – the essence of Feeney's philosophy.
In 2014, Feeney was honored with the Forbes 400 Lifetime Achievement Award for Philanthropy, presented to him by Buffett.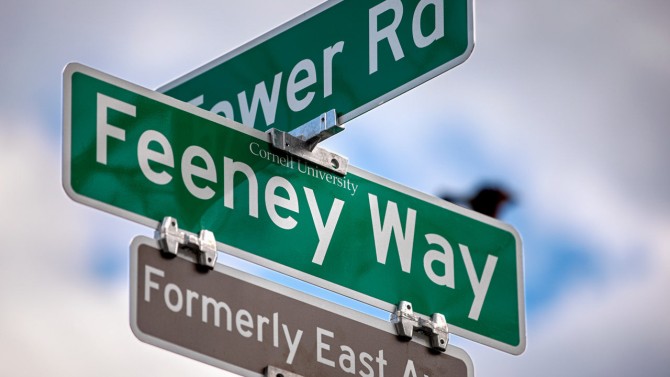 "Chuck has set an example," Buffett said. "He is my hero and Bill Gates' hero. He should be everybody's hero."
In 2015, Feeney was one of three Cornellians awarded the Carnegie Medal of Philanthropy, given to families and individuals worldwide who have dedicated their private wealth to the public good.
In 2020, when the university announced that it would, with Feeney's permission, rename East Avenue in his honor, he said he was humbled.
"Cornell's culture of affording any person an opportunity for study in any area of interest informed my commitment to 'give while living' – to use wealth to create opportunities for others, especially for those who have not historically had those opportunities," he said. "I hope Feeney Way will help awaken and nurture that spirit in those who walk Cornell's paths."
Feeney is survived by his wife, Helga; five children from his first marriage to Danielle Feeney of France: Juliette Feeney-Timsit '84 of Paris; Caroleen Feeney of Los Angeles; Leslie Feeney Baily of London; Diane Feeney '90 of London; and Patrick Feeney of Brussels; 16 grandchildren; and four nieces and nephews.
Memorial gifts may be made to a charitable organization of choice or The Cornell Tradition at Cornell University, 300 Kennedy Hall, Ithaca, N.Y.; Hear & Say, 29 Nathan Ave., Ashgrove Qld 4060, Australia; or The Atlantic Institute/Atlantic Fellows, South Parks Road, Oxford OX1 3RG, United Kingdom.
Joe Wilensky is a writer for Cornellians.
RELATED STORIES Cornell Tech has announced a total of more than $10 million in …