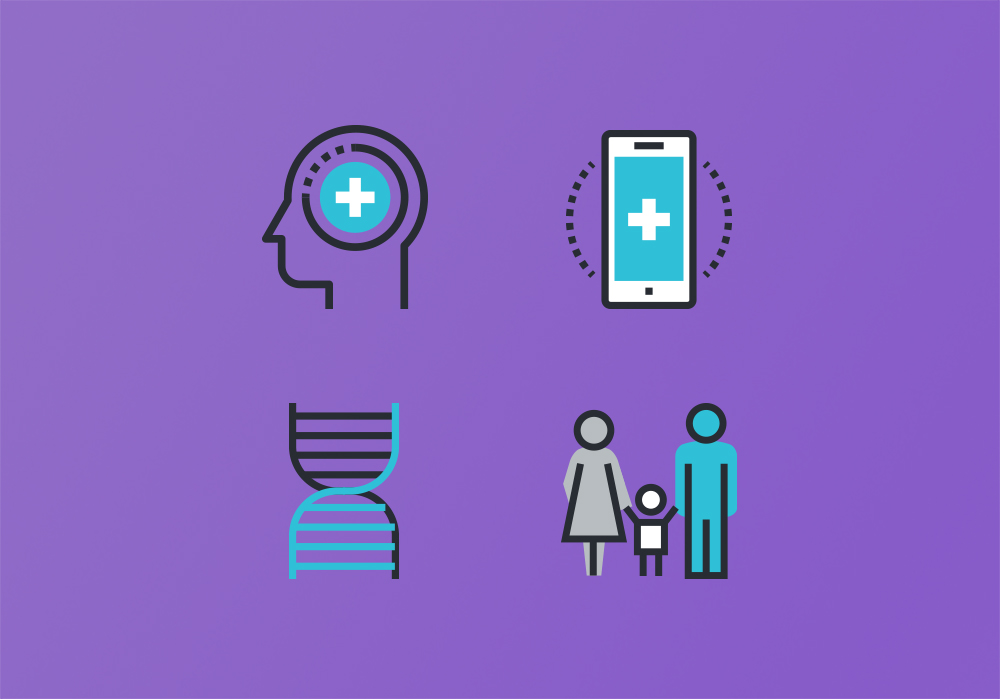 Innovators in the health tech space today are betting that by leveraging data and technology, we can finally make progress on some of America's most difficult health challenges — tough problems like cancer, cardiovascular disease and stroke, which together account for 7 in 10 deaths and 86 percent of the nation's overall health costs.
Operators of commercial airlines today know when a tire or valve needs repair ahead of time using so-called "predictive maintenance" techniques. Using these same techniques, operators of manufacturing plants are able to confirm the usability of greases and oils on an ongoing basis, and correlate equipment temperature with future mechanical problems. Similarly, "P4 Medicine" hopes to transform medicine by leveraging four interconnected strategies: Prevention, Prediction, Personalization, and Participation.
Prevention
Patients interact with the healthcare system for a total of 10 hours per year on average. What about the remaining 8,750?
That's where technology comes in. Professor Deborah Estrin, founder of the MS in IS, Health Tech program at the Jacobs Technion-Cornell Institute, is leading the charge. She believes that, in the future, resorting to medicine will increasingly be viewed as a failure of prevention.
"Lifestyle behaviors are widely recognized as drivers for our most pervasive medical challenges," Estrin said. "Consumer technologies and personal analytics offer the greatest and most scalable opportunities for making the 'healthier' choice the consumer's actual choice."
Prediction
Marketers have been using analytics for years to measure the success of their campaigns and websites. But now with smart and wearable devices, valuable health data and analytics are being used in healthcare to predict potential health concerns and provide better care for patients.
eCare21 is one such company. Using smartphones, Fitbits, Bluetooth and sensors, the application collects valuable health data from senior citizens and compiles a dashboard for the patient's doctors and caregivers so they can provide proactive care.
Personalization
While the world has been obsessed with big data, Professor Estrin in her 2013 TEDMED talk called attention to the power of "small data" — that is, our personal data — which she describes as a digital social pulse capable of sounding vital early warning signals. Small data, she argues, could be mined for critical insights around health, and ultimately even make the difference between life and death.
How to not only capture that data, but leverage it as a tool to reciprocally shape behavior, has long been a topic of interest for Wired's Thomas Goetz. In 2011, he wrote a seminal paper on feedback loops, and followed it up that year with his book The Decision Tree: How to Make Better Choices and Take Control of Your Health.
More recently, Goetz has overseen the development of Start, a new app that helps patients living with depression stick to their prescription protocols. The app provides highly personalized health care, and support and guidance tailored to each patient, over a six-month period.
The goal? Making the patient "an equal partner [in their health]," according to Goetz.
Diet and nutrition are a final area where the mandate for personalization can be seen — particularly in the emerging field of nutrigenomics. Compared to nutrigenomics, the recent popular diet fads — whether South Beach or Atkins — seem primitive and treating only of symptoms. Before counting carbs, nutrigenomics asks the foundational question, "What's your optimal diet, based on genotype?"
It's equally important to find a diet that each person will stick to; as we know even the most successful diets are usually followed by some regression to previous behavior. With the growth of online grocery shopping, restaurant rating, and food photo sharing, we now have the wealth of data needed to build personalized diets that are linked to individuals preferences, capabilities and food availability.
Participation
Participation involves everything from patient decision-making to self-medication, self-monitoring, education, goal-setting and taking part in physical care. Central to all of these is the tenet that medicine of the future will be oriented around patients themselves — that it will be personalized, informed and data-driven.
This means rethinking fundamental aspects of our current approach to health care.
Take research studies, for example. Thanks to technology, longstanding obstacles to widespread participation in them — obstacles ranging from the inconvenience of recurring visits to a lab, say, or the need to reside in geographic proximity to a clinic with a relevant specialization — are finally being overturned.
Professor Estrin has been a driving force in this effort. One project she initiated, ResearchStack, is a framework for building research study apps on Android. Its designed to be functionally similar to Apple's ResearchKit, albeit with one critical caveat: it's accessible to those who don't own iPhones. That's about three quarters of the total US population.
Wired's Goetz has a similar project currently underway. He is co-founder and CEO of Iodine, an app that works a little bit like Yelp, only for healthcare. It has 100,000 members, all of whom can rate medications, discuss side effects and share personal experiences.
In an increasingly networked society — and with the Internet of Things (IoT) expected to surpass mobile phones as the largest category of connected devices in 2018 — the opportunity to improve health outcomes through data and technology is undeniable. Yet, what today's health tech innovators are realizing is that only by first rethinking our health and wellness paradigms will we be able to do so.