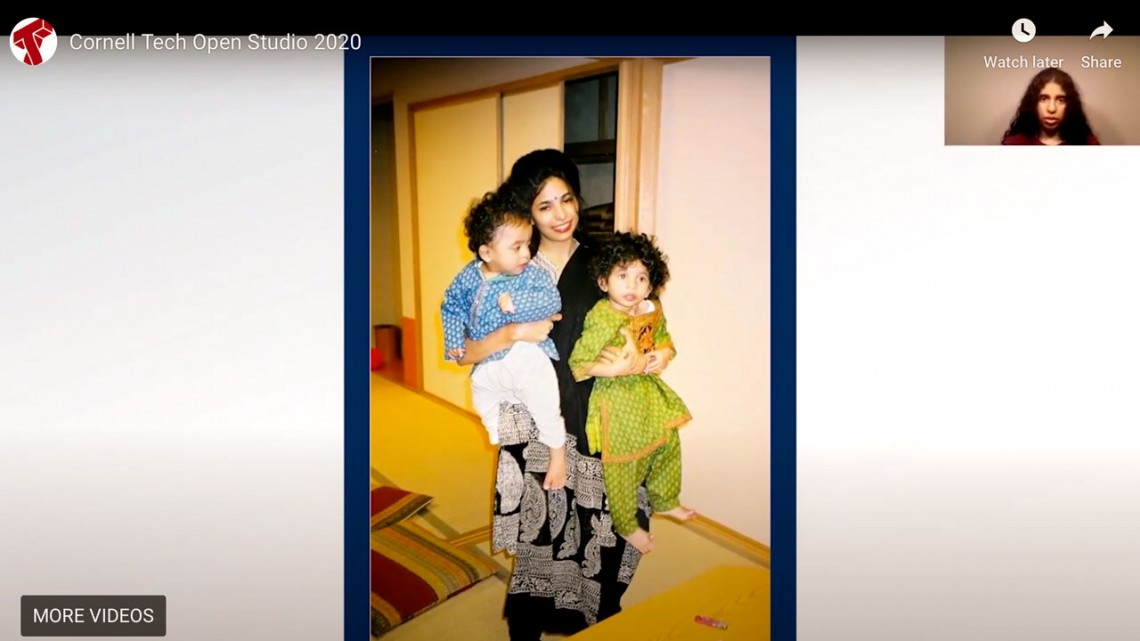 Vini Tripathii, M.Eng. '20, top right, was among the winners at Cornell Tech's annual Startup Awards. Her company was inspired by her mother, who is pictured holding Tripathii and her brother.
Three years ago, Cornell Tech master's student Vini Tripathii's mother became ill, leading to the amputation of her hand.
"My mother, who has always been so active and independent, suddenly found herself struggling with simple, mundane tasks," said Tripathii, M.Eng. '20. "I thought when she got a prosthetic, it would fix everything. It didn't."
Frustrated by the low functionality of existing prosthetics, Tripathii and her brother, an undergraduate at the Massachusetts Institute of Technology, founded a company, Invictus BCI, that applied recent advances in deep learning and neuroengineering to design a more intuitive and cost-efficient model.
Invictus BCI was among the four winners chosen from 10 finalists at Cornell Tech's annual Startup Awards, announced at the virtual Open Studio event May 15. The winners will receive up to $100,000 in preseed funding, including continued support through access to the Cornell Tech spinout team, which offers weekly meetups with spinout and Runway Startup Postdoc companies, founder networking events and investor introductions, among other perks.
The other winners were Buzr, a service connecting building intercoms to smartphones; Enroute, a platform providing tools for seamless patient transportation within a hospital; and Ash, which provides personalized at-home testing kits to detect sexually transmitted infections.
OnePlace, a software hub to help families collaborate and store information, was named runner-up, and will receive support from the Cornell Tech spinout team.
"I'm so impressed with this year's group of Startup Awards finalists," said Greg Morrisett, the Jack and Rilla Neafsey Dean and Vice Provost of Cornell Tech, who addressed participants at the start of the event. "Despite not being able to meet in person with their co-founders or initial users, our students rallied. They came up with innovative and ambitious companies to solve real-world problems, and in their rare spare time, they volunteered with relief efforts to help their community on Roosevelt Island and throughout the city."
Startup Studio is one of two capstone courses of Cornell Tech's studio curriculum. Students can also take BigCo Studio, which teaches them to innovate within large companies.
Startup Studio brings together multidisciplinary teams and industry professionals to help students innovate new products and services. Since its inception, the studio program has produced 60 companies, 90% of which are headquartered in New York City. The companies have drawn more than $80 million in startup funding, and six have been acquired by companies including Adobe, Infor and MINDBODY.
"Working with the tech industry, especially here in New York City, is part of the mission of the Cornell Tech campus," Morrisett said. "Our goal is to train students to build companies that are not only commercially viable, but lead to a better, more ethical and more sustainable world. Open Studio plays a vital role in meeting that mission."
In addition to shifting their collaborations to an online format, many of the students also pivoted their startup ideas to address new challenges caused by the COVID-19 pandemic. For example, OnePlace, the family operating system, emphasized the need to have important documents easily accessible. Companies related to gaming, online shopping and community building have new relevance with so much of our lives taking place online, their founders said in their presentations.
"This is an unprecedented time for Cornell Tech and the tech industry, challenging all of us to rethink the products we build and how we build them in light of COVID-19," said Thatcher Bell, head of Startup Studio. "Iteration is a core value at Cornell Tech, and our startup teams quickly adapted to launching their companies completely virtually while reshaping their products and services to the changing needs of their customers and stakeholders."
After the presentation of the Startup Awards, participants could visit breakout rooms featuring other projects developed in Startup and BigCo Studio, as well as Runway Startup Postdocs at the Jacobs Technion-Cornell Institute.
Startup Studio is run by Bell; Josh Hartmann, Cornell Tech chief practice officer; Aaron Holiday, managing entrepreneurial officer and co-founder and managing director of 645 Ventures; and Leandra Elberger, studio director. BigCo Studio is taught by Cornell Tech fellow Chad Dickerson and Bradley Horowitz, vice president of product management at Google.