Cornell Tech Students Develop Innovative Health Technology to Benefit Patients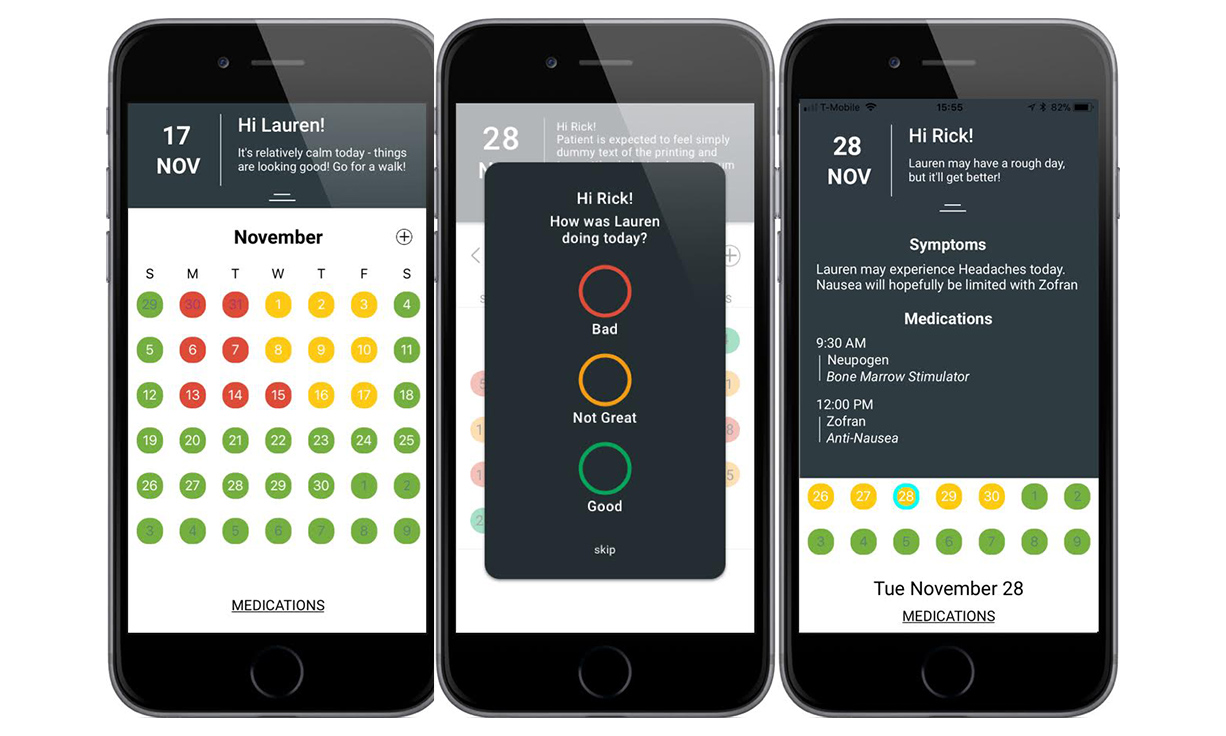 How can technology be used to help patients and doctors make treatment plans more efficient and effective? That was the challenge at-hand for the health technology challenges from last fall's Product Studio at Cornell Tech.
Leading startups, companies, and organizations in New York City tasked students with developing innovative technology to solve their respective business challenges. Product Studio teams comprised of interdisciplinary Cornell Tech masters students and students from Parsons School of Design collaborated throughout the fall semester and demonstrated their final prototype — backed by user research and strategy — to key stakeholders.
Here are two health technology projects from Product Studio:
Using Technology to Enhance the Data Collection and Evaluation
When Hale Health asked students to design a one-stop-shop healthcare experience for chronic disease patients, the team chose to help diabetic patients. The team included Xialin Shen, Technion-Cornell Dual Master's Degrees in Health Tech '18, Nicholas Deaton, Johnson Cornell Tech MBA '18, Oluseye Bankole, Health Tech '18, Ethan Green MBA '18, and Danielle Beecham, MFA '19, Parsons School of Design.
The choice to focus on patients with diabetes came from Beecham and Deaton's experience each having a parent with Type 2 diabetes. After extensively researching the treatment plan and speaking to physicians at the Open Medical Institute and Weill Cornell Medicine, they realized that what diabetes patients and their physicians needed was a convenient way to collect data points about the patient's health and routine so they created the solution.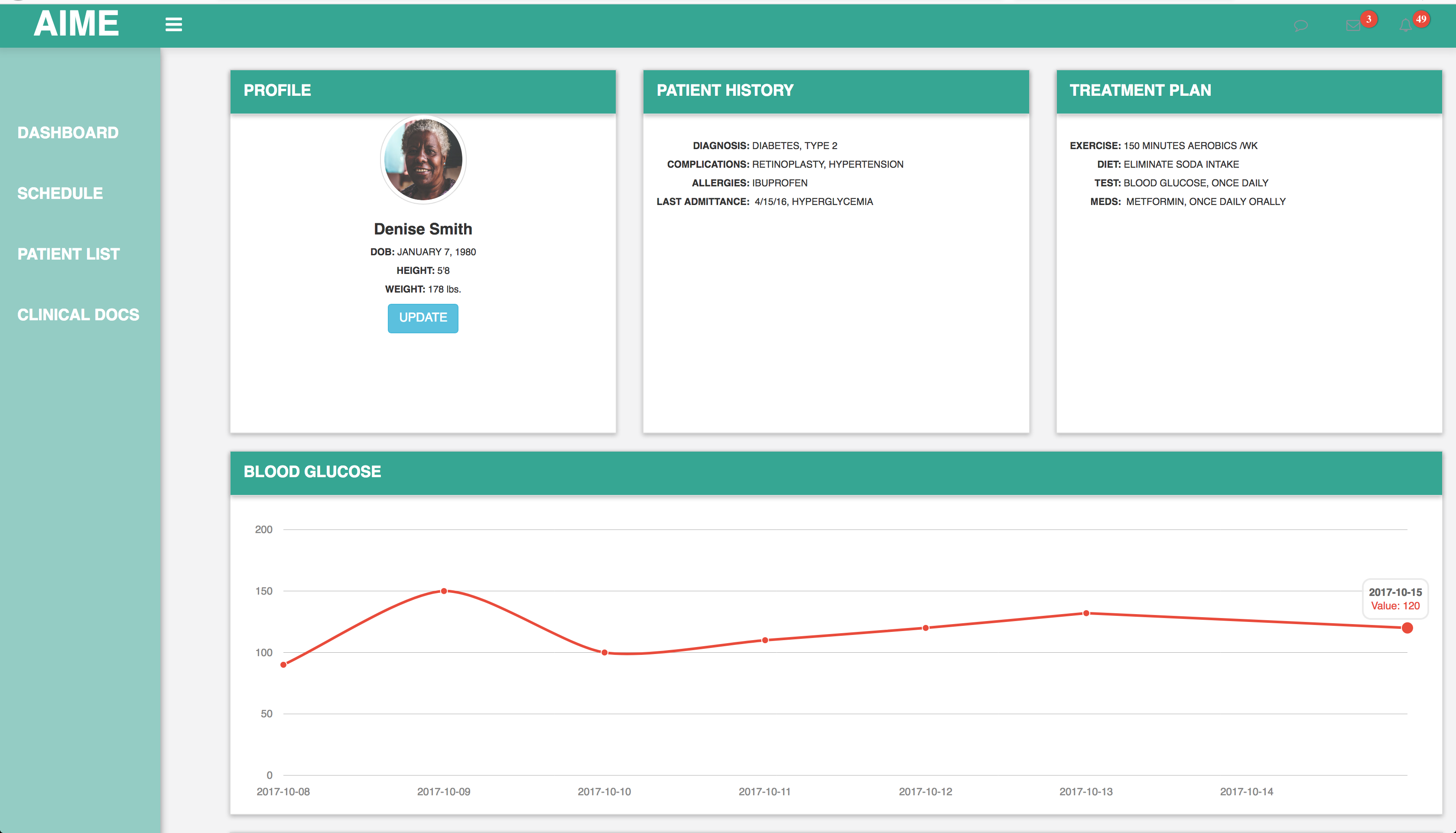 The team built a voice chatbot that reminds patients with diabetes to log the information the doctor needs to properly assess their treatment plan and provides an easy way for patients to record their notes. Patients traditionally record physical notes in a journal or log to share the feedback with their doctor every six to eight weeks. In their user research, the students learned that people often forget to track their information daily, which leads to incomplete or incorrect records.
"The bot prompts the patient to report those tidbits one or multiple times a day and it gathers those to share with the physician and back with the patient so they can see how they are progressing," says Deaton. Patients and physicians can look at the dashboard during appointments to discuss trends and treatment plans based on accurate data.
Using Technology to Forecast the Recovery Process
IBM challenged Cornell Tech students to develop a comprehensive decision support tool for patients and their families. The responding team included Neel Parekh and Derek Netto, both Masters in Computer Science '18, Adrien Cogny, Master in Operations Research and Information Engineering '18, John Quinn, Johnson Cornell Tech MBA '18, and Maria Jessica, BFA '18, Parsons School of Design.
They built a digital tool that allows cancer patients to anticipate how they will feel throughout their treatment. When the patient inputs their chemotherapy schedule, the tool provides an easily-shareable forecast for how the treatment will make them each day. The team studied data about the typical chemotherapy schedule and side effects to create the predictive model that the digital tool uses to customize the forecast based on each patient's specific treatment schedule.
"We learned that it's the responsibility to think about the life-cycle of the product to make sure it is beneficial to the users," says Jessica who conducted in-depth user interviews to identify what patients and their loved ones would benefit from the most.
They realized patients needed a way to predict how they would feel so they could plan activities based on when they would feel at their best. They also realized that it's difficult for their friends and family to balance caregiving along with their other personal and professional obligations. Patients share their information with caregiver so they can set their schedules to be there when patients need them most.
"Our tool helps patients and their caregivers be more informed about their treatment," says Netto, "When someone has a condition, they aren't an island, their condition affects their family and everyone around them. We wanted to address the burden of being a caregiver for a loved one because we felt like there wasn't anything addressing that need."
Both teams agreed that health technology, like their proposed technology for Hale Health and IBM, will become more prevalent in the future. "I'm really excited about the changes that tech is going to have in health care over the next few years. At the crux of it, we all think there is a lot of potential to help people on a one-to-many scale using technology," says Green.