Cornell Tech Announces Construction of First Passive House High-Rise in the World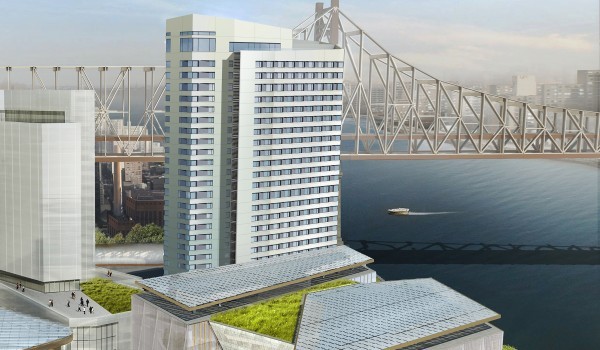 Iconic residential building will advance campus' commitment to sustainability and innovation; developed in partnership with the Hudson Companies and designed by Handel Architects
NEW YORK – Cornell Tech announced today that the first residential building on its Roosevelt Island campus, developed in partnership with the Hudson Companies, will become the first high-rise residential building in the world built to Passive House standards. Passive House (PH) is the strict international building standard that drastically reduces energy consumption while creating a healthier and more comfortable living environment for a fraction of residents' usual energy costs. The building will become the beacon of the Cornell Tech campus and a symbol of the school's unwavering commitment to innovative sustainability. Construction is set to begin this month on the 270-foot tall building that will house approximately 350 residential units and is slated to open as part of the campus' first phase in 2017.
To achieve Passive House standards, Cornell Tech Residential will incorporate a number of sustainability-focused design elements. The façade, constructed of a prefabricated metal panel system, acts as a thermally insulated blanket wrapping the building structure. At the southwest façade, facing Manhattan, the exterior façade opens to reveal a louver system that extends the entire height of the building. This reveal is designed to be the "gills" of the building, literally providing an enclosed exterior space where the heating and cooling equipment live, allowing the building system to breathe. Low VOC‐paint, which limits off‐gassing and improves indoor air quality, will be used throughout the building, among many other elements. Compared to conventional construction, the building is projected to save 882 tons of CO2 per year, equal to planting 5,300 new trees.
"Constructing the first Passive House residential high rise in the world is the latest and most exciting example of our effort to set new benchmarks in sustainability and innovation," said Cornell Tech Dean Daniel Huttenlocher. "We hope this will serve as a model for how Passive House standards can be brought to scale in the United States and create a new template for green design here in New York City."
"We have spent the past 2 years working with an incredible team of engineers and designers to establish this new standard for a 26 story building," said David Kramer, Principal of the Hudson Companies. "We hope that this boundary-pushing development will serve as a living lab and enduring inspiration to the community of next-generation problem solvers who will live within its (well insulated) walls."
The plans to achieve Passive House standards at Cornell Tech Residential were developed by a team of experts, including Handel Architects, Steven Winter Associates, Buro Happold, Monadnock Construction and co-owner Related Companies.
Luke Falk, Assistant Vice President of Sustainability for Related Companies said, "We are quite literally breaking new ground with the development of the world's first high-rise residential passive house and it signifies the deep commitment by the entire project team to create a paradigm-shifting campus in New York City. This milestone is also the culmination of unprecedented collaboration between the public and private sector and demonstrates the energy-saving potential of high rise residential architecture that can be achieved with forward thinking partnerships."
Considered the most rigorous energy efficiency standard in the world, PH buildings consume 60 – 70 percent less energy than typical building stock, surpassing modern standards like LEED and NYSERDA. The design also has a tremendous economic benefit for residents: Cornell Tech Residential tenants can expect to see this savings reflected in their electricity bills.
Passive buildings incorporate a super insulated building façade, an airtight building envelope and an energy recovery ventilation (ERV) system to create a comfortable interior climate without drafts and cold spots. The ERV system constantly pulls in fresh air and removes stale air, while recovering the energy in the climate-controlled air leaving the building. The PH requirement for the airtight facade (measured as air changes per hour or ACH) is 0.6 ACH, ten times tighter than typical new construction; new construction buildings average 6-8 ACH, while typical brownstones average 25 ACH.
The new structure, which is being designed by New York City-based Handel Architects LLP, will be the tallest building on Cornell Tech's campus and an iconic marker. The building's exterior will shimmer, using a state-of-the-art, color-changing paint that, when reflecting light, naturally shifts color from silver to warm champagne. The interior is designed to provide a comfortable living experience that reinforces the social and intellectual connectivity that is at the heart of the school's mission. It is geared to further a dynamic environment in which students and faculty can benefit from the synergy of their peers. The building features a number of collaborative spaces, both inside and outside, to facilitate collective academic creativity.
"High-rise multifamily housing is a vital part of the solution to the challenges we are facing with increasing world populations and a changing climate," said Blake Middleton FAIA, Handel Architects LLP. "The Cornell Tech commitment to innovation was the impetus to rethink how these buildings are designed and built, and we expect this project to be a game-changer, creating a new paradigm for affordable, high-performance buildings to meet this challenge."
About Cornell Tech Cornell Tech develops pioneering leaders and technologies for the digital age. Cornell Tech brings together faculty, business leaders, tech entrepreneurs, and students in a catalytic environment to produce visionary results grounded in significant needs that will reinvent the way we live in the digital age. Cornell Tech's temporary campus has been up and running at Google's Chelsea building since 2012, with a growing world-class faculty, and about 150 master's and Ph.D. students who collaborate extensively with tech-oriented companies and organizations and pursue their own start-ups. Construction is underway on Cornell Tech's campus on Roosevelt Island, with a first phase due to open in 2017. When fully completed, the campus will include 2 million square feet of state-of- the-art buildings, over 2 acres of open space, and will be home to more than 2,000 graduate students and hundreds of faculty and staff.
About Hudson Companies
Hudson, a privately held real estate development company founded in 1986, is a leading developer of new housing for all market segments in the New York metropolitan area. The firm is experienced in both new construction and rehabilitation and is active across the luxury, affordable, and institutional housing markets. Hudson's principals have a hands-on approach to managing the details of the development process from property acquisition, project finance and design, through construction and marketing. In its 29-year history Hudson has developed over 5,600 units in 44 projects and has another 3,000 units in the pipeline which will be developed over the next five years in New York City. Hudson's portfolio of projects completed, in construction and in pre-development is $3 billion.
About Related Companies
Related Companies is the most prominent privately-owned real estate firm in the United States. Formed over 40 years ago, Headquartered in New York City, Related has offices and major developments in Boston, Chicago, Los Angeles, San Francisco, South Florida, Washington, D.C., Abu Dhabi, London, São Paulo and Shanghai and boasts a team of approximately 3,000 professionals. Related is staunchly committed to sustainable design with over $15 billion in green development underway or completed. The firm developed one of the first LEED certified residential buildings in the nation, Tribeca Green in Battery Park City, New York (Gold rating) and Chicago's first LEED-certified residential building, 340 on the Park (Silver rating). Related has since gone on to deliver 15 more LEED Silver, Gold and Platinum certified properties, and has over 30 LEED building and neighborhood projects in design and construction, encompassing residential, commercial, retail and mixed use. For more information about Related Companies please visit www.related.com
About Handel Architects
Handel Architects is a global practice focused on urban issues centered around density, sustainability, and the creation of vital urban environments. The firm's emphasis on understanding the forces that shape the urban environment informs how each project, from large-scale urban planning to a single high-impact urban building – such as the new residential tower for the Cornell Tech campus in New York City – can become a catalyst for positive urban change. With over 160 architects and designers in New York, San Francisco, and Hong Kong, Handel Architects is an award-winning innovator in the design of hybrid residential buildings, designed to support density as a sustainable urban growth strategy.