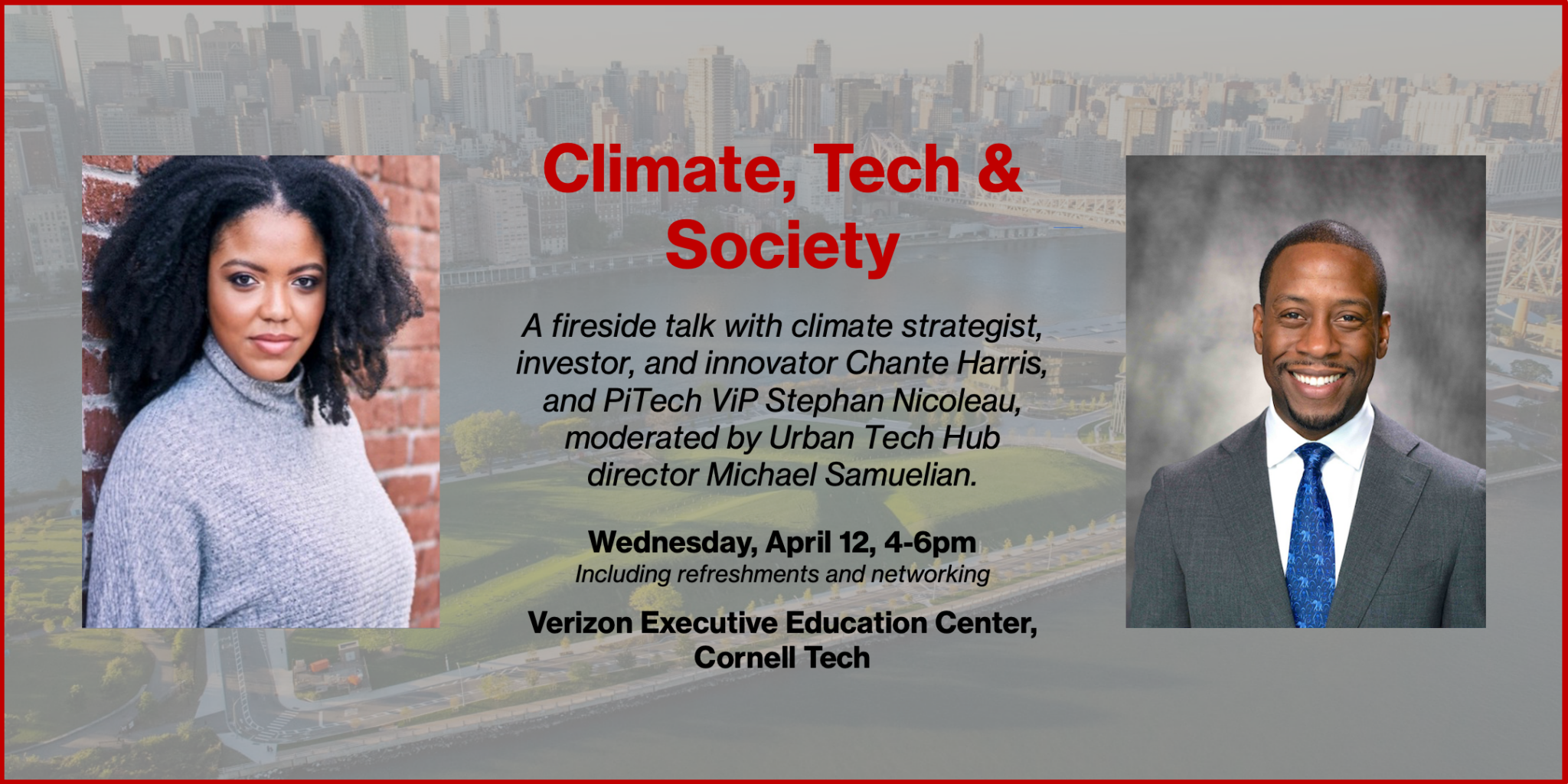 Climate, Tech & Society: A Fireside with Chante Harris and Stephan Nicoleau
A fireside talk with climate strategist, investor and innovator, Chante Harris and PiTech ViP, Stephan Nicoleau, at Cornell Tech.
Join us for a fireside talk with Chante Harris, a leader in social and financial innovation around climate technology at Schmidt Futures and SecondMUSE, and Stephan Nicoleau, PiTech Visiting Practitioner at Cornell Tech and general partner at FullCycle. The talk will be moderated by Michael Samuelian, Director of the Urban Tech Hub at Cornell Tech.
4:00pm – 5:15pm: Fireside chat, followed by a Q&A
5:15pm – 6pm: Refreshments and Networking Opportunities
Speaker Bio
Chante Harris
Chante Harris is a champion of social and financial innovation. Throughout her career, she has successfully scaled nationwide campaigns, technologies, and ideas for the Obama Administration, Fortune 500 companies, and startups. Chante has spent the past two years leading climate investment and partnerships at SecondMuse sourcing, funding, and scaling the best early-stage climate tech solutions across the globe by offering them hands-on support until they are ready for their first customers, pilot runs, and investment. Chante also led the launch of a global innovation challenge, a summit providing 1200+ startups across 64 countries with the insights, connections, and resources necessary to scale. She also developed a global investor network convening over 100 of the top climate and climate-curious investors to provide them with the tools needed to deploy the more than $17 billion of capital committed to climate solutions in 2021 alone. She is also currently a ClimateTech Strategist for Schmidt Futures, working to fill gaps in the deployment and financing of climate technologies.
Named by NASDAQ as a Woman to Watch in 2022, ACEEE as a Champion for Energy Efficiency, America on Tech as an Innovator and Disruptor, and Women Enews as a Pioneering Woman in Sustainability, Chante is at the helm of driving climate innovation, building sustainable cities, advancing cross-sector collaboration, and tapping into community to launch better solutions and technologies. Chante is also the co-founder of Women of Color Collective in Sustainability (WOC/CS), the only global digital collective and community that is 100% dedicated to advancing women of color working across the sustainability industry. Since its launch in the summer of 2019, the community has brought together over 5,000 women of color through virtual and in-person events, social media, a hiring platform, and an online publication. Her writing and work have been featured by Business Insider, Thrive Global, The Milken Institute, and other notable publications.
Stephan Nicoleau
Stephan Nicoleau is a General Partner at FullCycle, a sustainable infrastructure fund that is accelerating climate solutions globally. FullCycle is an active member of the Institutional Investors Group on Climate Change (IIGCC)and a key member of its Infrastructure Working Group. Stephan represents FullCycle within GFANZ – the Glasgow Financial Alliance for Net Zero – representing $65T of commitments made towards net zero climate action.
Stephan also serves on the boards of: Project Drawdown, an organization that has played a pivotal role identifying climate solutions and strategies that investors, communities and policy makers can implement; Future of Cities, an accelerator and think tank designed to steward climate-forward urban development and innovation; and Monument Lab, a national public arts organization working to drive discourse around monuments, public space and justice. He is also a judge for the 2023 Keeling Curve Prize, awarded to innovators of some of the most compelling and scalable climate solutions globally, and is currently a PiTech Visiting Impact Practitioner at Cornell Tech in New York City. He also advises leadership at the Departments of State and Energy on climate policy and implementation of the Inflation Reduction Act.
Stephan is a noted thought leader amongst investors in the climate and infrastructure sectors, and a frequent panelist, writer and keynote speaker on topics related to climate, innovation, finance and policy. He has been a featured speaker at venues such as the World Economic Forum, the United Nations, COP26 and COP27, Yale University, Cornell University, and The University of Pennsylvania. He has also featured in media outlets Bloomberg, CNBC, Impact Alpha, FinTechTV, TheImpact, New Private Markets, My Climate Journey, and The Reconstruction.