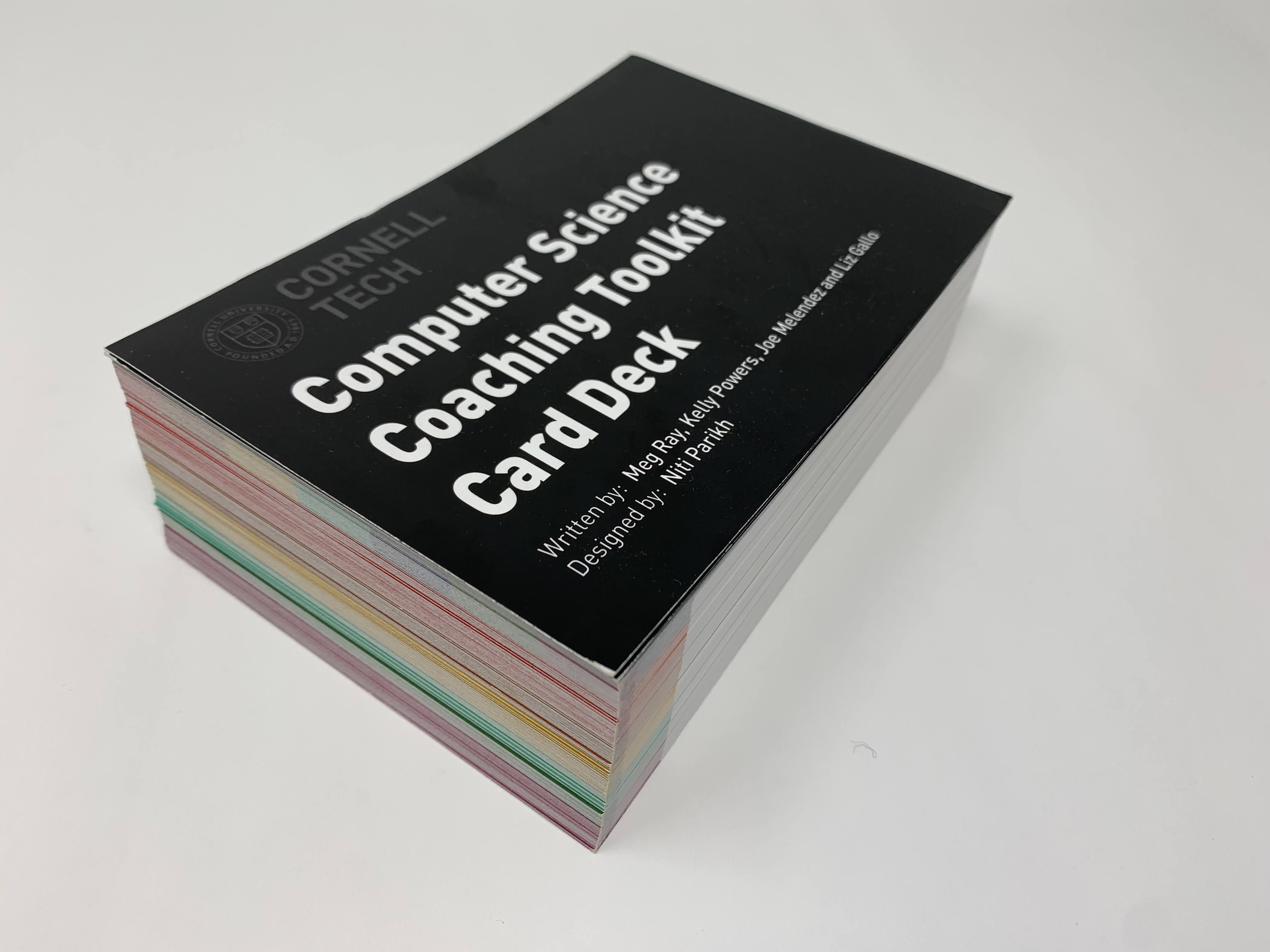 A toolkit to bring CS coaching to every school.
Make computer science teachable in your community.
The Computer Science Coaching Toolkit Card Deck was developed to support coaching activities related to Computer Science (CS) instruction in schools, districts, and other programs.
Coaching is a powerful tool for developing teachers and sustaining programs. Increasing the number of qualified CS teachers through coaching moves us closer to CS for All students a reality. A coach can be a dedicated coach, teacher leader, administrator, curriculum specialist, professional development provider, pre-service field supervisor, or anyone who has a coaching role in some part of their work.
Development of the Toolkit
This toolkit consists of a card deck containing over 150 ways for coaches to support CS teacher development. It is aligned with the CSTA CS Teacher Standards. The final version of the deck will also include related CS education resources, exemplars, and research.
This toolkit pulls together best practices and strategies developed by the coaching team at Cornell Tech, but also by the many teachers, researchers, and practitioners who are working to improve CS education everyday. The cards amplify the work of many people. The cards that feature specific tools or strategies developed by others have citations and links to the original work. Other cards build on the work of many people, and those cards will link to important outside resources when the final version is released. If you see a card that you feel should include attribution, please contact us at the email below.
Authors' note: We'd like to recognize the work of Colleen Lewis on CS Teaching Tips, as well as the The Security Cards used in the Teaching Security project. Both of these projects were inspirational to our team in the concept development of this toolkit. Additionally, we'd like to recognize the CSTA Standards for CS Teachers which this toolkit is aligned to and the CSTA Coaching Toolkit which was developed in parallel with the card deck and can be used in conjunction with the deck. This work was made possible by funding from our partners at the Siegel Family Endowment.
How is the card deck meant to be used?
This toolkit was developed through the lenses of equity, rigor, and joy in computer science education. It is meant to be adaptable to serve the needs of coaches and others who do coaching activities in our school community.
This card deck is for coaches and coach trainers along with anyone else involved in CS program development or CS teacher development.
This deck may be utilized in flexible ways:
Inform: It can be used to develop learning activities for individuals, professional learning communities, or coach development programs.
Plan: It can provide guidance to practicing coaches as a tool for brainstorming and planning.
Organize: Coaches can utilize cards as in-the-moment cues and tools for teacher collaboration to stay on track during coaching sessions.
The CS Coaching Card Deck
How can I view the cards?
There are currently two ways for you to view and interact with the beta version of the cards: 
For resources linked to individual cards, click on a Big Idea below.
Diving Deeper
Glossary
Many of the terms used in this toolkit are identified in the CSTA Standards Glossary. Head here when you come across unfamiliar terms.
Many of the terms and acronyms can be defined by reviewing their related resources in the next section.
Abbreviations
CS – Computer Science

CT – Computational Thinking
UDL – Universal Design for Learning
CRE – Culturally Responsive Education
PBL – Project Based Learning
TIR – Teacher in Residence
PLC – Professional Learning Community
Intro to CS Coaching Toolkit (To Code and Beyond 2021)