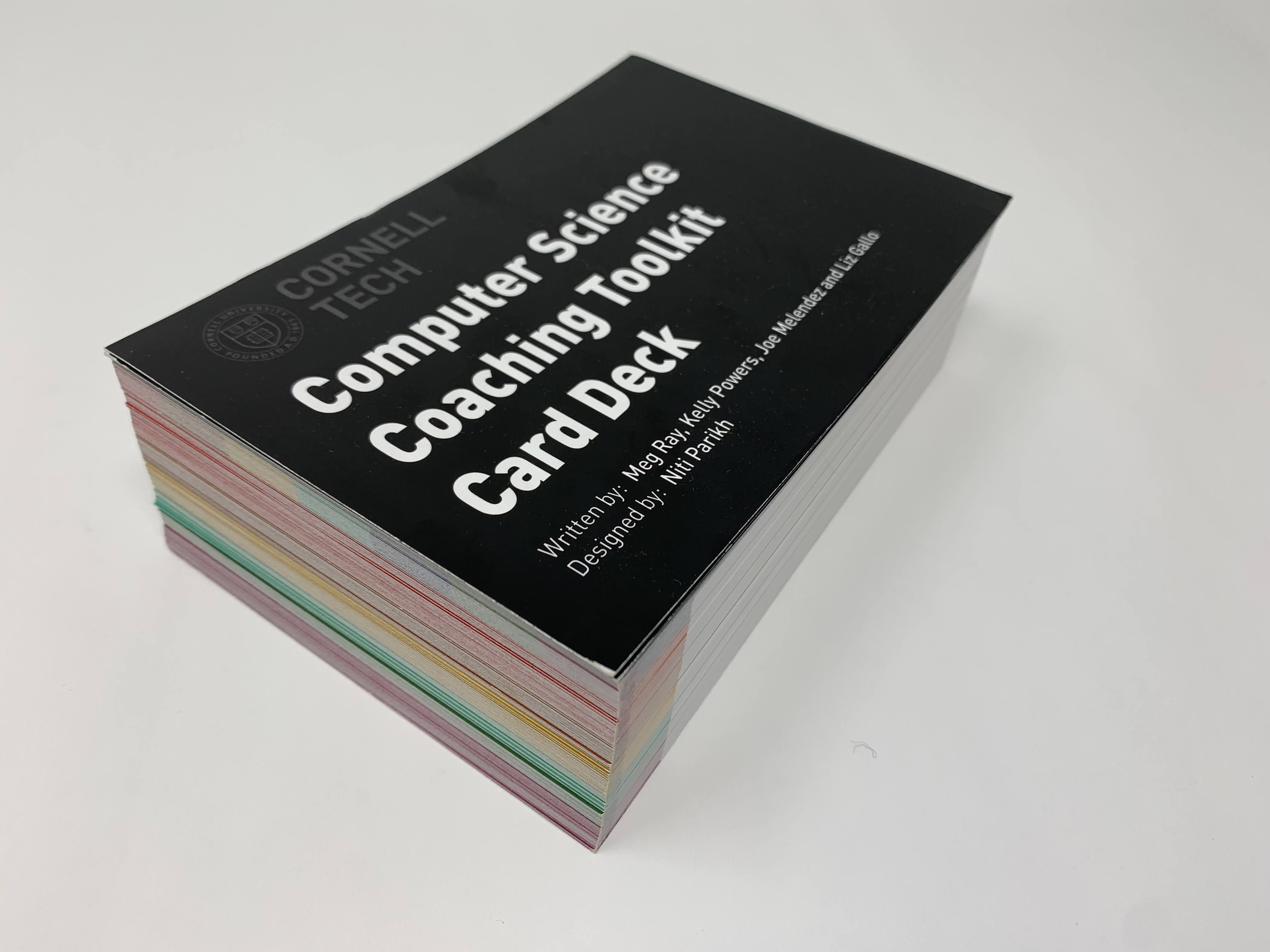 A toolkit to bring CS coaching to every school.
Make computer science teachable in your community.
The Computer Science Coaching Toolkit Card Deck was developed to support coaching activities related to Computer Science (CS) instruction in schools, districts, and other programs.
Coaching is a powerful tool for developing teachers and sustaining programs. Increasing the number of qualified CS teachers through coaching moves us closer to CS for All students a reality. A coach can be a dedicated coach, teacher leader, administrator, curriculum specialist, professional development provider, pre-service field supervisor, or anyone who has a coaching role in some part of their work.
Development of the Toolkit
This toolkit consists of a card deck containing over 150 ways for coaches to support CS teacher development. It is aligned with the CSTA CS Teacher Standards. The final version of the deck will also include related CS education resources, exemplars, and research.
This toolkit pulls together best practices and strategies developed by the coaching team at Cornell Tech, but also by the many teachers, researchers, and practitioners who are working to improve CS education everyday. The cards amplify the work of many people. The cards that feature specific tools or strategies developed by others have citations and links to the original work. Other cards build on the work of many people, and those cards will link to important outside resources when the final version is released. If you see a card that you feel should include attribution, please contact us at the email below.
Authors' note: We'd like to recognize the work of Colleen Lewis on CS Teaching Tips, as well as the The Security Cards used in the Teaching Security project. Both of these projects were inspirational to our team in the concept development of this toolkit. Additionally, we'd like to recognize the CSTA Standards for CS Teachers which this toolkit is aligned to and the CSTA Coaching Toolkit which was developed in parallel with the card deck and can be used in conjunction with the deck. This work was made possible by funding from our partners at the Siegel Family Endowment.
How is the card deck meant to be used?
This toolkit was developed through the lenses of equity, rigor, and joy in computer science education. It is meant to be adaptable to serve the needs of coaches and others who do coaching activities in our school community.
This card deck is for coaches and coach trainers along with anyone else involved in CS program development or CS teacher development.
This deck may be utilized in flexible ways:
Inform: It can be used to develop learning activities for individuals, professional learning communities, or coach development programs.
Plan: It can provide guidance to practicing coaches as a tool for brainstorming and planning.
Organize: Coaches can utilize cards as in-the-moment cues and tools for teacher collaboration to stay on track during coaching sessions.
During the beta phase, we will not be providing specific instructions for use of the cards. Rather, we are using this time to gather information about the many ways that practitioners would like to use the cards and integrate them into existing practices. Feedback from the beta phase will lead to the development of detailed guidance for different use cases.
The CS Coaching Card Deck
(Beta Version)(Click on Image to Enlarge)
How can I view the cards?
There are currently two ways for you to view and interact with the beta version of the cards: 
Diving Deeper
Glossary
Many of the terms used in this toolkit are identified in the CSTA Standards Glossary. Head here when you come across unfamiliar terms.
Many of the terms and acronyms can be defined by reviewing their related resources in the next section.
Abbreviations
CS – Computer Science

CT – Computational Thinking
UDL – Universal Design for Learning
CRE – Culturally Responsive Education
PBL – Project Based Learning
TIR – Teacher in Residence
PLC – Professional Learning Community
Big Ideas and Themes
Below are descriptions for the Big Ideas and Themes of the Toolkit. The Toolkit was developed using research-validated strategies wherever possible. Click through the Big Ideas to see these resources. If you feel we've missed an attribution, please contact us: cstoolkit@tech.cornell.edu
Themes
Access, Equity & Inclusion
According the CSTA Standards for CS Teachers, "Effective CS teachers proactively advocate for equity and inclusion in the CS classroom. They work towards an intentional, equity-focused vision to improve access, engagement, and achievement for all of their students in CS."  
These cards include explicit strategies, tools, and/or pedagogies used towards achieving the goal of CS Education for all students in a classroom/school.
Community Engagement
CS education is the strongest when presented as interconnected across different stakeholders and aspects in our society. Engaging stakeholders means both building CS community and utilizing community resources. Some stakeholders include: families, classrooms, local communities, business professionals, CS educators, university partners, and others.
These cards have been identified to guide CS educators and coaches to engage with community beyond the classroom. This includes cards related to engaging families, leveraging community resources for richer CS education, and utilizing professional networks. 
Evidence and Research Based
Teaching and coaching strategies that demonstrate some evidence of potential for efficacy in one or more research studies are considered evidence-based or research-based.
These cards include coaching or teaching practices that have some form of research backing them up, though it may not yet be comprehensive.
Look Fors
"Look Fors" are specific events, words, moments, or actions that a coach can attend to in relation to CS teaching growth and proficiency. 
These cards include prompts that can be used to guide the coach's attention during the coaching cycle.
Professional Growth
Teaching a new discipline and integrating CS into one's domain will require continued professional growth. Exposing the teacher to the broader CS education community and developing a professional development plan with the teacher is essential in building their own understanding of the importance of Computer Science for all.
These cards include strategies like communities of practice and references to help a coach guide a teacher to develop a professional development plan.
About Us: K-12 Education Initiative at Cornell Tech
We are making computer science teachable
At Cornell Tech, CS coaches support teachers in learning computer science content and CS-specific teaching strategies through the lenses of equity, rigor and joy. By building deep, trusting coaching relationships with schools and educators, our coaches help create confidence, a sense of belonging, and improved teaching practice.
We are developing resources to make coaching a reality at every school.
Over the past six years, the K-12 Education team has had the opportunity to practice computer science coaching in different school environments and to conduct research related to our coaching. We have developed the Computer Science Coaching Toolkit Card Deck in order to describe our process and strategies to practitioners in a format that can be shared widely and used flexibly in response to the needs of different schools.
Cornell Tech
Cornell Tech is a campus of Cornell University. Cornell Tech's mission begins with educating the next generation of tech leaders and advancing deep technology research and innovation. We seek to evolve our digital world with as much concern for the lives impacted by it as the economies that depend on it. We do this by increasing access and opportunity within the tech sector, engaging with communities locally and globally, and using our convening power to shape the future of inclusive and ethical technology.
Intro to CS Coaching Toolkit (To Code and Beyond 2021)