Milstein Program Celebrated As Its Students Make First Trip to Cornell Tech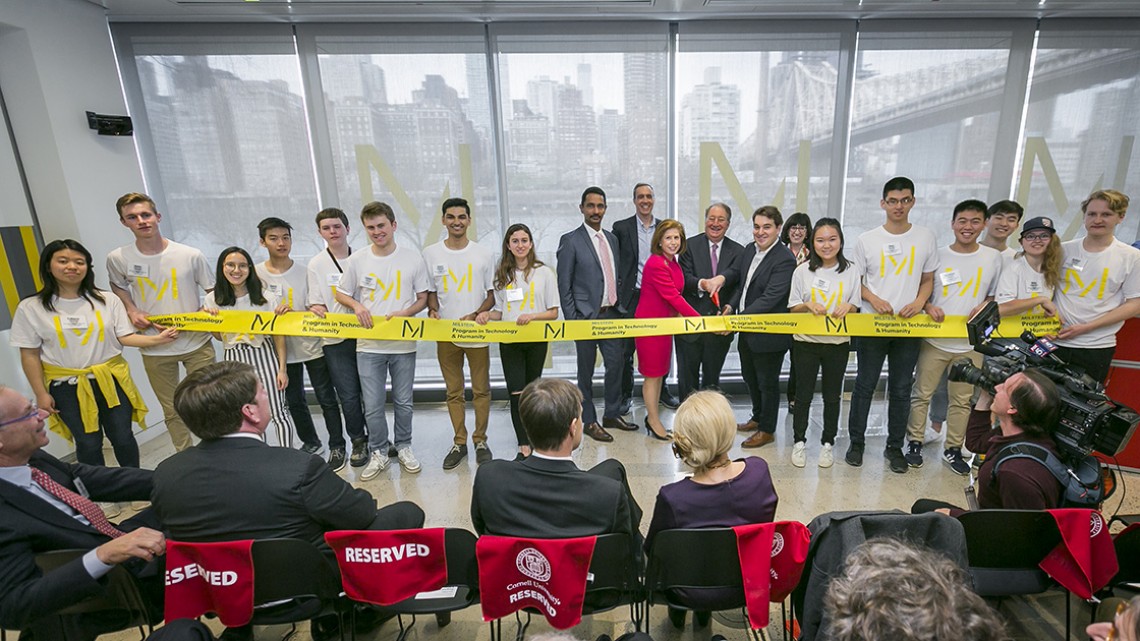 The Milstein Program in Technology and Humanity, which offers selected undergraduates in the College of Arts and Sciences a specialized curriculum to prepare them as leaders in an increasingly digital world, was celebrated April 12 at a ribbon-cutting at Cornell Tech.
The event marked the realization of a distinctive vision: to combine Cornell's renowned undergraduate liberal arts education with opportunities at Cornell Tech. The program seeks to create and nurture a new generation of innovators uniquely conversant in the ways technology is transforming the world, as well as in the social and ethical implications of this change.
"There are virtually no problems that are purely technical," said Cornell President Martha E. Pollack. "They are nearly all socio-technical, and indeed, humano-socio-technical. That's what's so exciting about the Milstein program: it prepares students to understand both the technical and the human aspects of new technologies. We're so grateful to the Milstein family for their generosity in making the program possible, and delighted that they've chosen to support such a groundbreaking opportunity for our undergraduates."
Bridging the Ithaca and New York City campuses, the Milstein program will provide 100 highly qualified students each year with access to a robust network of thinkers and leaders in business, technology and law. The program was created in 2017 with a $20 million gift from Howard Milstein '73, Abby Milstein and Michael Milstein '11.
The celebration took place as the inaugural cohort of 14 first-year students in the College of Arts and Sciences made its first trip to Cornell Tech. There, the undergraduates observed Studio Sprint, a monthly 24-hour period in which Cornell Tech students have no classes so they can focus on their product and business development work – a fitting introduction to Cornell Tech's entrepreneurial spirit.
Students can apply to enter the Milstein program as first-year students or begin in their sophomore year, with a total of 25 students per class eventually enrolled. They will pursue traditional majors in the College of Arts and Sciences in addition to a multidisciplinary curriculum providing them with proficiency in computer science. All students will also spend two summers at Cornell Tech, taking an array of technical courses and participating in experiential, industry-focused opportunities.
"Students in the Milstein program are at the forefront of studying the interplay between digital technology and the human condition, the understanding of which is becoming so important to modern society," said Dan Huttenlocher, the Jack and Rilla Neafsey Dean and Vice Provost of Cornell Tech.
"We are already seeing how the Milstein program is impacting our students and faculty more broadly here in Ithaca," said Ray Jayawardhana, the Harold Tanner Dean of Arts and Sciences. "The program is attracting not only extraordinary students, but also remarkable collaborators, like Oskar Eustis, a leading light of the New York theater scene, and Mitchell Baker, executive chairwoman of Mozilla, who is working at the nexus of ethics and technology."
The Milsteins partnered in helping to create the program's vision in collaboration with Huttenlocher and Gretchen Ritter, professor of government and former dean of the College of Arts and Sciences. Amy Villarejo, the Frederic J. Whiton Professor of Humanities, is faculty director of the Milstein program in Ithaca. Tapan Parikh, associate professor of information science at Cornell Tech, is the faculty director at Cornell Tech.
In addition to the students' visit, Cornell Tech hosted the first meeting of the new Milstein Program Advisory Council on April 12. Chaired by Michael Milstein, who is partner at New York Private Bank & Trust and Milstein Properties, CEO of Boylan Bottling Co. and co-founder and chairman of Grand Central Tech, the group's members include: Chad Dickerson, former CEO of Etsy, current CEO coach at Reboot and a Cornell Tech fellow; Ulfar Erlingsson, Ph.D. '04, head of security research at Google Brain; Oskar Eustis, artistic director of the Public Theater in New York City; Peggy Koenig '78, chair of Abry Partners and a Cornell trustee and Cornell Tech overseer; and Josh Wolfe '99, co-founder of Lux Capital.
"I think being part of the Milstein program is recognizing the power and potential of technology, and alongside that being able to create space for yourself with your own personal interests," said Catie Rencricca '22. "Everything I wanted out of the program, especially being able to find a community of people interested in similar things to me, has definitely exceeded my expectations."
RELATED STORIES Cornell Tech has announced a total of more than $10 million in …